In recent years, Shopify discounts have undergone a transformation as radical as a vintage rock band switching to Chill House. With the advent of innovative apps that generate discounts automatically, the capability to stack multiple discounts together, and the ever-attractive Free Shipping discounts, we're living in what could only be described as the Golden Age of eCommerce incentives.
According to research, a staggering 93% of shoppers actively hunt for discounts. It's become such an integral part of consumer behaviour that companies like Squarespace have even crafted dedicated pages to capture those Googling for "Squarespace Discount"—a masterstroke in organic marketing. So, without further ado, let's delve deep into the intricacies of leveraging these discount options on Shopify.
How to Create Discounts on Shopify
You can create and manage discount codes on your Discounts page in your Shopify admin.
When you create a discount code, you can adjust the following details:
the minimum spend for the discount to be valid
the discount's expiry date
the number of times the discount can be used
the products and collections to which the discount can be applied
whether you can combine the discount
When you want to distribute this discount code, you can do it in two different ways: emailing it directly to customers, or displaying it on your store. Then, customers just need to enter the code at checkout to benefit from the discount!
For email distribution, we personally recommend using Klaviyo.
Klaivyo is a clever email platform which allows shop owners to create coupon codes to be sent directly to subscribers, customers with abandoned carts, and other custom audiences, in the same way Shopify does.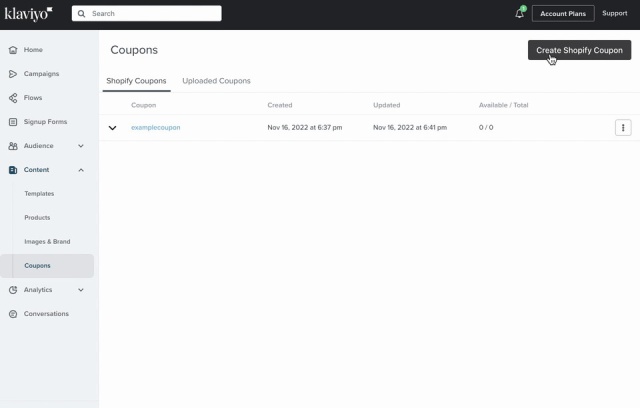 What sets Klaivyo apart, however, is that Klaviyo creates dynamic codes, meaning that each discount code is uniquely generated for each customer, and can only be used once. This avoids unpleasant issues like a more general code being uploaded to a coupon website, or the code being used across multiple orders.
You can also simply discount individual items, as well as show the old, "full" price. This is called the compare at price and allows customers to immediately understand the savings they are making on a discounted item.
Adding Automatic Discounts
As well as that, you can offer your customers discounts that apply automatically at checkout and on cart. For these, you can add a certain amount off, buy X to get Y discounts, or free shipping.
Types of Discounts
In the Shopify ecosystem, discounts come in several options:
Percentage Discounts: Classic and effective. Think of it as the "tea" of discounts—comforting and loved by all.
Fixed Amount: An exact cut-off. This is your espresso—quick and impactful.
Buy X, Get Y: The "happy hour" special of the eCommerce world.
Free Shipping: Because nobody likes to pay for the "delivery guy."
Automatic Discounts: Effortless and streamlined, like a good cold brew.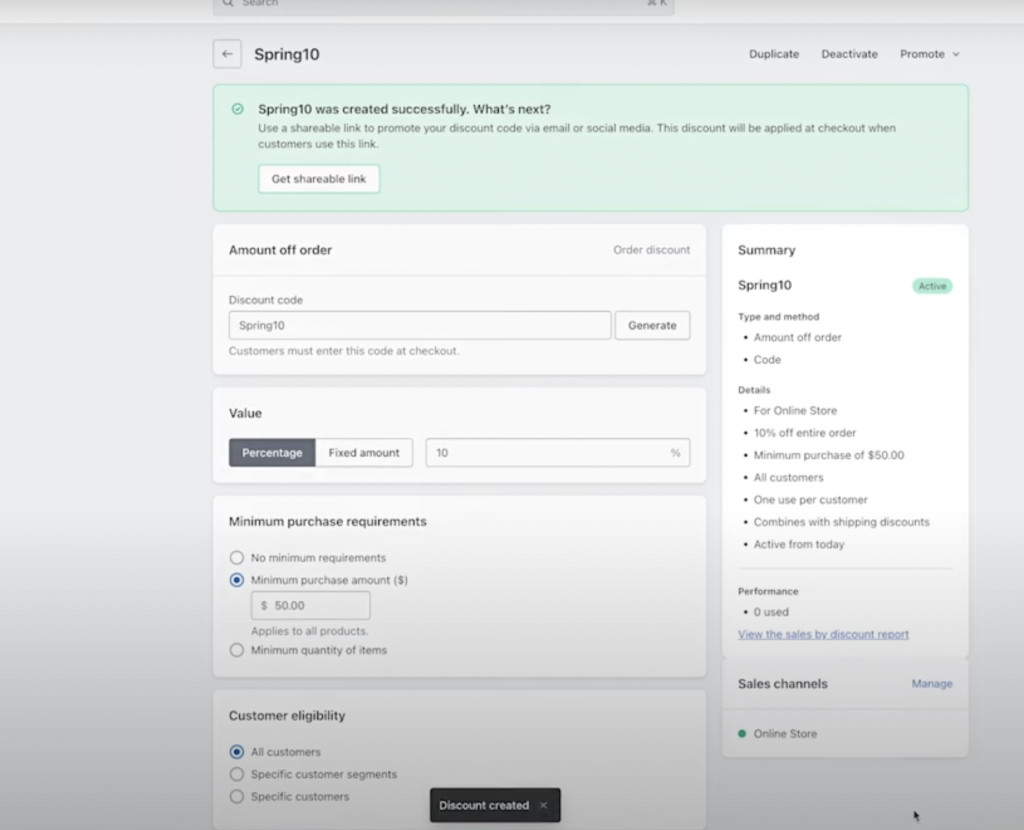 ---
Good examples of how to use Shopify discounts
1. Introductory Offer
Overview: Implement a 10% discount for first-time visitors to your website.
Rationale: This strategy mitigates the financial risk associated with trying a new product or service and can significantly increase conversion rates for first-time visitors.
2. Threshold-Based Discount
Overview: Offer a fixed £20 discount on all orders above £100.
Rationale: This encourages customers to increase their cart size, effectively raising your average order value. It incentives higher-value transactions.
3. Buy-One-Get-One (BOGO) Offer
Overview: Purchase one item at full price and receive a second similar item at 50% off.
Rationale: BOGO offers are compelling because they provide tangible value. Customers are incentivised to buy more than one item, which boosts your sales and clears inventory.
4. Free Shipping Threshold
Overview: Offer free shipping for orders exceeding £50.
Rationale: The added cost of shipping often deters customers from completing a purchase. By offering free shipping above a certain price, you encourage a higher spending amount.
5. Cart Abandonment Incentive
Overview: Automatically send an email offering a 5% discount on items left in a customer's cart without completing a purchase.
Rationale: This re-engages customers who showed interest in a product but hesitated to purchase. It serves as a gentle reminder and provides an extra incentive to complete the transaction.
6. Loyalty Program
Overview: Implement a points-based system where customers earn points for every purchase. When a customer accumulates 500 points, they receive a £10 voucher.
Rationale: This strategy nurtures long-term customer relationships and encourages repeat purchases by adding an element of gamification to the shopping experience.
These discount strategies offer various benefits, each targeting specific consumer behaviours. Utilising a combination of these in a coherent marketing plan can contribute to a comprehensive and effective sales strategy.
---
Stacking and Combining: The Ultimate Strategy
Now, for some real talk: Shopify doesn't naturally allow stacking multiple discounts at checkout. But where there's a will, there's a way—or in our case, an app for that:
Stacking Apps: Get a third-party app like "Stackable" to facilitate this trickery.
Bundle Up: Encourage bigger carts by offering product bundles at a lower total price.
Loyalty Love: Combine discounts with loyalty points.
Seasonal Combos: Add discounts together with seasonal offers, like Christmas sales and summer markdowns.
Considerations for creating discount codes
Before you create a discount code, review the following considerations:
A discount code can apply to up to 100 specific customers, products, and variants.
There's a limit of 20,000,000 unique discount codes for each store.
To ensure that discount code names are added correctly to your store's checkout URL, avoid using special characters in the name of the discount code.
Collections can't contain individual variants. If you add a product variant to a discounted collection, then the discount applies to every version of the product.
If you create a discount with a start and end time, then the time is based on the time zone that you selected in your Shopify admin. For example, if your store's time zone is Eastern Standard Time (EST) and you select a start date of November 26, then your discount starts at 12:00 a.m. EST on November 26.
If you want to get in touch with us to discuss your marketing needs or having us build a Shopify store for you, please reach out via our website.
We also send out tips and tricks in our newsletter Shopify Insider. Sign up to that here so that you don't miss out on any more expertise in achieving higher conversions.