A good product should sell itself. However, when it comes to completing a purchase, a vast majority of people aren't swayed by an impressive website and eye-catching socials. In fact, it's been proven that 72% of customers won't take any buying action until they have read reviews for the product.
This line of customer thinking stands to reason. After all, with a digital storefront, a customer is restricted to the information and imagery with which you have provided them, and therefore the customer must trust that what you are telling them is true. This trust is hard won by photography and a detailed About Us page alone (though they certainly help). Rather, customer reviews provide the social proof you need to confirm the product's quality and your business' legitimacy to new visitors.
These reviews aren't just a reflection of your product, either. It has been found that customers visiting a well-reviewed business spend on average 31% more than one which is poorly reviewed, or not at all. Your business will be reviewed on various scales, including customer service, delivery price and timeline, transparency, and returns procedure, and this will be the first step on building trust with your customers.
Best Shopify apps for reviews
Where to get started? Shopify apps are a terrific and simple way to build on your website's current functionality—including review collection.
Here are a few that we would recommend to help building product reviews: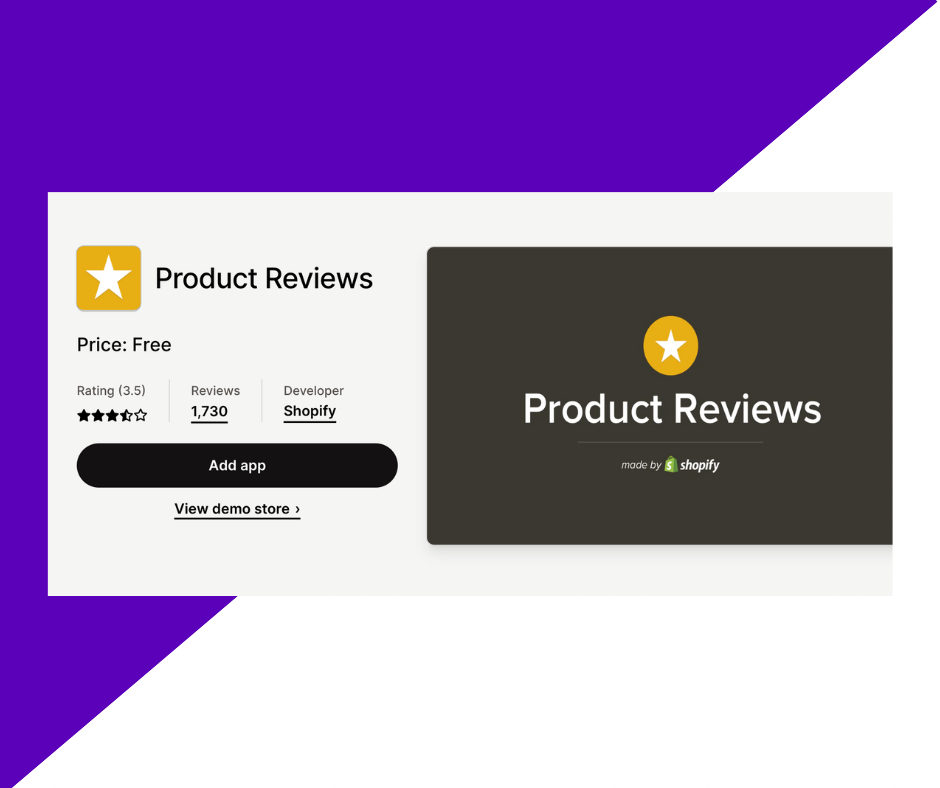 Shopify Product reviews allows you to add a customer review feature to your products. This provides a way for your customers to engage with you, as well as each other to encourage sales.
Fera
(free plan available; 14 day free trial)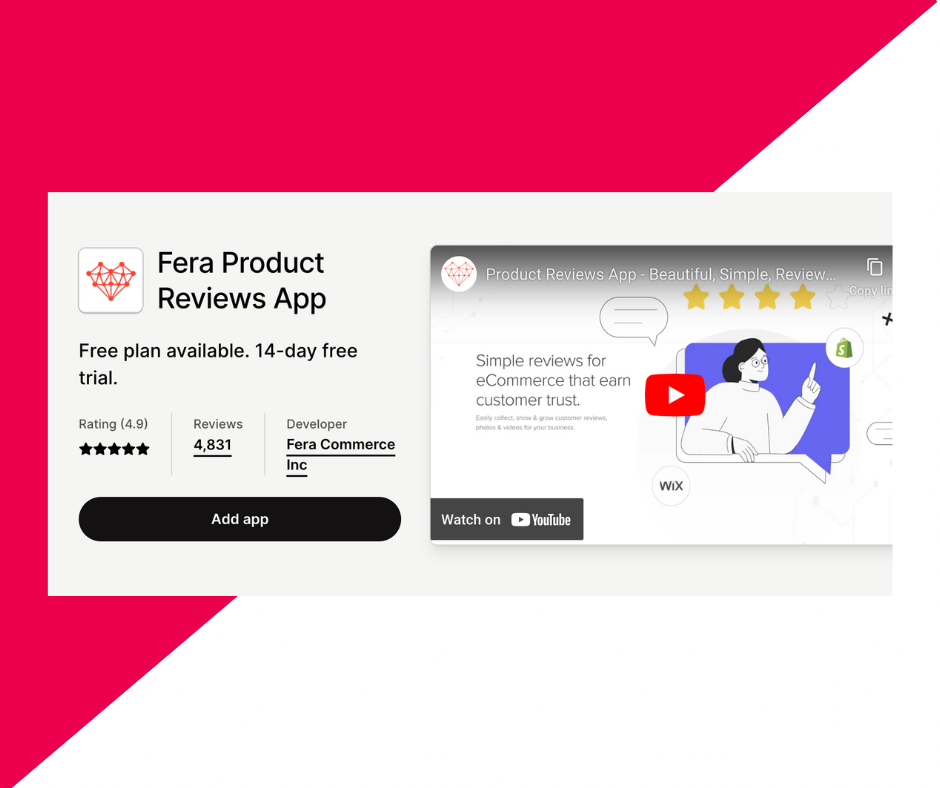 Fera is an easy reviews app for Shopify with customizable review widgets that look beautiful from the start. Stores like yours use Fera to maximise reviews to build customer trust without compromising their visual brand.
JudgeMe
(free plan available)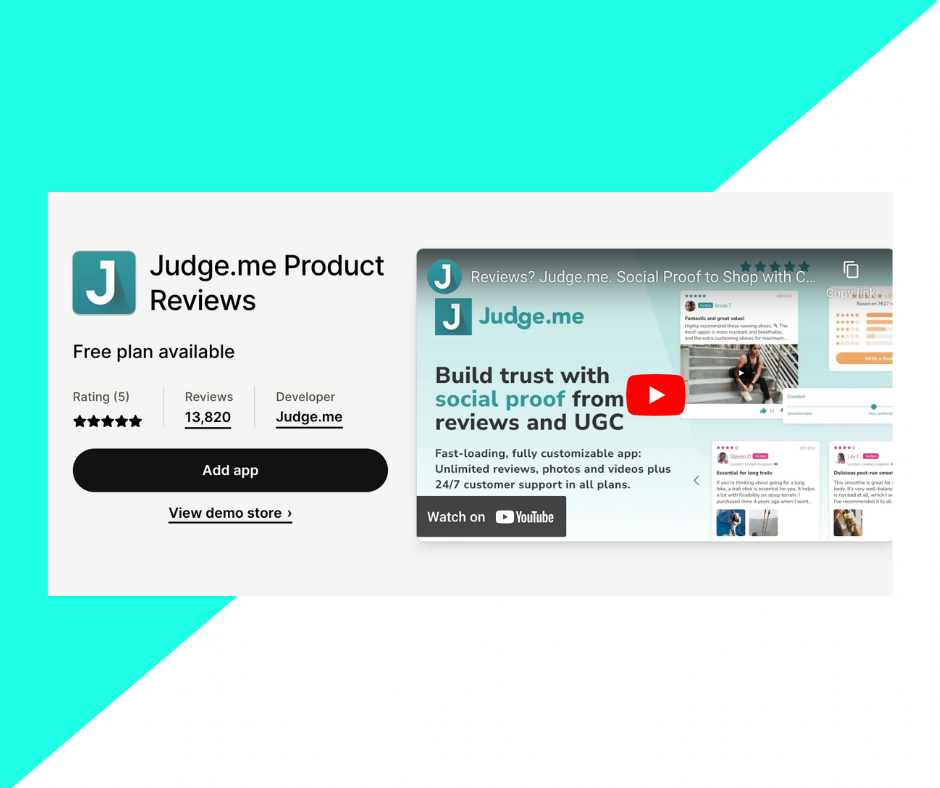 Judge.me helps you collect and display star ratings and reviews about your products and Shopify store. Social proof from reviews and other user-generated content like photos and videos increases your conversion rate, organic traffic, and buyer engagement. Our photo and video reviews are free!
Stamped
(free plan available; 7 day free trial)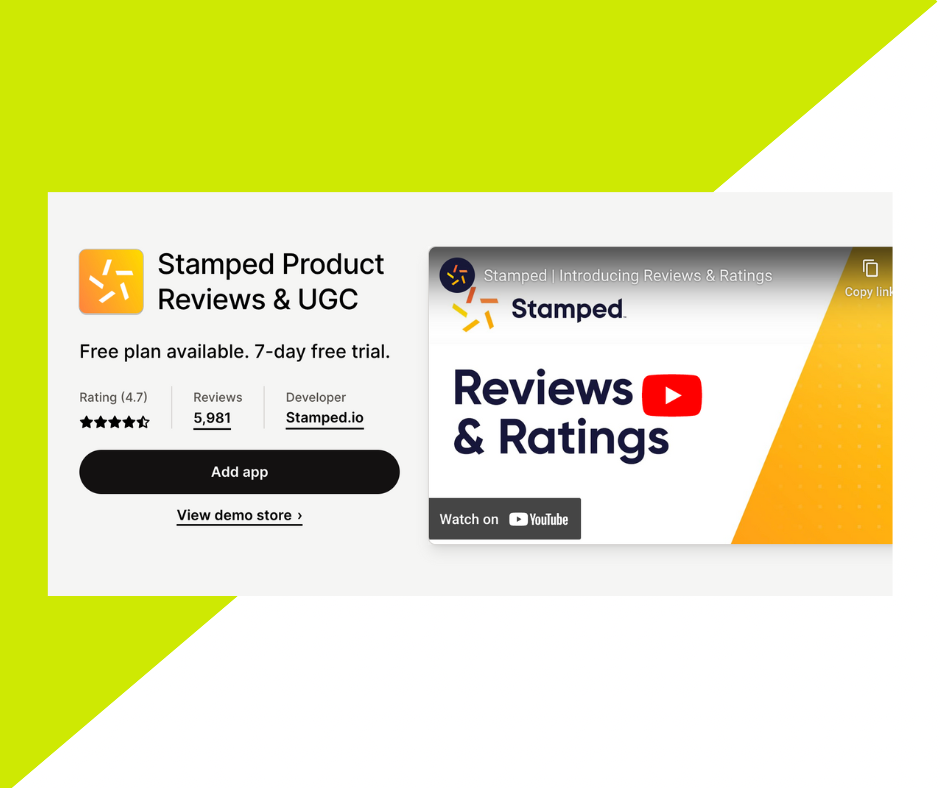 Stamped is a powerful, easy-to-use customer marketing platform that helps you capture and showcase high-impact reviews & ratings, customer photos/videos, and Q&A.
Shopify review integrations
Perhaps you already have lots of reviews on a different platform, such as Trustpilot or GoogleReviews. These can be valuable additions to your website, and prevent you from the more challenging task of starting from scratch.
Another fantastic part of Shopify is the ability to integrate other platforms. When it comes to Trustpilot, for instance, you can integrate it with your Shopify store by downloading the Shopify apps. You can then manage all of these reviews—as well as invitation settings and timings—from your Shopify admin, saving on time and effort.
How to get reviews
Company reviews
When it comes to generating reviews, start with your company. While individual product reviews are important, it is all the more crucial to create trust between the customer and your business as a whole. This provides the best basis from which to sell multiple products, launch new items, and also create a positive brand identity. It will also alleviate the risk of a product review becoming irrelevant in the instance of a product being discontinued or out of stock.
Product reviews
The second tier of reviews will be for your products. While trust between the company and the customer is the first hurdle, these reviews for individual products have a big impact on conversions, too. In fact, Spiegel has found that when a product has just 5 reviews, its likelihood of being purchased goes up by 270%. That means you don't have to be stressed about generating hundreds of reviews overnight—even just a handful of well crafted and genuine reviews can make a huge difference in sales.
But how do you even start to get one review? The short answer is to simply ask them.
Asking your customers for a review may seem too direct, or perhaps even too simple. The proof, however, is in the stats.
For instance, a study conducted by BrightLocal showed that 78% of the customers who are asked to leave reviews do so. Not only that, but another study revealed that 70% of businesses ask customers to provide reviews for products they have purchased. That means that not only do customers respond to review requests, but even if you aren't asking them, your competitor likely is.
How to ask
But how do you ask? In short: nicely and briefly, preferably over email. To give you more detail, here are a couple of examples of emails we have personally received from stores asking for reviews: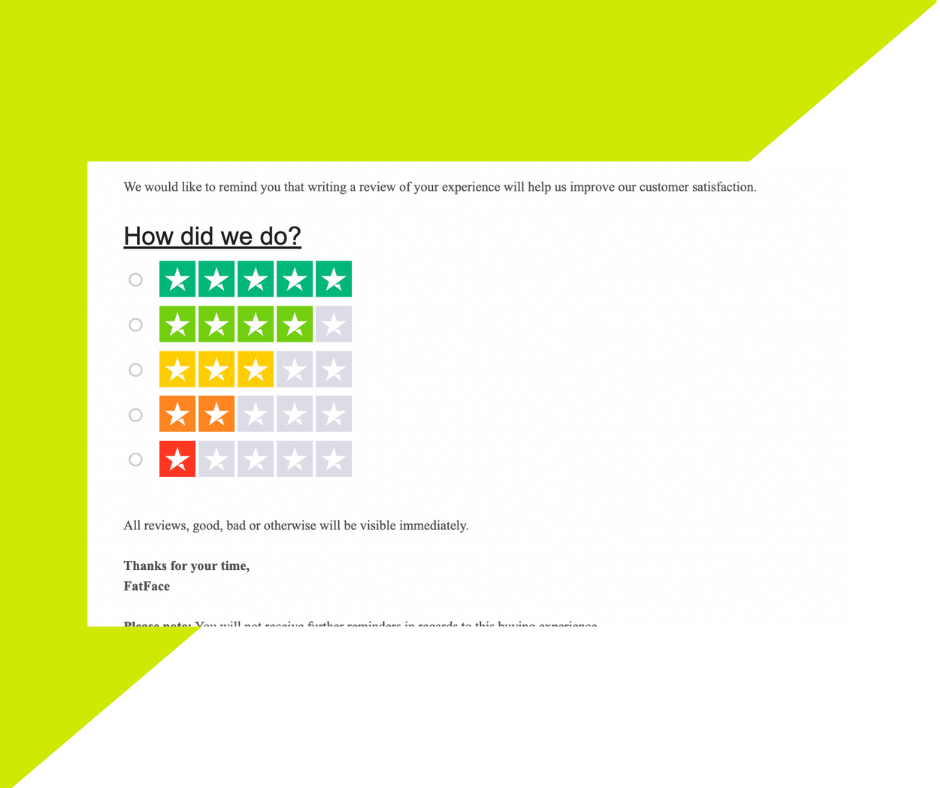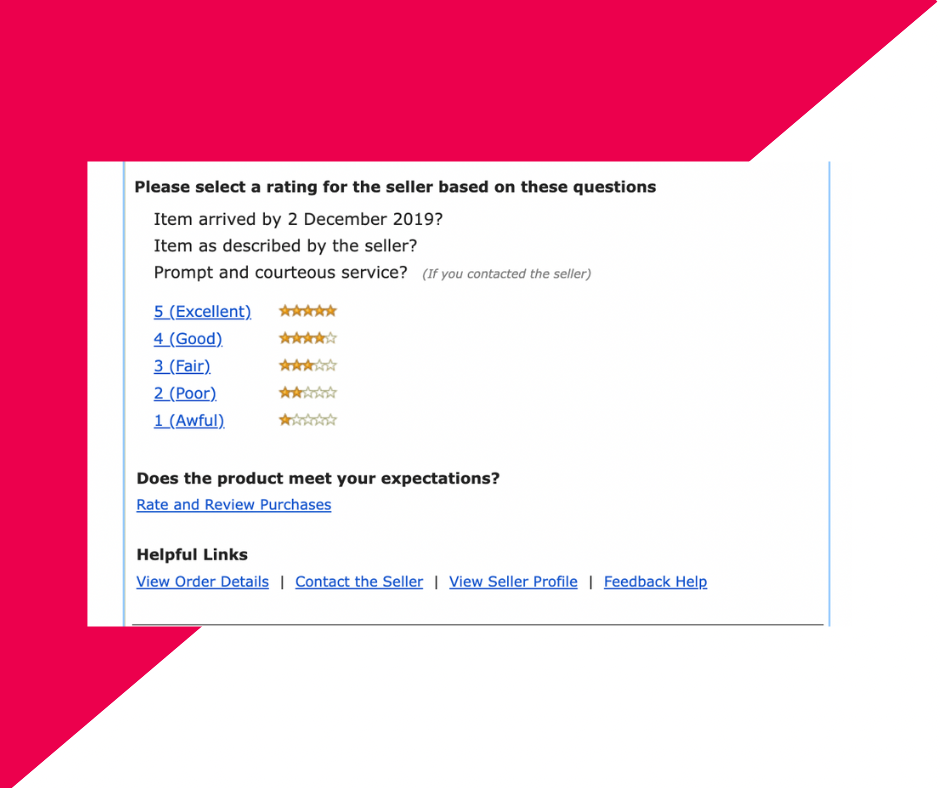 What do you notice about these? We spotted:
Clear call to action
Easy-to-click redirect buttons
A simple star rating system
A brief prompt to help shape the reviewer's opinion
Try to work these into your emails in order to maximise their effectiveness.
Should you use incentives?
If you are very keen to increase your reviews—and more quickly, at that—you may consider adding incentives, such as discounted products or a free prize. This has its pros and cons, and an added legality issue.
Firstly, you cannot pay a customer for a review. Google, for instance, has outlined "fake engagement" as prohibited content. This includes, "Paying, incentivising or encouraging the posting of content that does not represent a genuine experience"—or in other words, a fake review of your company or product. The trouble lies, therefore, in the grey area which is the incentivised review. You haven't technically paid anyone for a review, nor have you tried to create a fake review, but some value has traded hands.
In general, therefore, it is safer to stay away from incentives and avoid a potential penalty from Google, Facebook or an alternative review platform. After all, many customers are happy to respond to your review requests without added incentives. Start with them first.
Where to display your reviews
Once you have a review, where do you position it on your website? Ideally, somewhere your customers will see it.
For specific product reviews, make them clearly visible on the product page. For instance, add the percentage of satisfaction or the star rating somewhere around the price or sizing. You may even think to include a positive testimonial in the product description.
Then, for more general reviews, you may position these on your homepage or About Us page. This communicates to the customer that your business can be trusted across your entire product range, and creates a good first impression for new visitors to your website, too.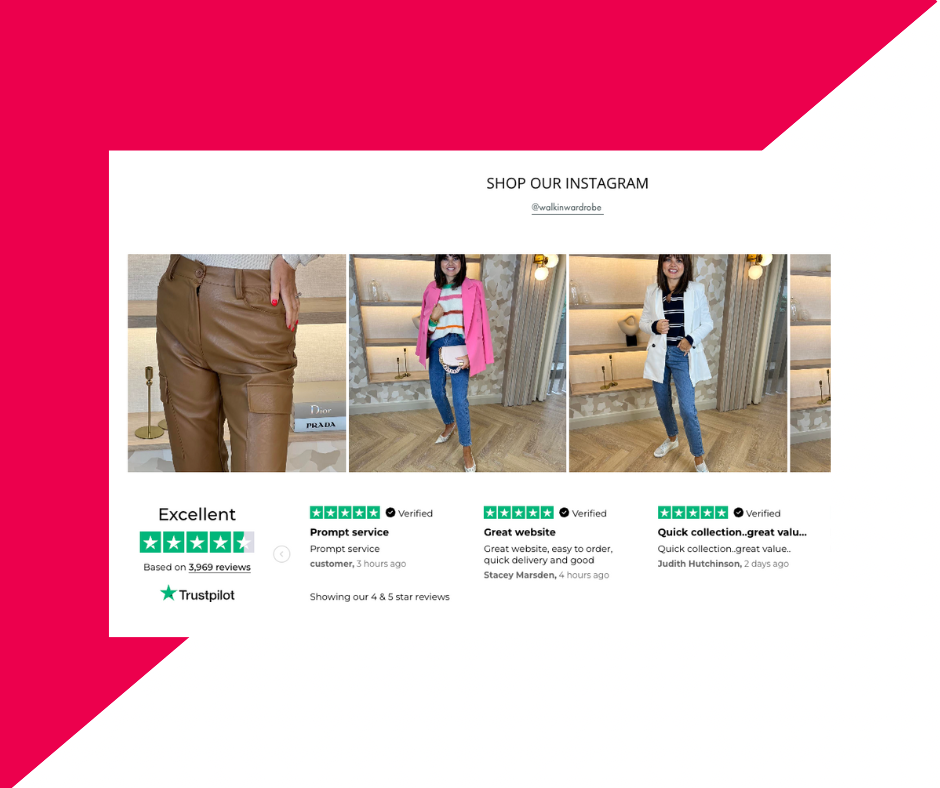 What about bad reviews?
Now that we've gone over the importance of reviews and how to gather more of them in order to build trust with your customers, let's look at when your review system goes wrong: when you get a bad review.
Firstly, don't panic. All businesses will receive a less than stellar review at some point in their existence. For the most part, these will help you to improve your services and processes so that the next customer has better things to say.
Your first step for facing this review is to check what went wrong. Late delivery? Damaged product? Rude customer service? Go back to your own records to get your side of the story straight. This will give further clarity to what has gone wrong during the exchange—whether than is a simple miscommunication, or a genuine misstep.
Next, you should respond where you can. Do so politely and succinctly. Where you have made a mistake, apologise for the inconvenience and only offer an explanation where it can be summarised briefly such as "due to an unusually hectic holiday season, we failed to meet delivery expectations". Ideally, this should be done in reply to the public review as to prove to other customers that the concern has been listened to and is being dealt with. If the explanation cannot be summarised, or if further information is required, try to move the conversation to email instead.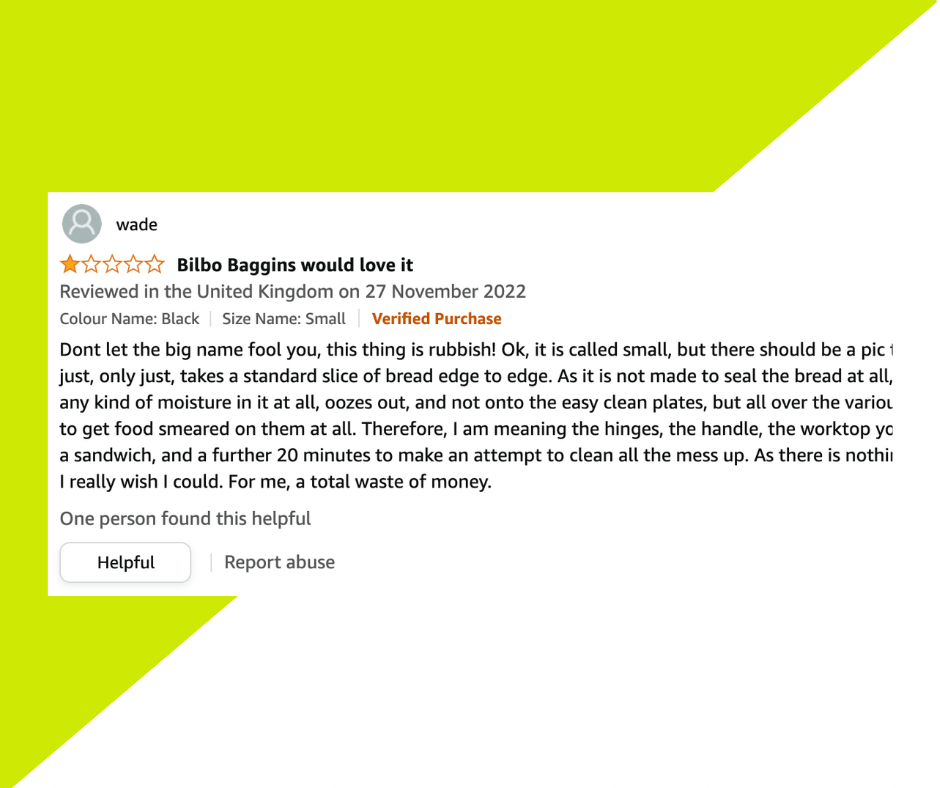 Then, you may consider making up the mistake to the customer, by way of a refund, free product or something similar. The reimbursement and apology should be unique to your business and fit the infraction on your business' part, if there is any.
Finally, as mentioned previously, learn from the review. While some reviewers can be unnecessarily snide about your product and services, more often this feedback will highlight areas of your business which need more work. Perhaps your deliveries have been late to a particular region and the delivery estimates should be updated. Maybe your product photography did not reflect the reality of the item, and should be updated. Use this as valuable feedback, instead of the knock backwards.
And the good?
Well done! If your customers are pleased with their purchases, and your business is generating positive reviews, you will undoubtedly see an uptick in your sales and customer engagement.
You may even use these reviews to expand on those good points. Perhaps they enjoy the personal touch you add to your products, and you could look at new ways to create a unique connection with your customers. Similarly, it could be your super fast shipping they love, and you might look into new opportunities for even faster shipping, such as premium expedited 24hr delivery?
In short, your reviews are an essential way of creating brand loyalty and customer trust, but also an opportunity to learn and grow your marketing and business strategy. Make sure to encourage customers to express their opinions—both good and not so good—and to make it as simple to do so as possible.
For queries about Shopify and building your own e-commerce store, please contact us. We're happy to help.
If you are interested in further news and information about Shopify, consider signing up for our email newsletter, Shopify Insider.
Sign Up For Email Updates
Sign up below for the latest Shopify news & advice from Glaze Digital.