2023's Best April Fool's Marketing Campaigns
Every year, the 1st April sees a vast number of brands and companies take a stab in comedy—others succeeding better than others.
While there are certainly some clangers amongst the April Fool's pranks every year, for the most part, brands that can poke fun at their own reputation or industry typically benefit from 1) additional PR coverage and 2) a better sense of relatability and authenticity.
Here, we've put together a short list of our favourite marketing campaigns for April Fool's 2023—and why they're so good.
DuoLingo's Reality Dating Show
DuoLingo has a fantastic reputation for getting viral trends and online humour just right. While at the end of the day, it's a language learning app, the bright green mascot—Duo—has cultivated something of a personality cult over the past few years, and is the centre of the majority of the brand's gags.
This time, the DuoLingo team has created a prank dating show—titled Love Language—and shot an entire commercial for it in the style of Love Island, Ex on the Beach and the like. It even includes a potential homicide—a perfect allusion to Duo's less than innocent online reputation—and appeals especially to those who are already in on the DuoLingo style of comedy.
Curry's and the AirFryer "Air Shortage"
This year, electronic supplier Curry's jumped off the air fryer craze and created this silly gag. Obviously, no one needs to "refresh" the air in their air fryer, but for those who were momentarily duped—or indeed, simply curious—the link to this fictional product brought them to a special April Fool's page. From here, Curry's customers could then click through the website via the prevalent buttons with Epic Deals and All You Need To Know About Air Fryers.
Top tip for next year: try to make your gag an opportunity for traffic and new customers, on top of just being a good joke.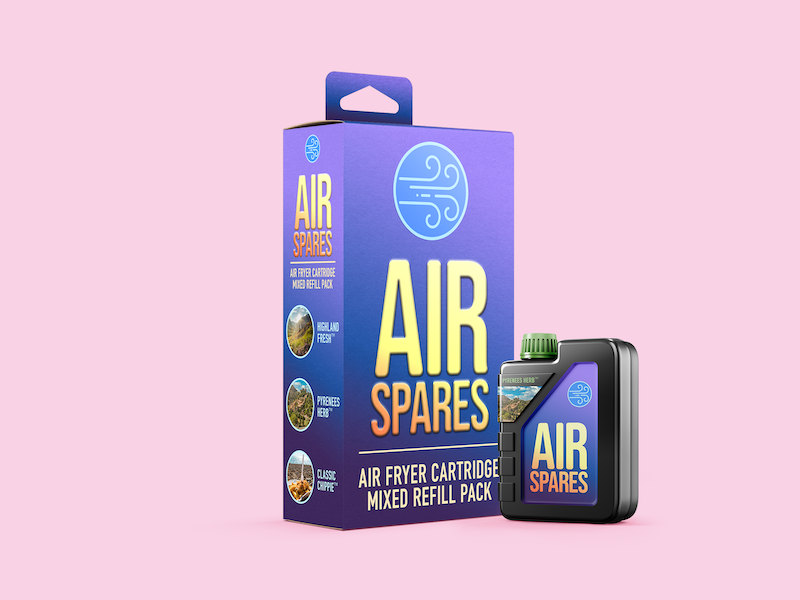 Thorpe Park's Second-hand Shoe Pop Up
Good brands know their audiences—and their problems. Here, Thorpe Park announces their new second-hand pop up store—Lost Souls Pop-Up—designed to find news homes for the "thousands" of shoes lost on their twisty-turny rollercoasters and thrill rides. Not only is this a quietly confident flex about their attractions, but there is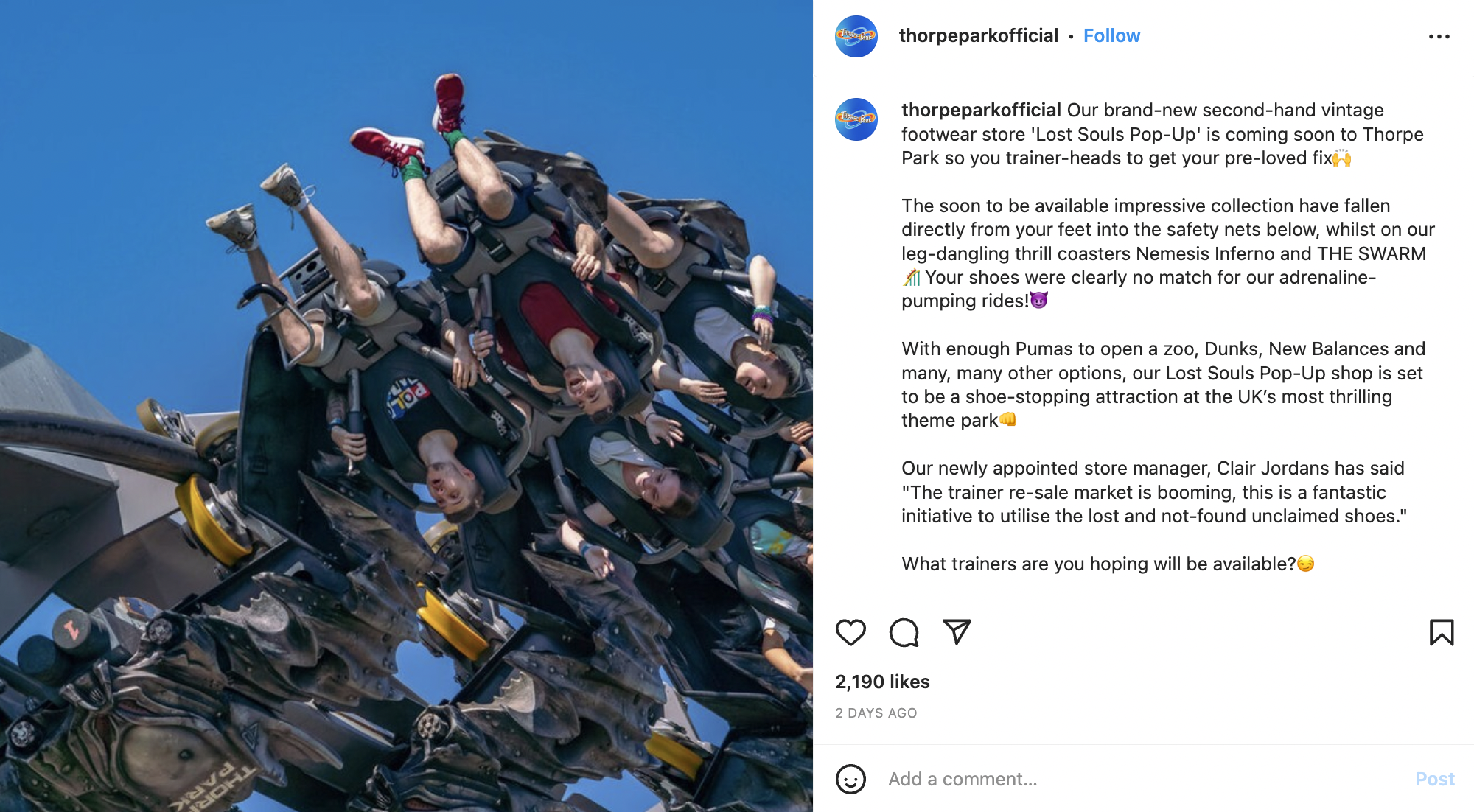 Moving Mountain's 'Rabbit Food'
Moving Mountains' is a plant-based food manufacturer which is, apparently, sick and tired of hearing about how their products are just "rabbit food".
This, of course, is another opportunity for the brand to come alongside their customers—who are, no doubt, hearing the same criticisms from friends and family—and get in on the joke instead of being the butt of it. Better yet is when a brand can grab the attention of both customers and onlookers, and direct them to your product line—which is exactly what Moving Mountains did.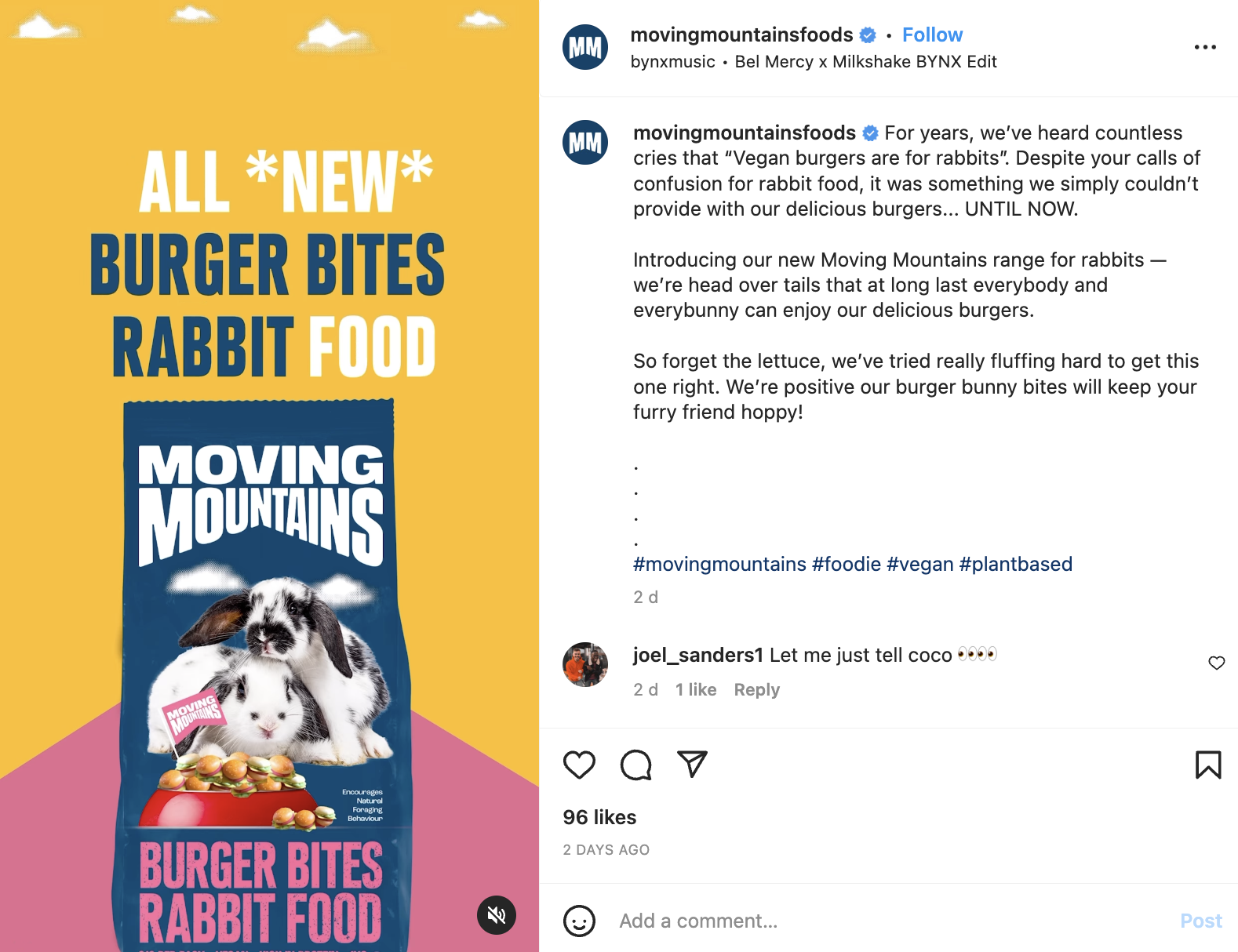 Modern Milkman's 'Green' Milk
April Fool's can be the perfect opportunity to create buzz about a product, even if it's not exactly the one you're joking about.
Modern Milkman—a network for cyclical plastic-free grocery deliveries—announced a brand new product for April 1st: green milk. Supposedly, the dairy drink got its colour from their dairy cows consuming seagrass. Of course, this new product announcement led people to the brand, where they discovered that while their milk wasn't so green by colour chart, it was greener by environmental standards:
"Our milk may not be green on the Pantone chart, and it's certainly not infused with foliage from the ocean. However, it's green by nature and goes a long way towards freeing the ocean of plastic."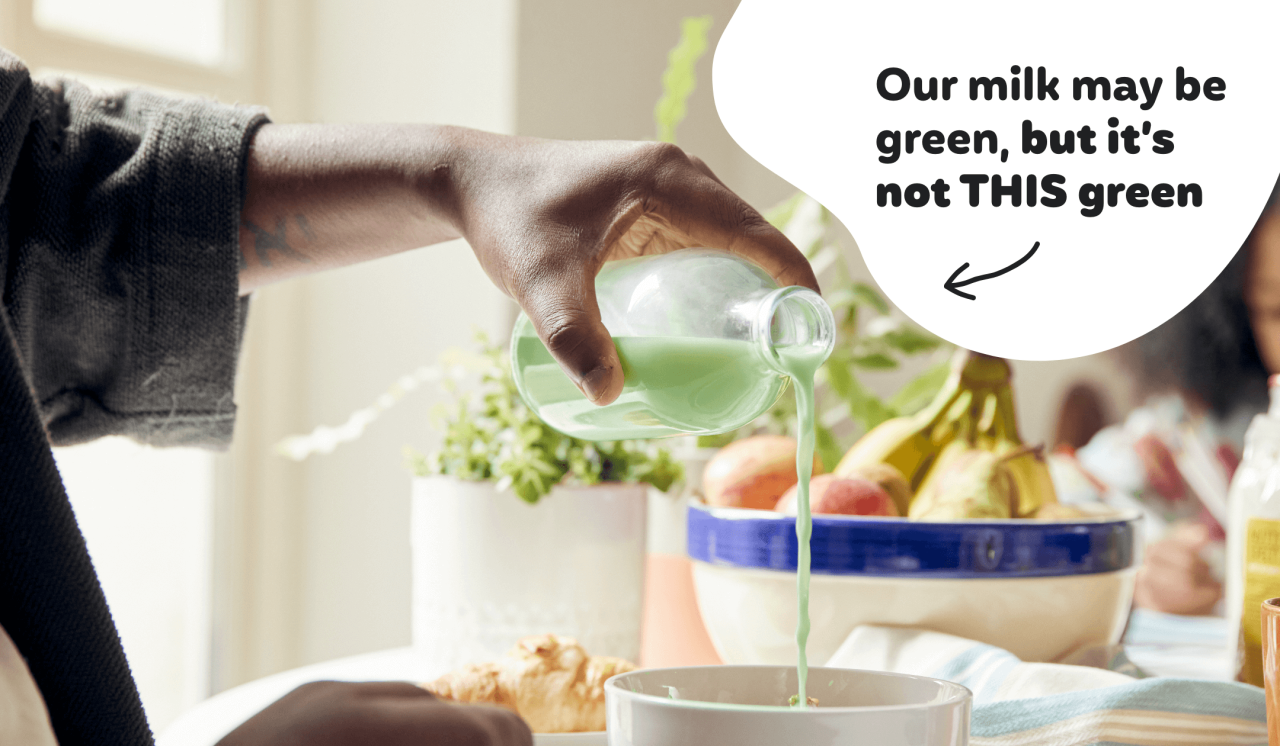 So what can you take away from these brands for your 2024 April Fool's Day planning?
We would advise that all brands should think about their pranks carefully, in both idea and execution. The joke should be in the same tone as the rest of your branding, even if it is a little on the sillier side, and unless your brand already has a more adult reputation, avoid anything too crass or PG-rated. It can be best to start with in-jokes and common complaints, brainstorming what your customers and critics are already saying about you, and building this into a product, an announcement, or something else entirely.
As for the execution: If you are posting your prank to social media, will it include a link? If so, will it be directed to your website, or somewhere else, and at the end of the day, will it be useful to your brands aims? For many companies, some publicity is the entire aim of the game. For others, web traffic, followers, and subscribers may be of better use. Think of how your prank aids these, and whether you can bolt this campaign onto something larger (like a product launch).
And, of course—in the true spirit of April Fool's—have fun with it.
For queries about Shopify and building your own e-commerce store, please contact us. We're happy to help.
If you are interested in further news and information about Shopify, consider signing up for our email newsletter, Shopify Insider.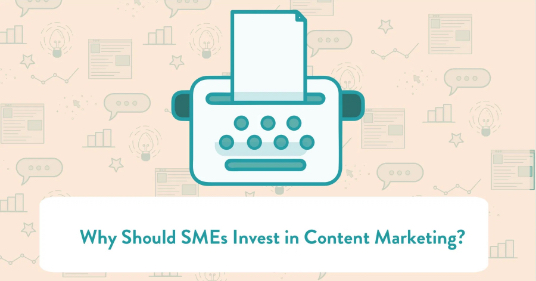 Whether your business is in retail or professional services, B2B or B2C, you are likely familiar with the term, Content Marketing. It's not just [..]
Read Article