Autumn is the time of back-to-school shopping and Halloween costume preparations, syrupy coffees and wintering wardrobes. In short, it's one of the best times of the year, and also a great opportunity to (pumpkin) spice up your Shopify store.
Here, we outline our top ideas so that you can rethink your website and marketing to make the most of the season.
Seasonal products
The changing of seasons can be a great time to launch a new product, and even more so if it is particularly suited to that season. Think Starbucks' Pumpkin Spiced Latte, Emma Bridgewater's autumnal prints, or Lush's Halloween bath bombs. For obvious reasons, these products are not available all year round and so launching them or at the very least promoting them in the run up to and during the autumn season can be a great way to drive interest and sales.
You might even alert your previous customers in your newsletter or give them early access to your autumn/Halloween store. For new customers, think about adding a unique page or collection to gather all of your products together for easy discovery, or add a countdown widget to the website so that they know to come back at a later time for the product launch.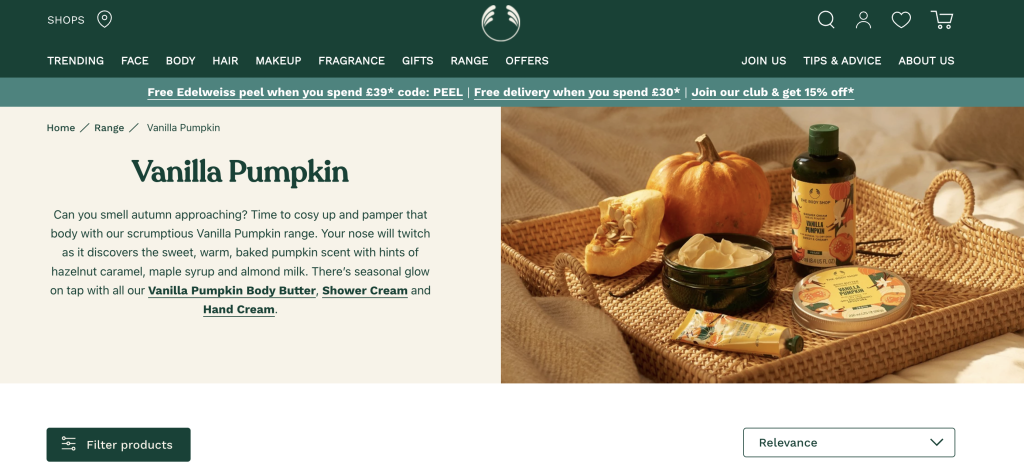 Creating themed collections
How many of your products don't fit a strict Halloween or autumnal theme, but may still be of interest to your customers at this time of year? If this is the case, you might think to create a Halloween or Autumn collection using Shopify.
For instance, TK Maxx has an entire Halloween page which is available from mid-August, and includes various products which are not exclusive to the holiday of Halloween. Instead, the brand has listed lanterns, skull-printed cushions, and apple or pumpkin scented candles, so that customers don't have to search for these specifically in order to find products which are still useful and relevant to the holiday.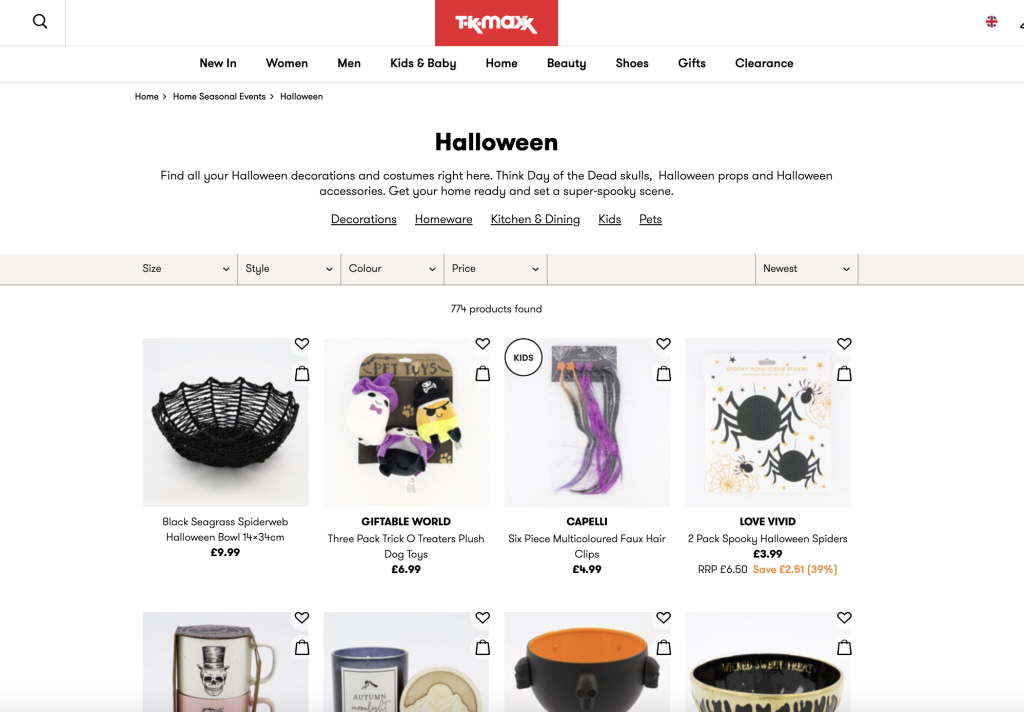 Specifically when using Shopify, collections can be created to group together products for easy customer discovery and a more succinct marketing direction. These can either be automated or manually curated. For automated collections, you can choose up to 60 selection conditions and can be useful if your collection regularly changes or expands. Manually created collections, however, are stationary and you will need to individually add and remove products as your collection changes.
As mentioned above, these collections can come in especially handy when it comes to your marketing. Instead of pushing customers towards your homepage, you might instead create email campaigns directing them straight to a particular collection instead—your new range of winter coats, for instance, or pumpkin-scented candles. This can be a good opportunity to push people towards sale items, too, as our client Outside In has done.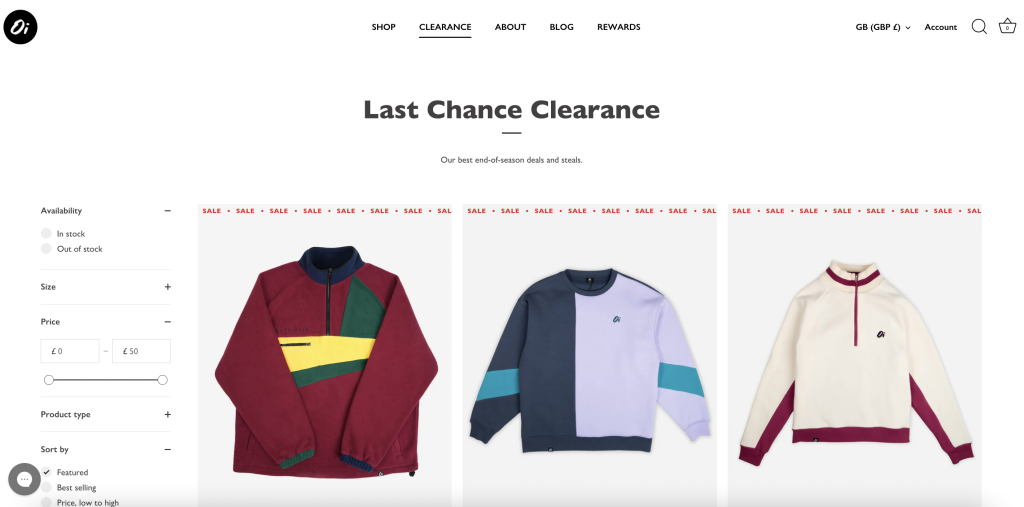 You might also up your advertising budget for Google and social media for these specific collection links, too, to meet the increased seasonal demand. After all, your coats will be of greater interest to your audience as we come into these colder months than your swimwear range.
---
Tag seasonal products for easy customer search
Again, we ask: how many of your products may not be immediately obvious as seasonal items? Not only can you place them in seasonal collections, but you might also add product tags so that they appear under search terms like "autumn wear" or "Halloween decorations".
To take an example from current ecommerce strategies, we can look to Next and ASOS—two major clothing and lifestyle brands. These stores not only return products like costumes when the user searches "Halloween" but nylon tights, gauzy witch-like dresses and other makeshift costume selections. Similarly, when you search "autumn" on Marks and Spencer, a variety of products such as cardigans, sweaters and socks are returned.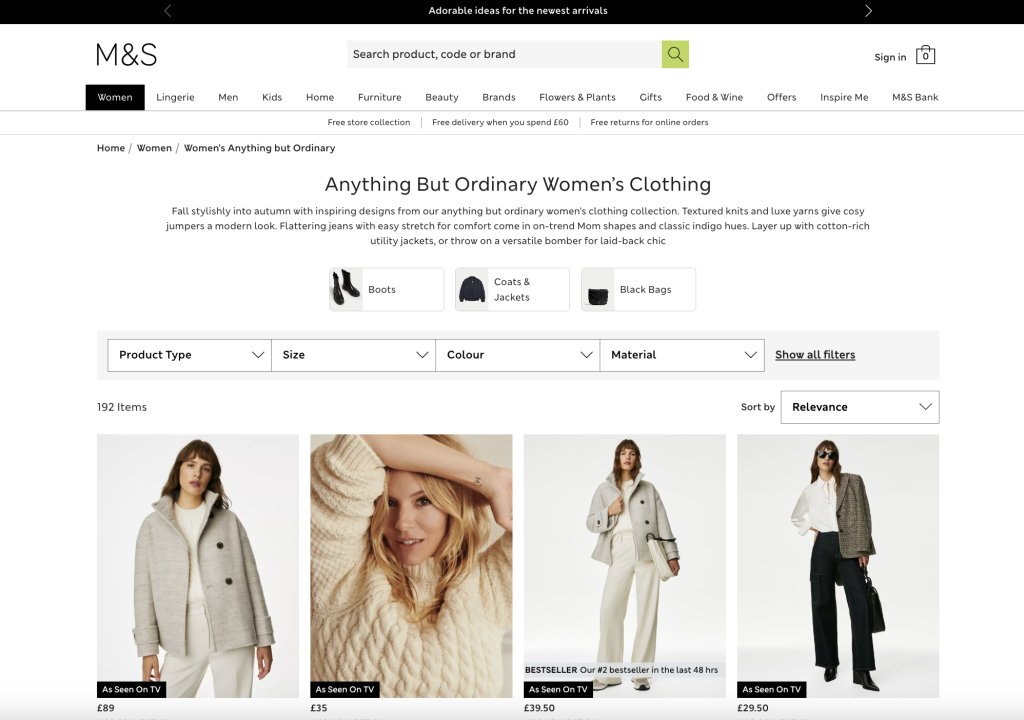 If you aren't sure what to use for search terms, you can find out what your customers are already searching for in your Shopify top online store searches report, which lists the top searches users are performing in your site search. This can not only inform your search terms, but possibly highlight a blindspot in both your marketing and website setup.
Using tags can also be useful once the season concludes. For instance, if you are no longer selling certain seasonal items outside of the autumn, you can use a bulk action to hide these items from your sales channels.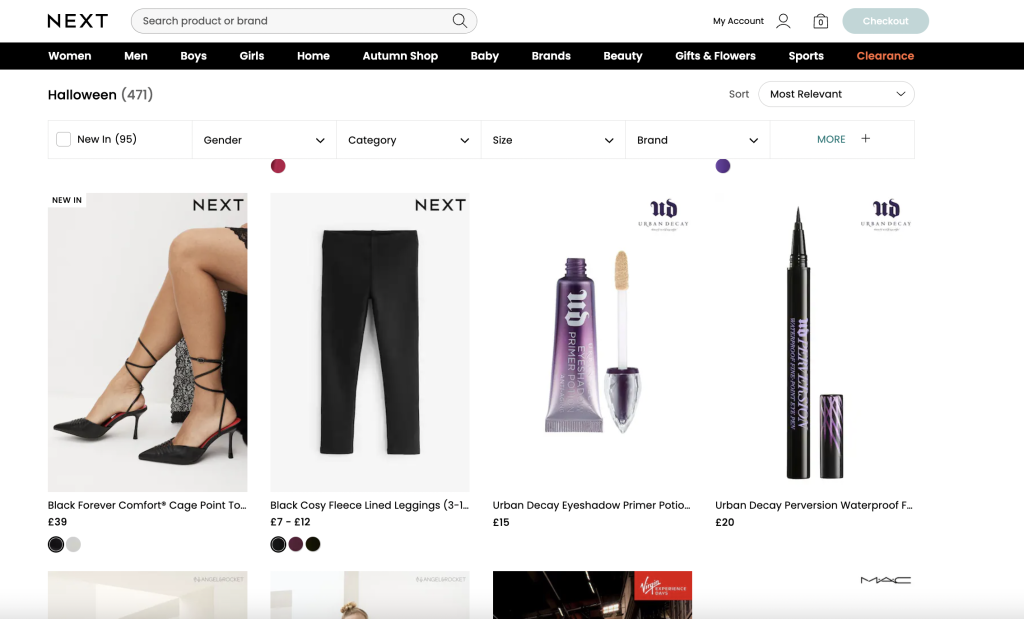 ---
Revive your look
While most of your website should have an evergreen value, there are certainly a few ways in which you can invigorate it for the autumnal season.
For example, you might think about updating the photography on your pages. This is especially important if your products change seasonally—such as clothing brands—but can be considered even if your offering is the same all year round. Think autumnal colours, leafy foliage, pumpkins and apples, cosy cardigans, or even a dark spooky overture to inspire and intrigue.
You can take inspiration from Emma Bridgewater, which has paired its new Halloween-inspired designs with a spooky, festive table setting in new product imagery.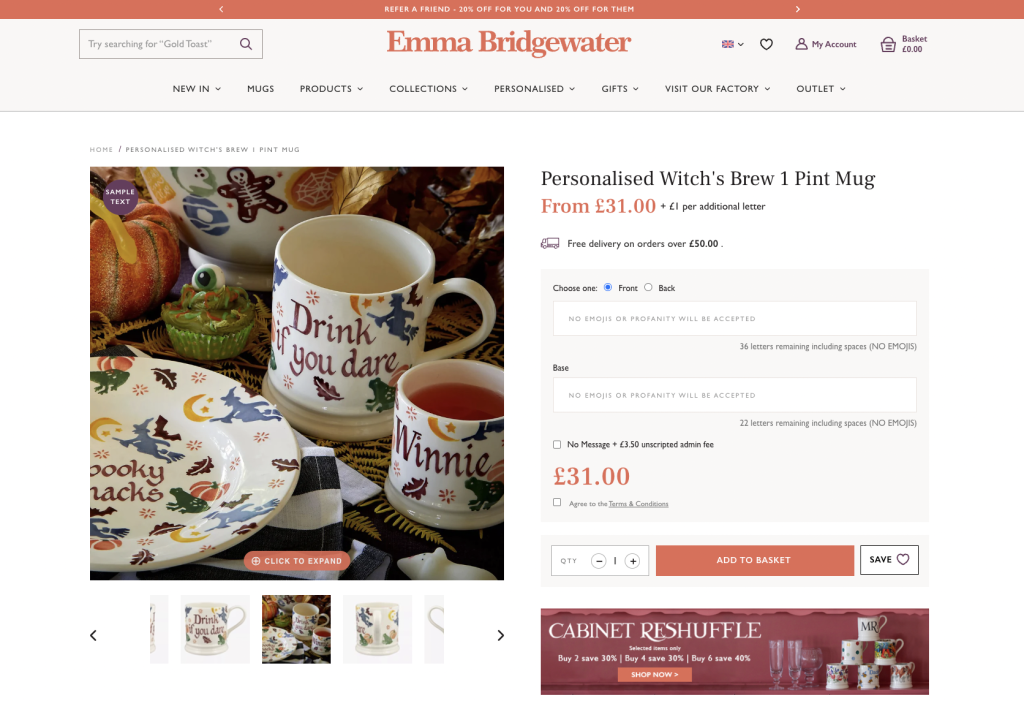 You might also create a banner to announce a seasonal sale, direct visitors to your Halloween or autumn product collections, or even just to celebrate the time of year. This can either be built onto the homepage or appear as a pop-up instead—whichever is more effective with your unique audience.
Avoid rehauling your website too much, of course. You want to make sure that even if you adjust your colouring and photography, your logo and core brand colours—and tone of voice—are still at the heart of your design. Not only that, but it can be very time consuming to adjust your web design for every passing season, so make sure that your changes are as manageable as they are effective.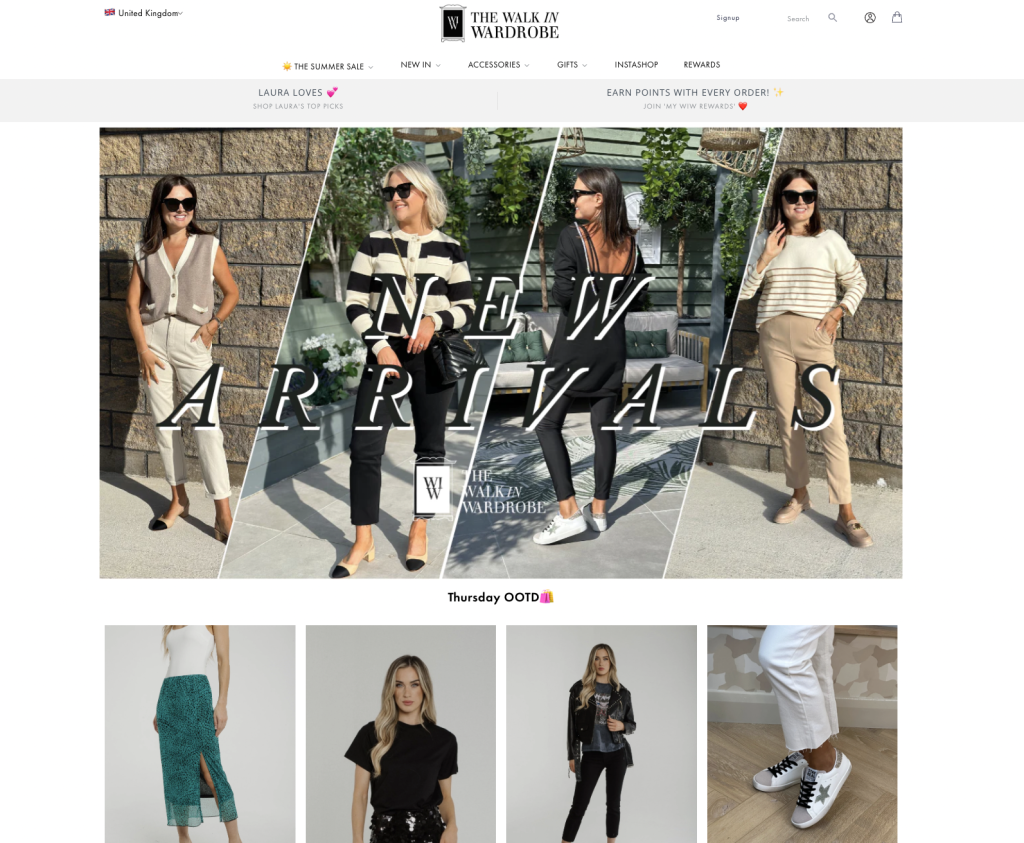 Seasonal content
Building content around your seasonal products and the season itself can be a fun and effective way to engage your customers. For instance, in 2023, the creators of the iconic #PSL Starbucks posted this fun guide of their autumn drinks menu to their Instagram, helping returning customers and new buyers alike pick their perfect coffee order.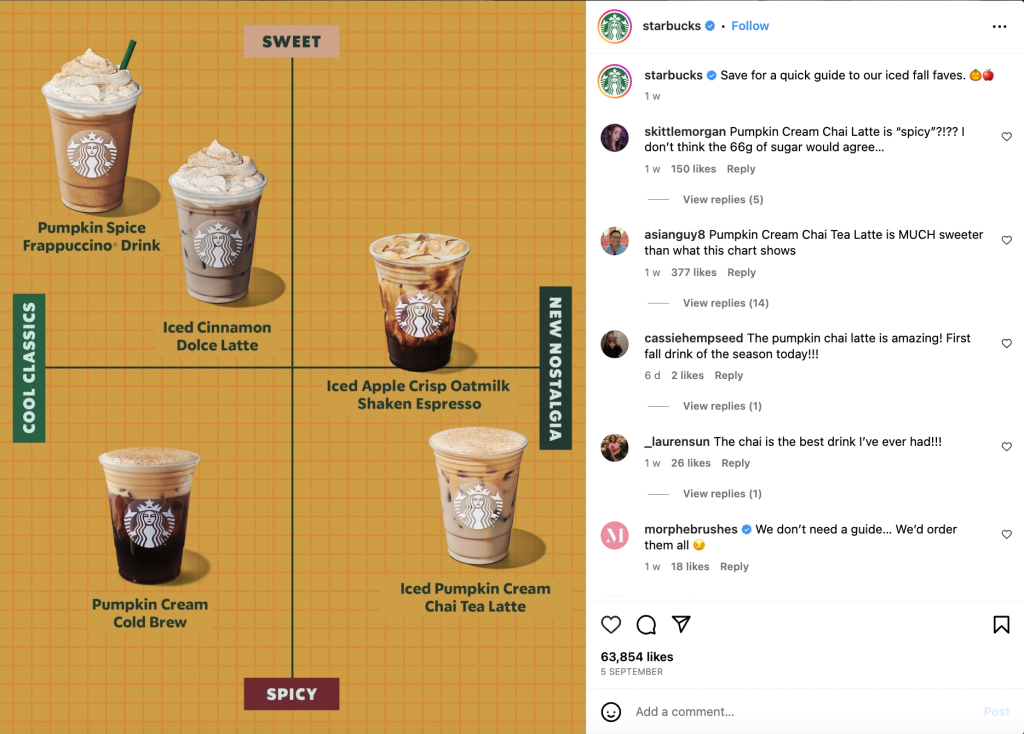 Similarly, Penguin Books created an article about the best books to read at Halloween, with short descriptions and a scare-factor ranking—plus a link to their Penguin product page. This is a great way to both add value to returning customers, and inspire new buyers.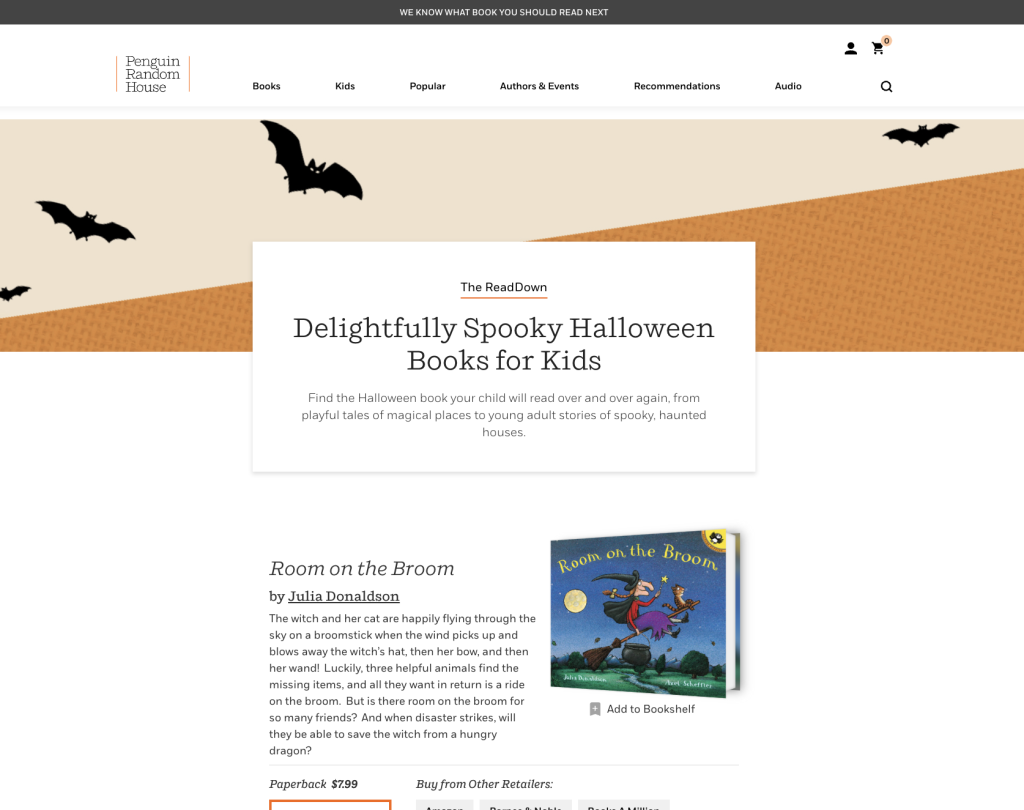 Bundle options
Bundles can be especially effective for the back-to-school season, but can be applied across marketing campaigns the year round. The logic of it is that students and parents buy, largely, a variation of same school supplies every September, and you can group these together for handy one-click purchases.
As an example, we can look to school supplies brand Smiggle. This retailer has a collection for School Bundles which includes product groups of matching bags, lunch boxes, water bottles and pencil cases—oftentimes at a reduced price compared to buying each item individually. 
Similarly, Argos offers 2-pack bundles on school uniforms—another simple, easy bundle idea which shows the brand understands their customers.
Even after the back-to-school season has passed, you might think to group other items instead. For example, Yankee Candle has created bundles of similar or complementary candles and melts—again, at a reduced price to individual purchases.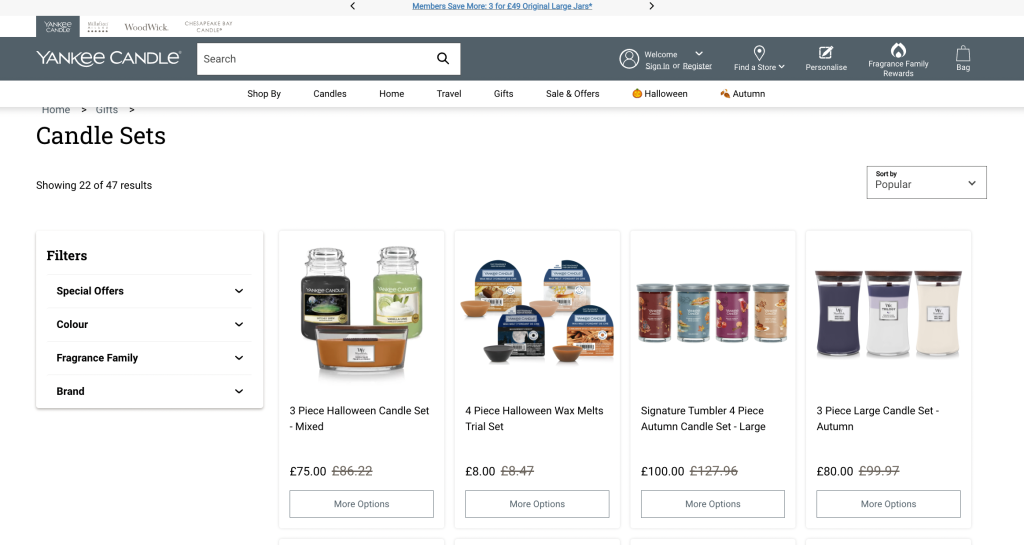 When it comes to building bundles Shopify, it's as simple as downloading the Shopify Bundles app. This app is free to install and use across all Shopify plans, and you can get started creating fixed and multipack bundles directly from your Shopify admin. It offers features such as:
Customers can choose from options like size or colour for products in the bundle.
Customise your bundle product page with images, variants, and product options.
Inventory is updated in real-time, so you're protected from overselling.
Experiences
Many of your customers may want to enjoy the particulars of the season, such as getting out into nature, learning a seasonal craft, or baking. This is a great opportunity to highlight and promote any relevant experiences your business may offer, or brainstorm new ways to present them.

This could be as simple as promoting a new seasonal menu at your cafe, or as in depth as inviting guests on an afternoon of autumal foraging—such as local events venue Finnebrogue Woods offers its customers. It really is up to you and your brand.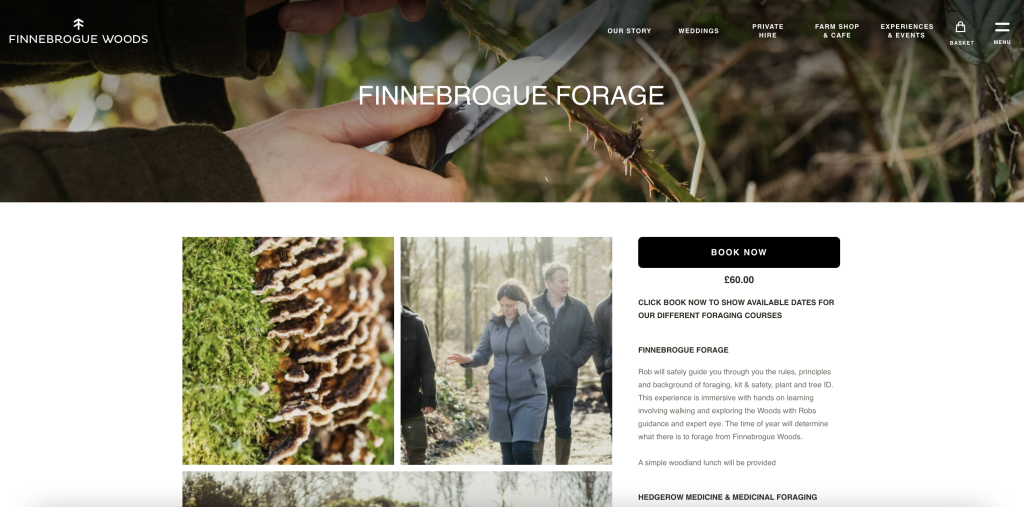 Shopify has booking functionality you can use. As an example, you can see on our client Galgorm Resort and Spa that this business offers a variety of spa packages. For this, it uses a booking system, with which customers can choose the day of their stay, the number of guests, which spa treatment they would like to book and a range of other custom fields such as their preferred beverage.
Similarly, our other clients, Baked By Steph and NI Silver also offer baking workshops and spa treats, respectively, and use similar booking systems.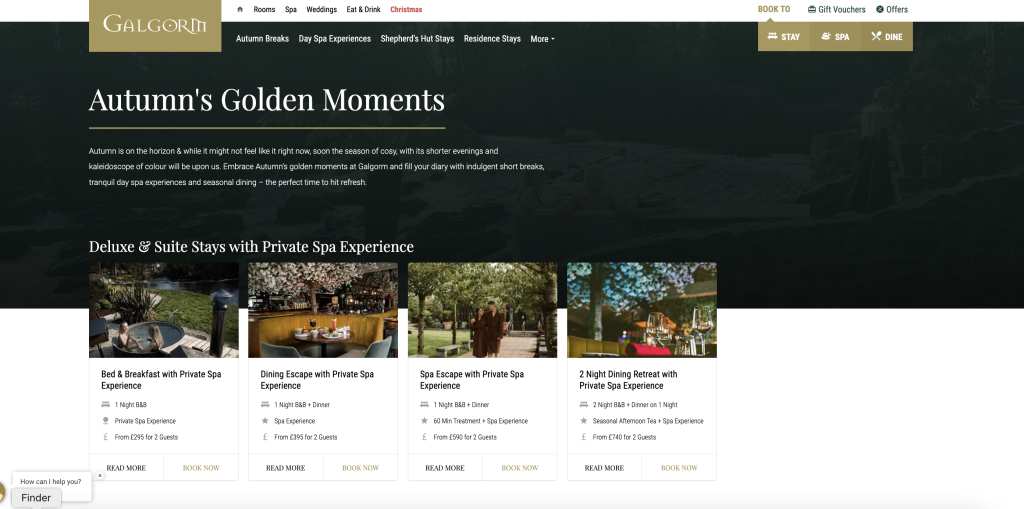 Black Friday 
The very end of the autumnal season sees one of the most important sales events of the year: Black Friday. This day—the last Friday of November—is meant to signify the beginning of the Christmas shopping period and is often used as an opportunity to offer deals and discounts to customers. For instance, you might offer free shipping if you don't normally or bundle your products to entice buyers further.
If you have decided to celebrate Black Friday with your customers, it's important  to remind them with social media support, newsletter reminders, early access opportunities, and even a countdown on your website. A pop-up on the day of the event itself might also serve as a useful prompt.
If Black Friday does not suit your brand values, of course, you can still think of a way to subvert this, such as donating a percentage of sales that day to charity, or not selling anything at all—a la Patagonia. Another example of this is sustainable footwear brand Allbird, who upped prices on Black Friday by £1 across the website, matched the cost, and donated the proceedings to eco-activists Fridays for Future. This allows the brand to both acknowledge the day without compromising their values, and stand out from the crowd of competition, too.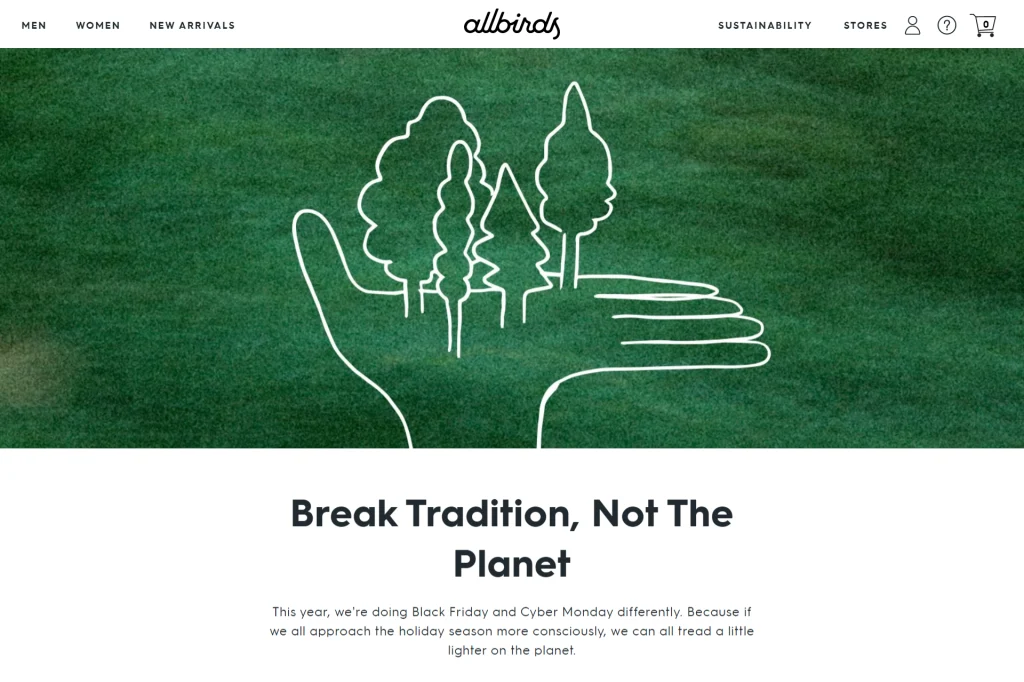 In all, autumn can be a fun time of year to change up your online offering to both surprise and delight your audience. New products and special pages, as well as seasonal sales, can really inspire your customers to shop with you, and communicate to them that your brand is lively and evolving.
If you want to talk about all things Shopify or are interested in upgrading your e-commerce strategy, get in touch with us today.