Whether you are embarking on your Shopify journey for the very first time, or searching for new ways to revitalise your online store, you might look to other brand's success stories for inspiration and guidance.
From the basics of the web design to how the store is marketed can all have an impact on your bottom line, so we have reviewed the UK's top most visited Shopify stores in order to deduce important lessons about online sales.
But who are the top websites? Getting customers onto your website is the first step of any successful digital sale, so we reviewed the Shopify stores in the UK estimated to have the most traffic per month to figure out what made them so popular—and to help you replicate their most telling strengths.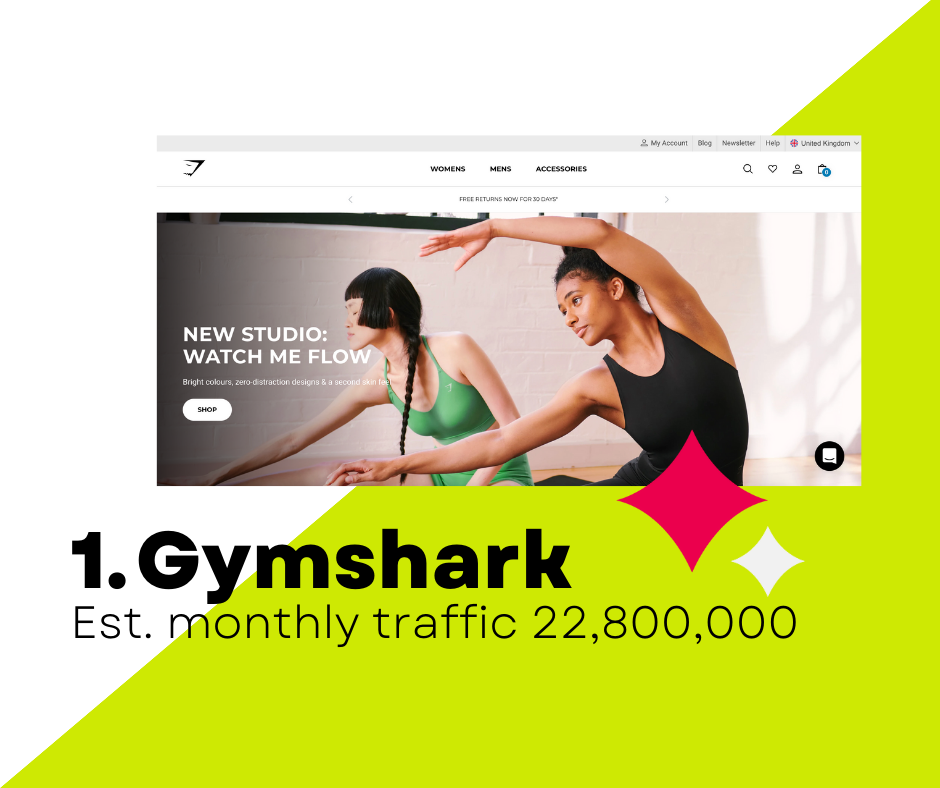 Taking the top spot is Gymshark—a fitness apparel brand founded in 2012 by Ben Francis and Lewis Morgan while studying at university. It currently sees around 22,800,000 visits every month.
Originally, Gymshark was built using Magento—a decision the founders later said they regretted. In particular, in 2015, during Gymshark's Black Friday sale, the entire site crashed for a total of 8 hours, resulting in an estimated loss of £100,000 on what should have been one of their most successful days.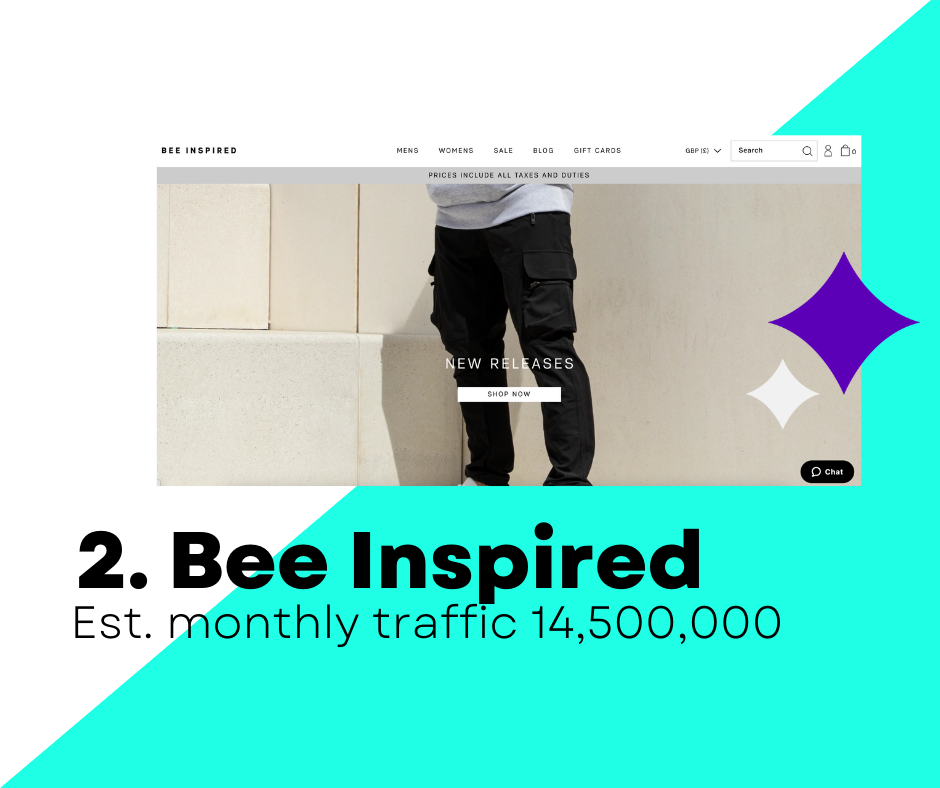 The team has since moved to Shopify Plus. This platform, by contrast, allows the brand to expand on demand, alleviating concerns surrounding ill-timed website crashes and less than perfect customer experiences. This proves to us just how important it is to a) invest in the right platform for your brand and b) anticipate your future needs.
Bee Inspired is a streetwear brand from professional footballer duo Steven Robb & Mark Corcoran. It was founded in 2013 and began its life as a bedroom brand, but has since found its strengths in the world of fashion.
In 2020, Bee Inspired released a detailed announcement as to how they had rebuilt their website for the better, based on feedback from their valued customers. In particular, they outlined a priority to the user's experience, delivering a new "Buy the Look" functionality to allow customers to buy and visualise entire outfits.
Obviously, these features are particularly well suited to this fashion brand, and have been inspired and tailored by detailed customer feedback, but there is still a universal lesson in improving your shopping experience for your customers. In particular, you might think about how to analyse data or gather information in order to tailor this experience specifically to your audience.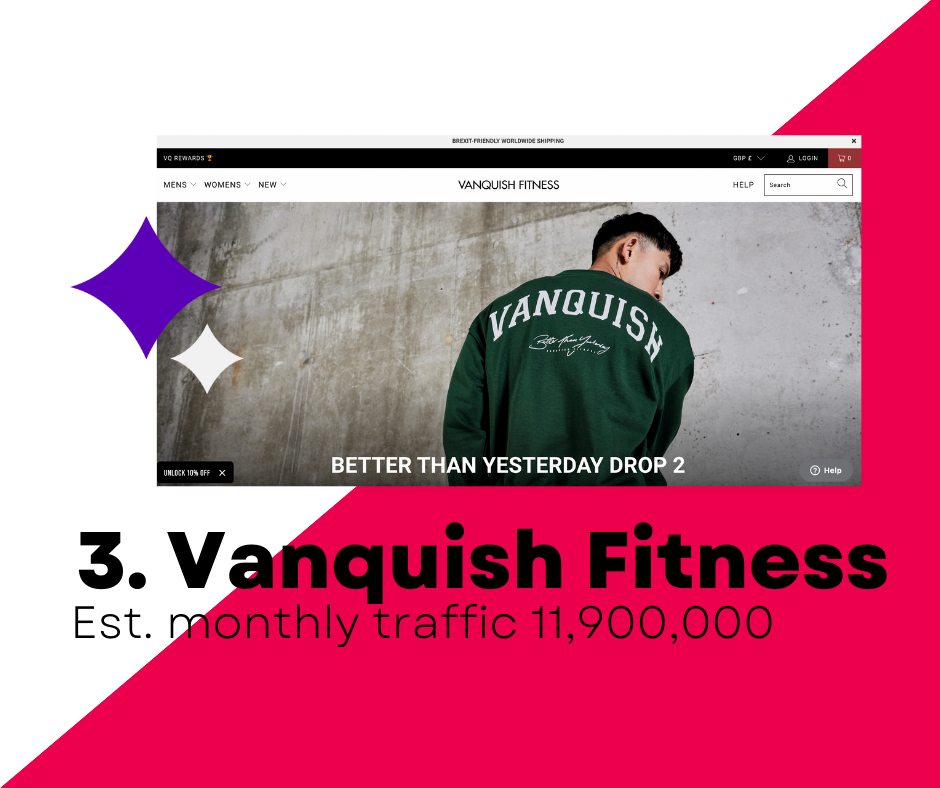 Vanquish Fitness is another fashion brand, this one specialising in athletic wear. Born in 2015 from another school friend duo, it's based in London and uses Shopify to sell their wide range of fitness fashion products.
The Vanquish homepage is particularly interesting because of the prominent "VQ REWARDS" tab at the top. This directs you to a page which details the various "points" you can earn by completing tasks like creating an account or referring a friend. These points can be exchanged for monetary vouchers to be spent on Vanquish.
There are even "tiers" to reach, which allow customers to essentially "level up" their buying experience, with additional discounts and exclusive promo codes.
This is a great way to both reward loyal customers for their business, and entice new buyers to engage with the brand across various platforms.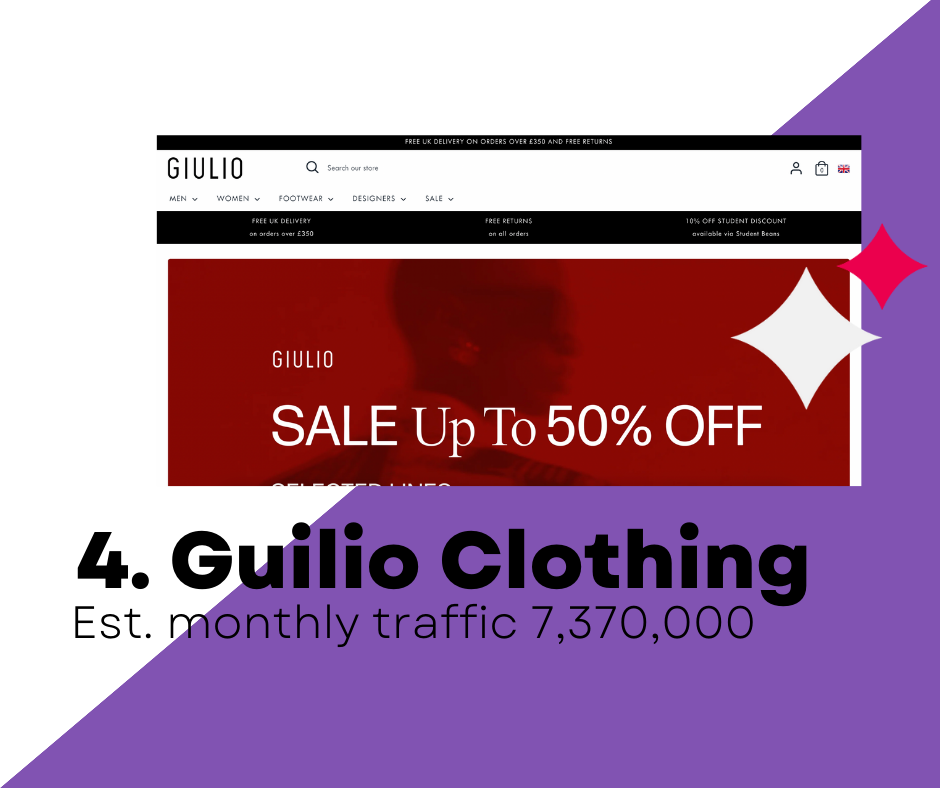 Guilio is one of the older fashion brands on this list. It began in 1982 and has been based in Cambridge for over thirty years. Their Shopify store, however, was only launched in 2017, and the brand has aimed to create the "Guilio" experience in a digital landscape.
And what is a Guilio experience? Well, from their Shopify storefront and the high quality imagery used throughout, you can assume that it includes a sense of luxury and dedication to the products themselves. Not only that, but Guilio makes the experience simple for the shopper. Throughout the store, there is a banner which reminds the buyer of their shopping policies, including their free returns offer and discounts for students.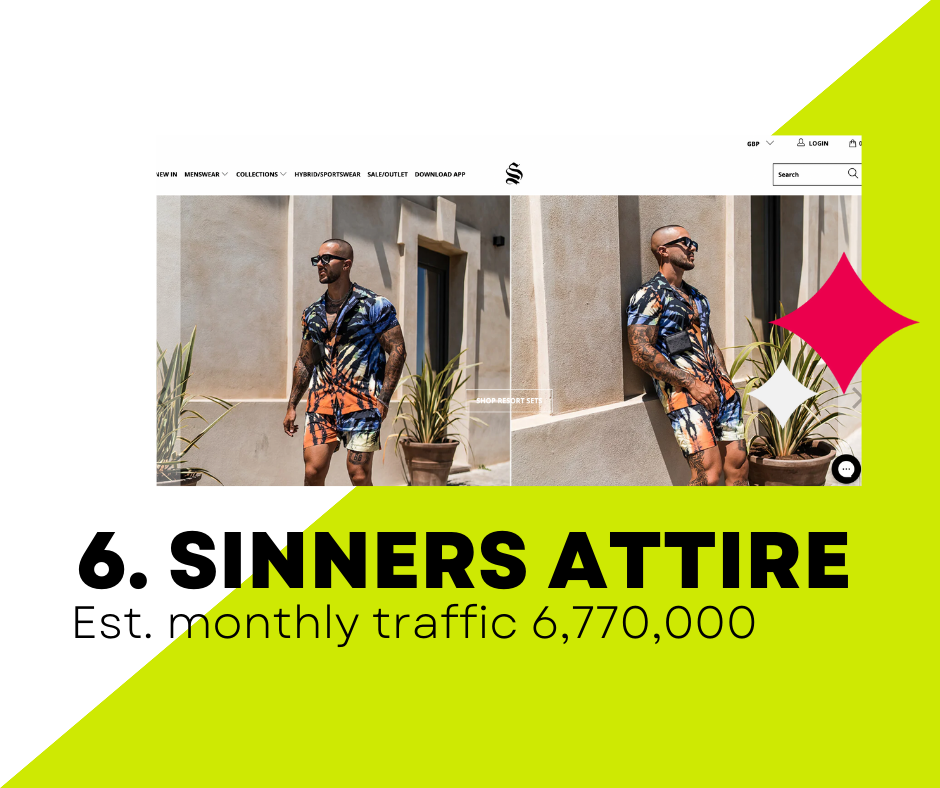 Launched in 2014, Sinners Attire is another popular fashion brand based in the UK.
An interesting element of this Shopify store is its integrations. In particular, Sinners Attire includes a bold banner showcasing their involvement with Klarna, Clearpay and Student Beans—all delayed payment and discount integrations to help customers better manage their finances while still buying from the store.
What's better is that with the likes of Klarna your store receives payments in full at the time of purchase, while your customer is able to pay at a later date—a win-win!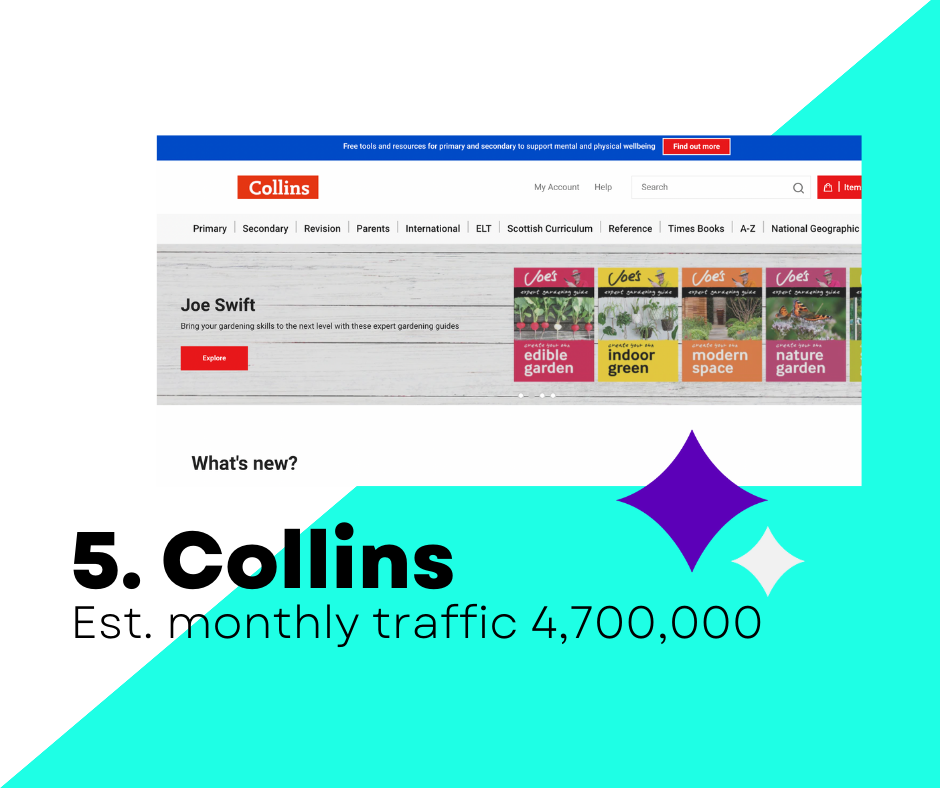 Collins has been publishing non-fiction and educational books for over 200 years. As such, the brand has a colossal collection of products, which need to be available not only to individuals but educational bodies and larger corporations.
Collins is a fantastic example of how robust a Shopify store can be—and how well organised they can be, as well. With any large store with hundreds, if not thousands, of products, you should make a point of carefully organising them into categories with different tags to make the user's experience as uncomplicated as possible.
For instance, Collins splits its top menu into different school groups and educational purposes. From there, the products are divided further into age groups, subjects and other resources. This helps the user both find what they are looking for, and to explore other options within similar categories.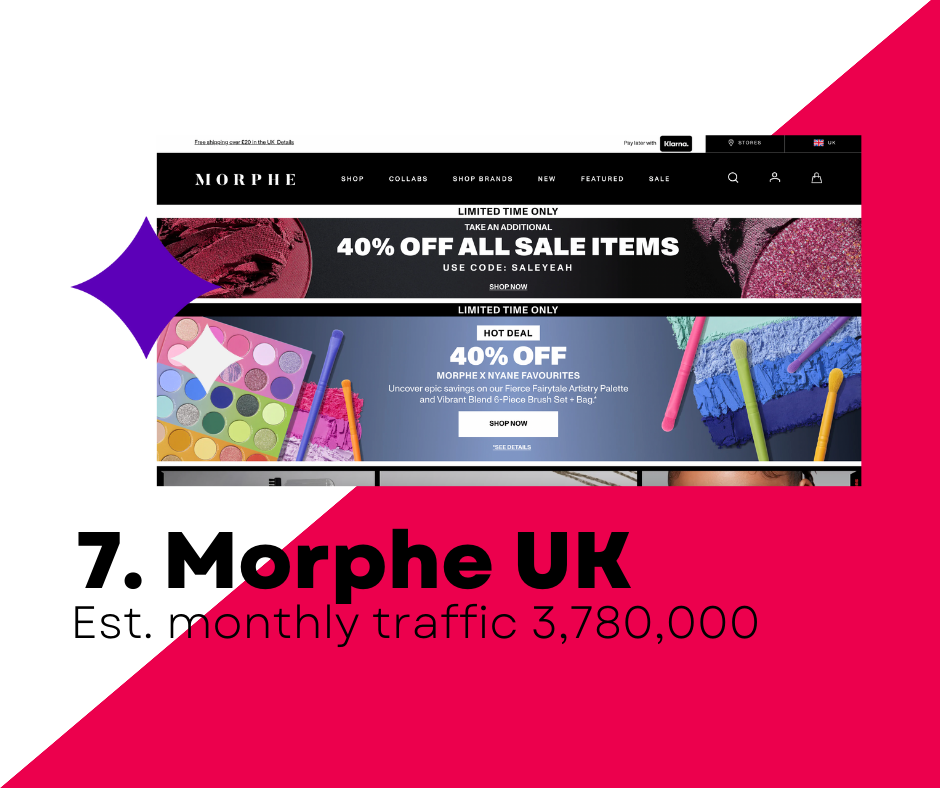 Morphe is a globally successful makeup brand, starting in 2008 with a simple line of makeup brushes. It now sells a vast range of beauty products and has collaborated with the likes of Disney, Lucky Charms and Coca Cola.
With so many best selling products and a constantly rotating "new in" page, for a brand like Morphe it's important not to overwhelm a customer. While a customer is at liberty to search through product categories—split by brands, makeup type and more—they have also created special pages and product groups to inspire and intrigue the buyer.
As just two examples, Morphe created an astrology-inspired page—the "Astrology Store"—highlighting bright, bold and glittery makeup products in honour of "Leo season". Elsewhere, they have a carousel of bright, neon products under the header "Festival ready".
Even in the case of a brand with a smaller product list, it can still be effective to group different products on different inspiration-style pages. Think "Christmas store" or "Holiday shop" and other ways you might reinvigorate your products.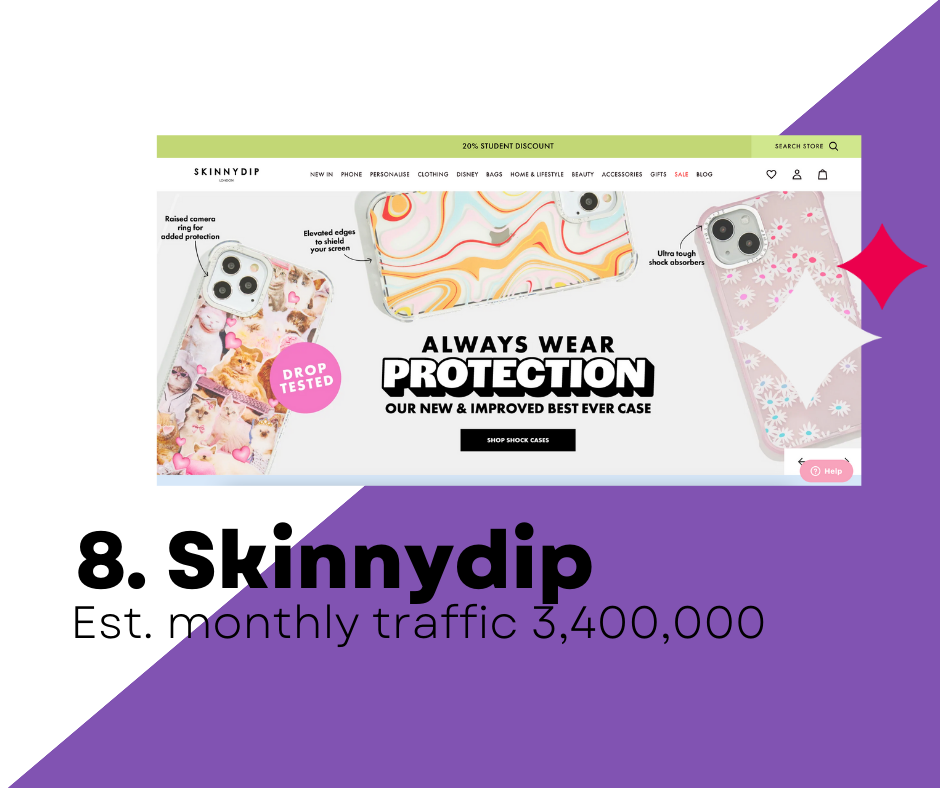 In 2011, Skinnydip was launched in response to the Apple iPhone. It has since expanded its offering from fun, youthful phone cases to a wide swathe of lifestyle and fashion items. Their website reflects this, too, with a helpful menu bar detailing the various product categories and a search bar which suggests popular products and search terms.
Not only this, but Skinnydip makes careful use of pop-ups on its store—specifically this 10% offer which appears after briefly browsing the website.
You could also use this functionality to gather data like emails or feedback, offer different perks like free shipping, or simply direct them to a product launch or timely product category. Of course, you ought to use interruptions like this sparingly, but used correctly and to the benefit of the customer, it can be an effective way of encouraging customers to checkout.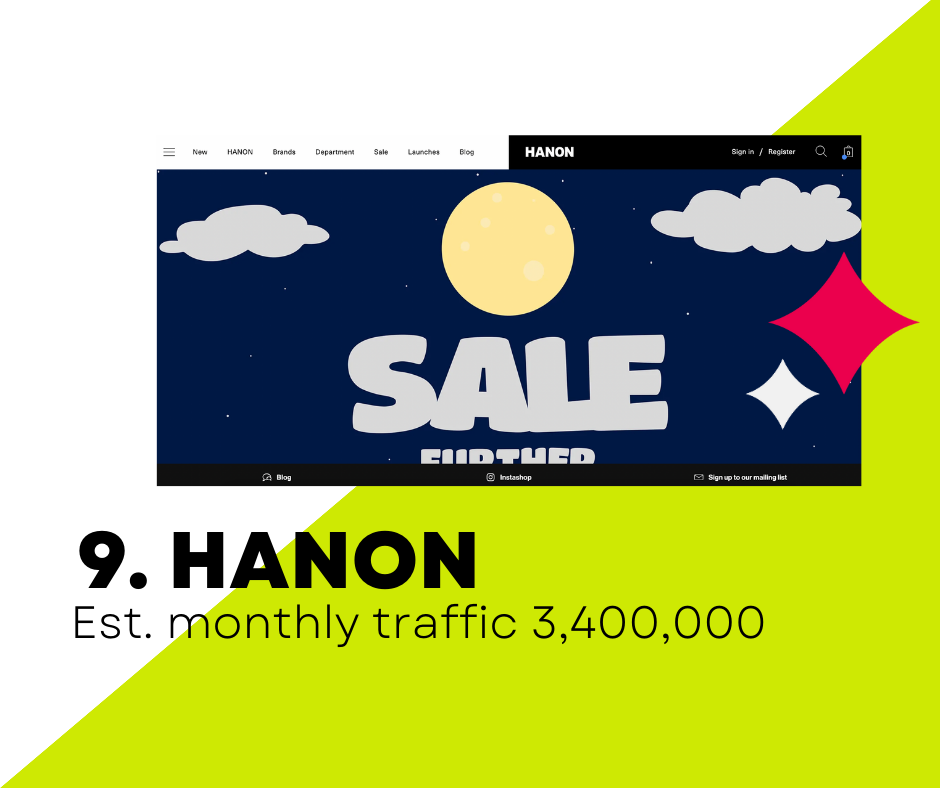 On a different note—sometimes interruptions have a negative impact on a customer's shopping experience.
Based in Aberdeen, HANON is a modern, minimalist store specialising in men's shoes and other fashion pieces. The brand has a large number of products and has organised them by product type and brand. The high quality imagery allows for easy identification and the entire website has a sense of understated luxury.
The HANON website also has "quick add" functionality. This allows customers to add an item to their shopping cart without having to go to the cart page and so keep shopping without interruption or losing their place scrolling your products. This can be especially useful if you intend your shoppers to buy multiple items at a time.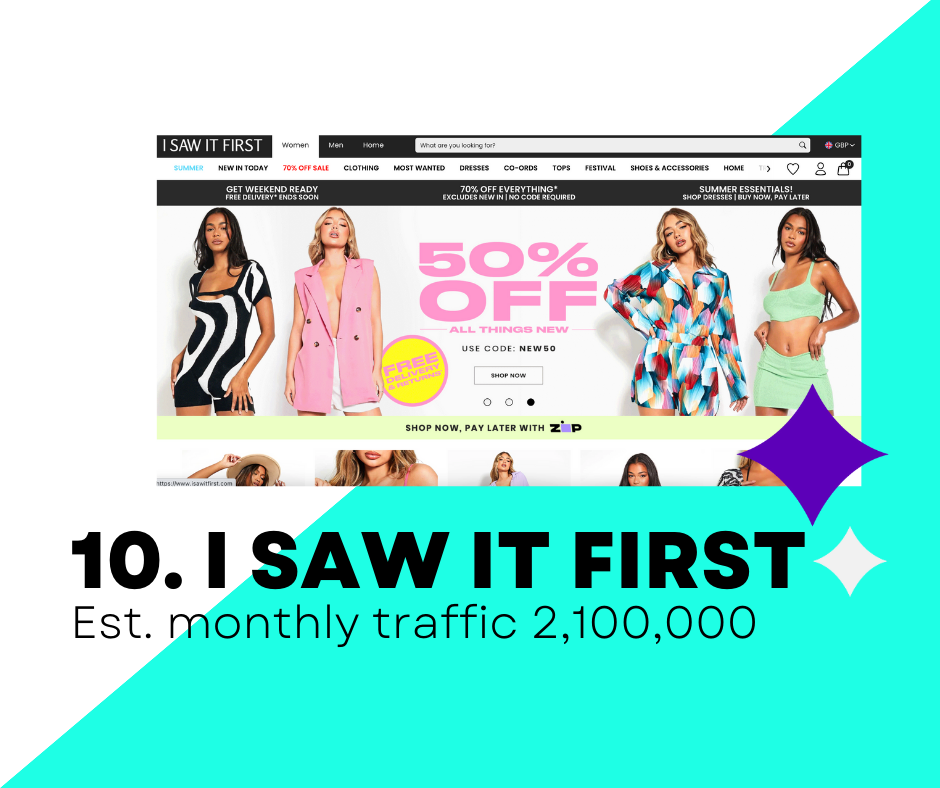 I SAW IT FIRST prides itself on being the answer to the "nothing to wear dilemma". The brand launched in 2017 and has gone on to be Love Island's fashion partner and, as their position here, a highly popular online shopping destination.
With a highly visual homepage and clearly displayed discounts, the brand does a good job of making customers immediately aware of their offerings. They also include an integration with TrustPilot—showcasing the positivity of their numerous reviews.
It's important for any Shopify store to establish trust with its customers. Shopify has even done research into what makes a trustworthy store and has found that the most important elements include an About Us page, multiple product images and detailed descriptions, and of course, social proof.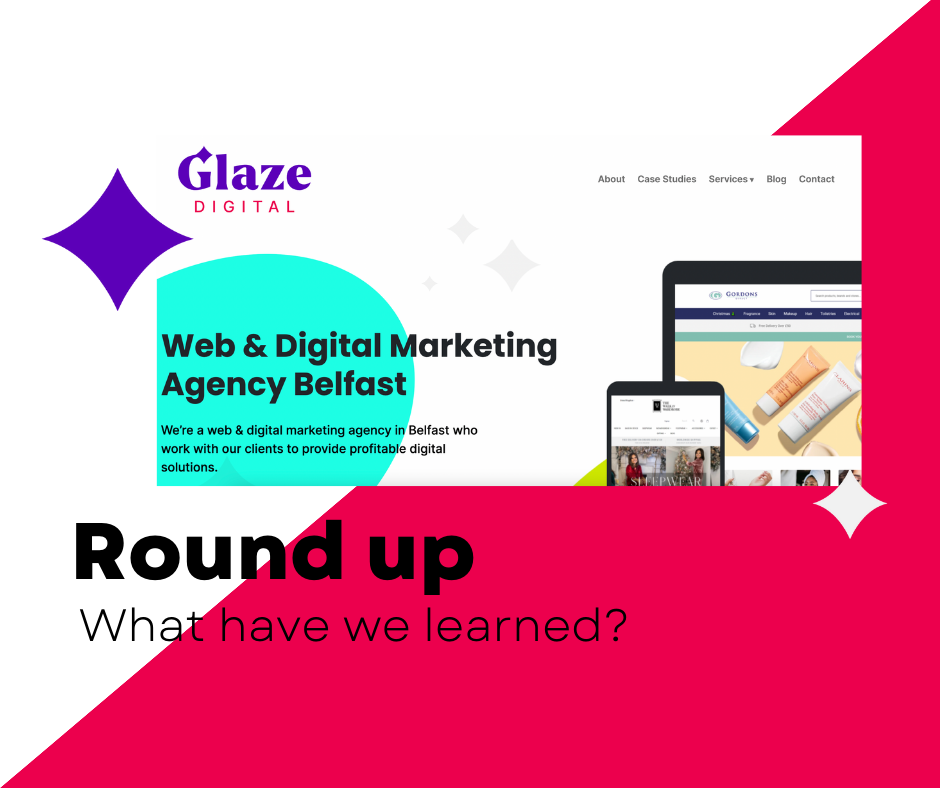 If you're still with us or maybe just need the top-line information quickly, here are the lessons we've taken from the top most visited Shopify stores in the UK:
Invest in a platform that can grow with you to save yourself the time and effort of future migrations.
Create shopping experiences based on your unique customer base.
Offer rewards and extra value to repeat customers.
Create an online shopping experience which reflects your in-store experience—with simple shopping policies and quality visuals.
Consider delayed payment and discount integration—like Klarna and Clearpay—to give your customers better value and more varied options in their shopping experience.
Carefully organise your products into groups and tags to allow for easy search, filtering and natural discovery.
Don't stop at organising into categories—create special product pages and inspire your customer.
Use interruptions like pop ups wisely to grab attention.
Alleviate interruptions like page hops to maintain attention.
Establish a sense of trust between your brand and your customer.
A lot more goes into a brand's success than just their Shopify storefront, of course. You may look at these various brands and link their accomplishments to various other factors besides their Shopify ingenuities, and in that, you may be right. It is true that much else goes into a business besides a good online shopping experience, but it is also true that in 2021, there were 900,000,000 more digital buyers than there were in 2020—with expectations for that to increase yet again in 2022.
That means that getting your online store right is a huge advantage to your business in both the short and long term—and we hope that this brief look into some of the top online Shopify users in the UK will help you on that journey.
If you have further questions or queries, or want to chat about getting your business on Shopify, please feel free , contact us at Glaze Digital.
If you are interested in further news and information about Shopify, consider signing up for our email newsletter, Shopify Insider.
Sign Up For Email Updates
Sign up below for the latest Shopify news & advice from Glaze Digital.Full NameEmail*Submit