The autumnal shopping season can, generally, be divided into 4 main stages or categories:
Back-to-School
Harvest
Halloween
Black Friday Sales
In this article in particular we're looking at the spookier side of the season—All Hallow's Eve.
Halloween has its roots in Celtic folklore, the holiday better known as Samhain, and would see people dress up as demons and ghosts in order to ward off spirits during this one special night.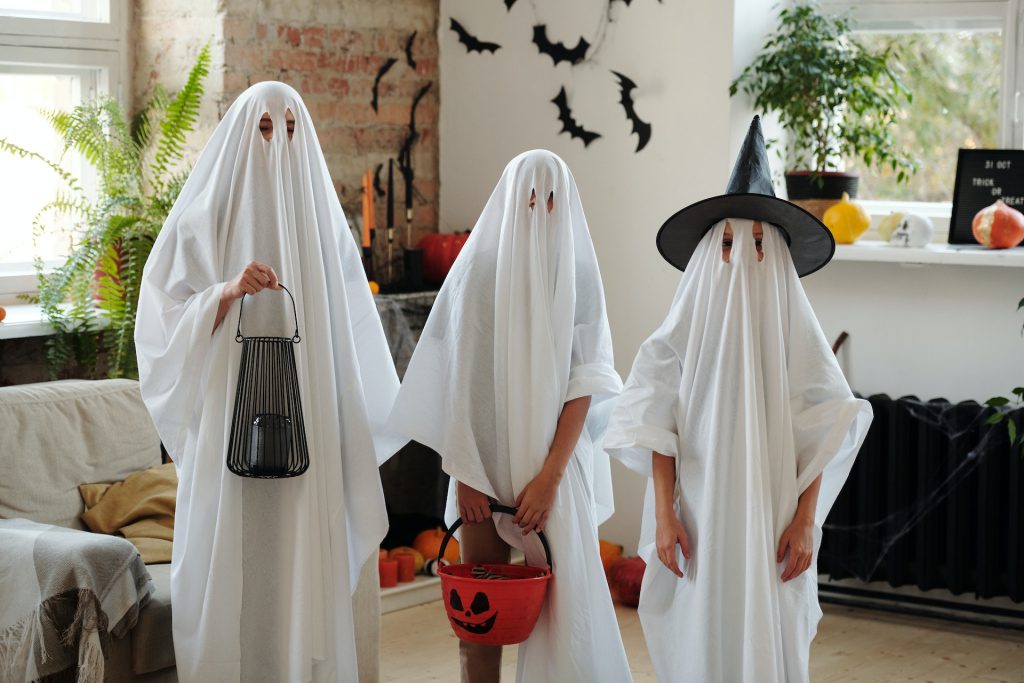 Nowadays, of course, most people prefer to celebrate Halloween with scary movies, plastic costumes, and carving up Jack-o-Lanterns to set by their front doors.
As an online business, you can both cater to these celebrations and find ways to get involved with them, too. In fact, there's good reason to believe that you should.
In 2018, in fact, 35% of Halloween shoppers used online search in order to look for "inspiration", with another large chunk of these shoppers coming from social media.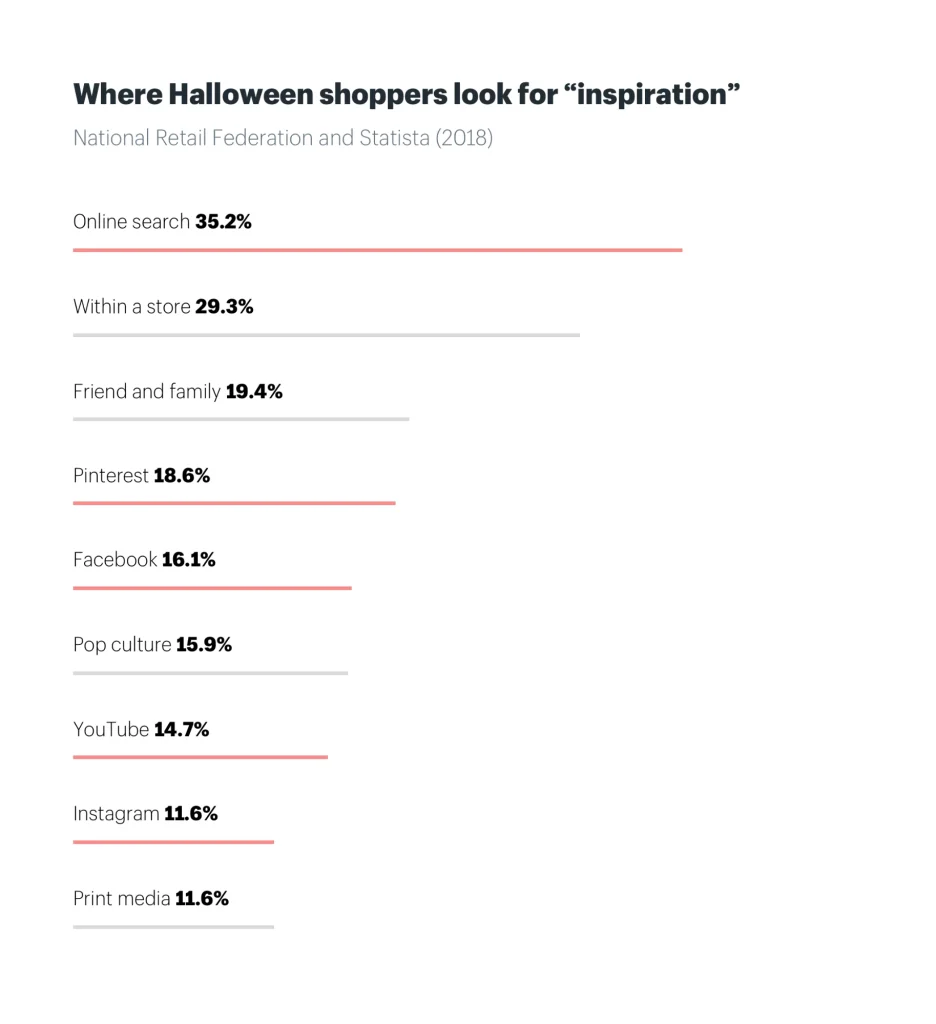 With this in mind, here's our top tips on how to make the most of your Shopify marketing for Halloween:
Devilish Design Updates
We'll never suggest updating your website design with seasons or holidays—it's simply too much work and disrupts your brand's consistency.
However, you can update certain elements of your design, such as banners, product images, and collection covers. These can either be built onto the homepage or appear as pop-ups instead—whichever is more effective with your unique audience.
Take, for instance, bath and beauty brand LUSH's newly updated homepage imagery. It still includes links to their various other products and collections, but the main image is of their Halloween range, giving better visibility to this new line for the spooky season.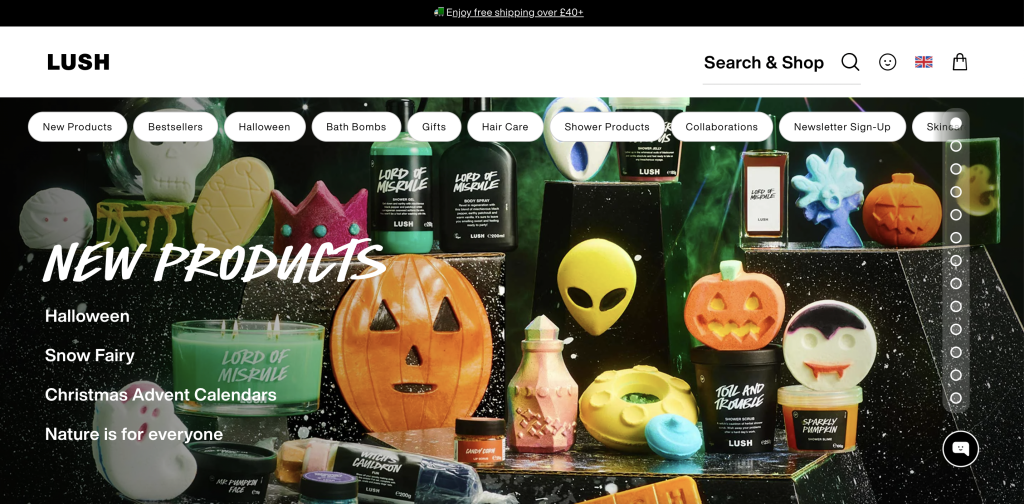 While we've already said that you shouldn't disrupt your brand's identity too much, you can still play around with the more distinguishable aspects of your identity—like your logo.
Take a look at HobbyCraft in 2023 as an example of a brand updating their still very recognisable logo to include a little Halloween magic.

Claw-some Content
In the vein of creating new imagery for social media and your website, you may want to also get creative with other aspects of your content.
Content comes in many forms, including:
Imagery
Infographics
Recipes
Articles / blog posts
Videos
Ebooks
As an example, let's look at the beloved ice-cream brand Ben and Jerry's. In celebration of Halloween—and in the lead up to the event—they posted a video recipe for their Halloween Treats Ice Cream Cake, using a few of their famous flavours.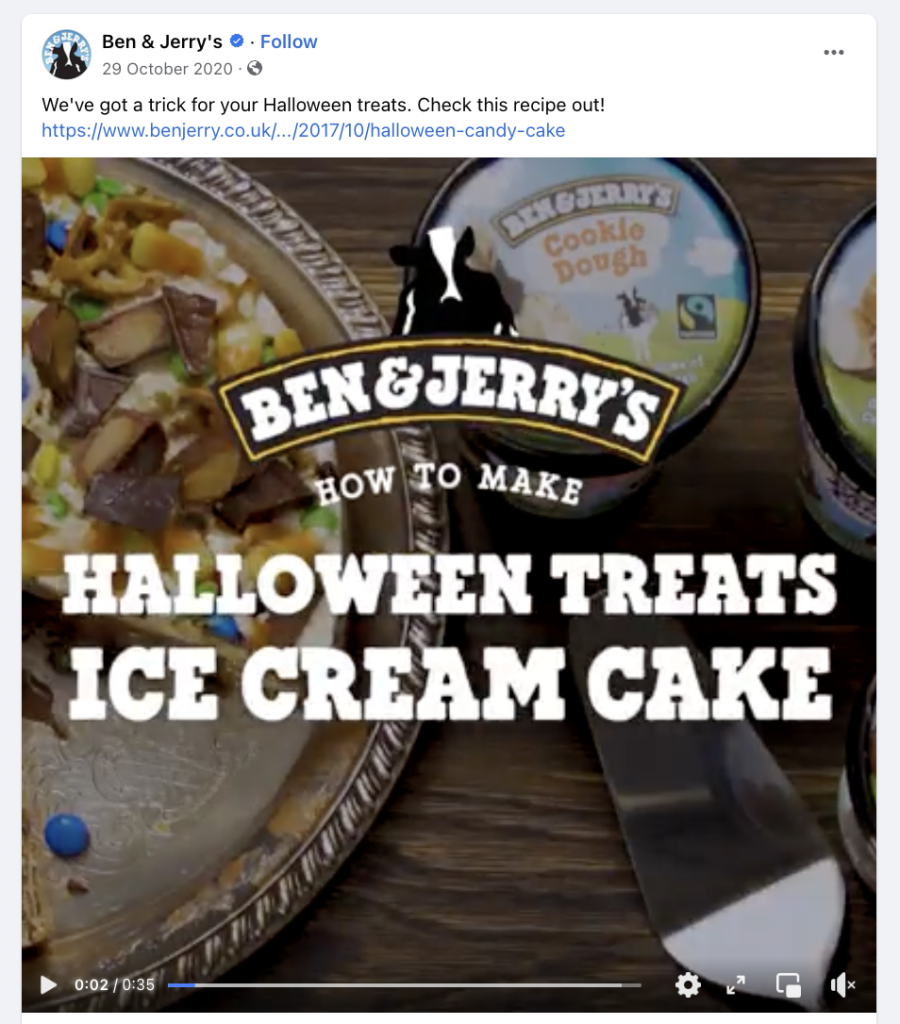 Similarly, Penguin Books created an article for their website about the best books to read at Halloween, with short descriptions and a scare-factor ranking—plus a link to their Penguin product page.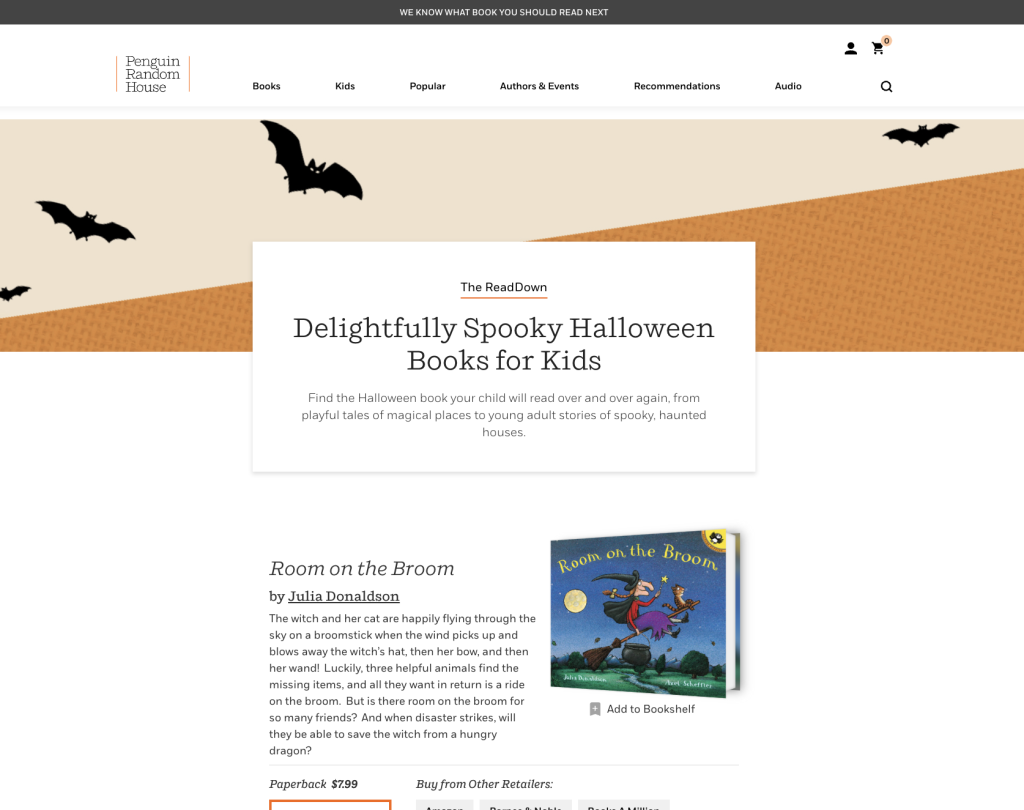 These are both great ways to add value to returning customers and inspire new buyers, too.
Some ways of creating content is just to highlight the brand in fun, Halloween-themed ways.
Look, for instance, to this advertisement from McDonald's for Halloween. The fries, red packaging, and shadowed M are all immediately identifiable, even within this vampire-themed graphic.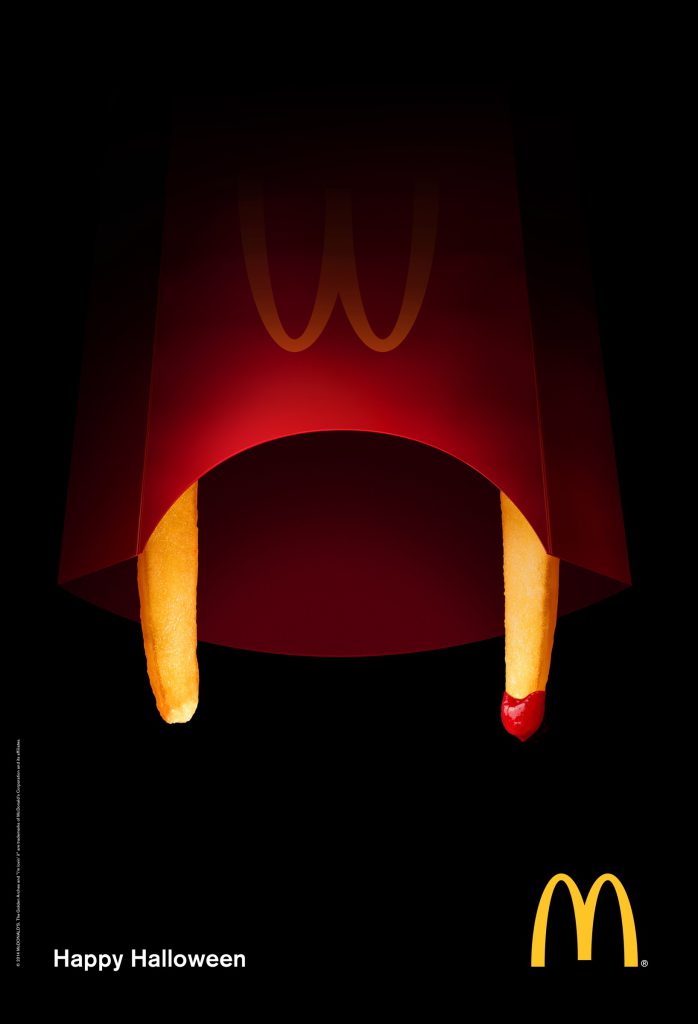 Similarly, and more recently, Dominos Pizza posted this image to their social media in order to advertise their beloved Garlic and Herb dip pots while emulating the creepy light of a Jack-o-Lantern.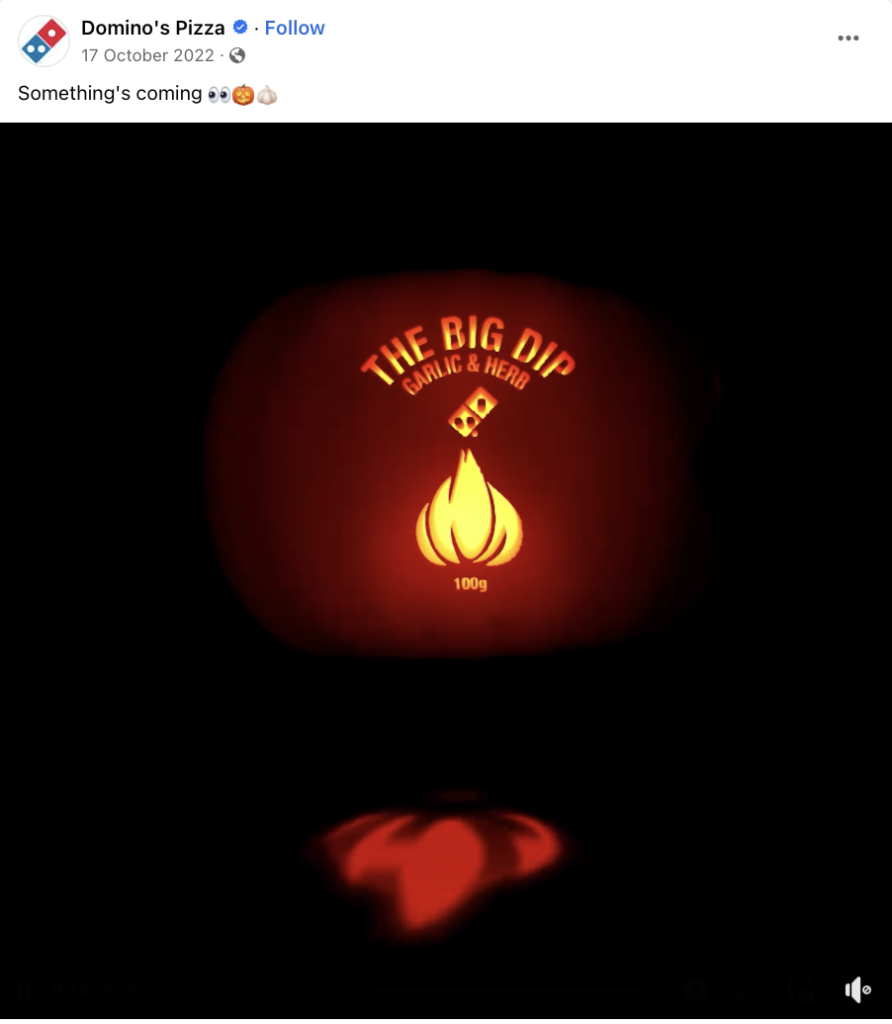 Petrifying Products
This may also be a great opportunity to stock your online-store with costumes, pumpkins, and home decor fit for a haunted house—if it fits your brand, of course.
For many businesses, selling costumes, pumpkin-flavoured snacks, trick-or-treat supplies and other Halloween staples comes naturally. You just have to look to your major retailers and supermarkets come October to see this in action. When it comes to Shopify stores specifically, an example of a brand well-suited to Halloween is the aptly named Smell of Fear Candle Company, which sells specifically horror-themed candles.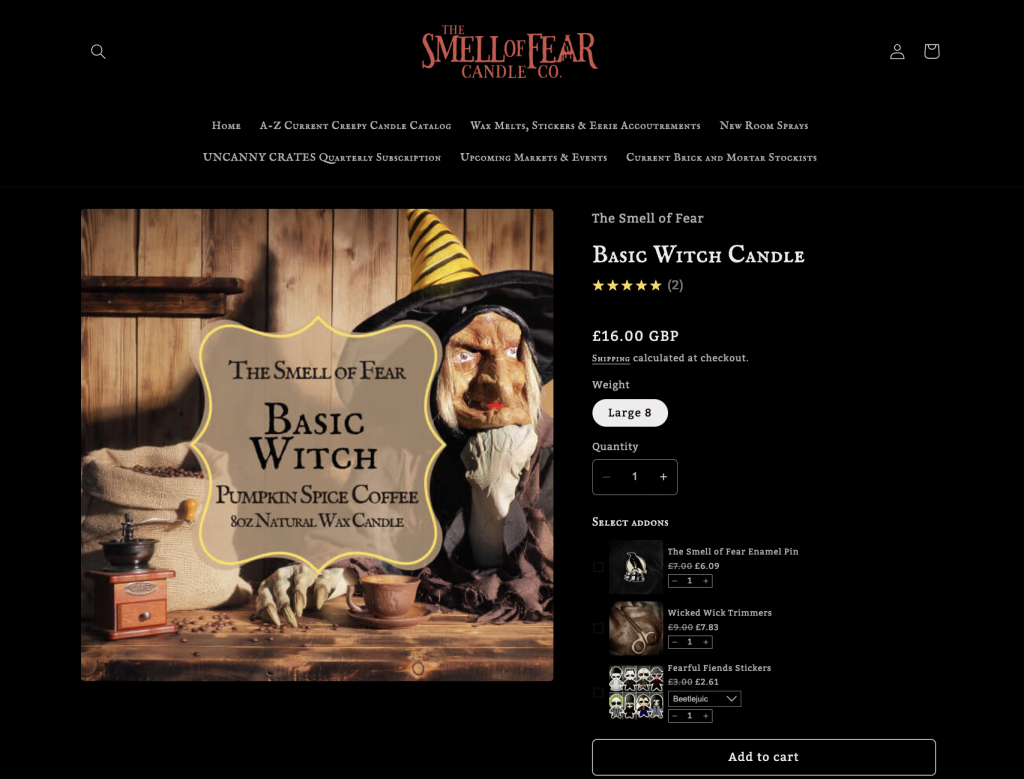 Other businesses, however, may not be as applicable, and this is a great opportunity to create or source Halloween-themed variations of what your customers ordinarily buy from you.
Pottery brand Emma Bridgewater, for instance, won't be selling witch brooms or scary movie downloads, but every year they do launch a range of mugs, dishes, and tins featuring Halloween-themed prints.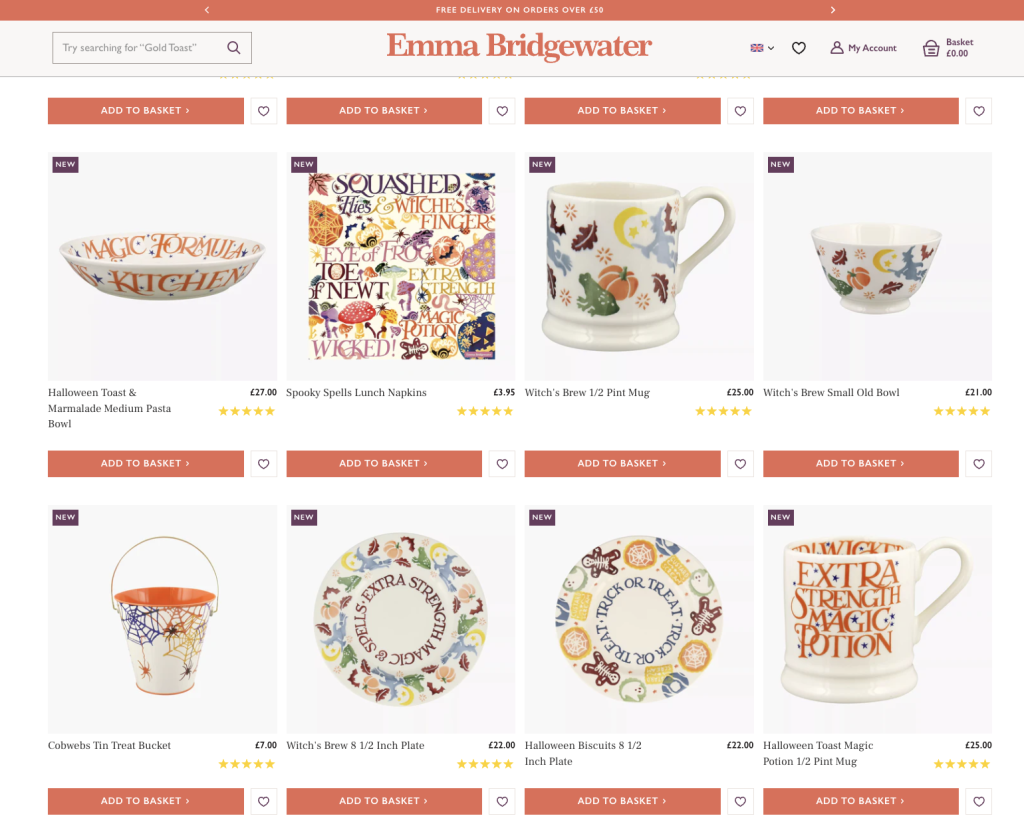 When it comes to launching a new product or product line, it's a good idea to give your customers some warning. You might think to alert subscribers in your newsletter or send them a code to give them early access to your Halloween collection.
For new customers, it might be better to tease or announce a new product launch on social media, or perhaps even adding a countdown widget to your website so that they know to come back at a later time for the product launch.
Again, let's look to Emma Bridgewater to see how they launched their Halloween range in 2023.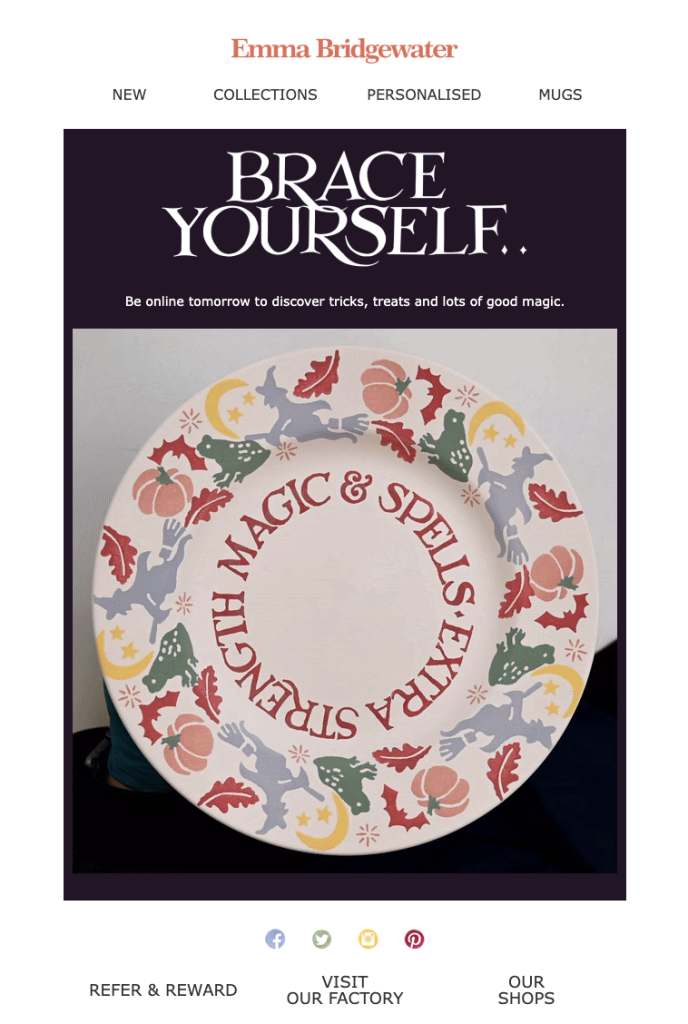 Firstly, previous buyers received an email announcement that there would be "tricks, treats and lots of good magic" available on the online store the next day. After that, it went up on their social media, and a secondary email went out to alert all subscribers that the range was now available.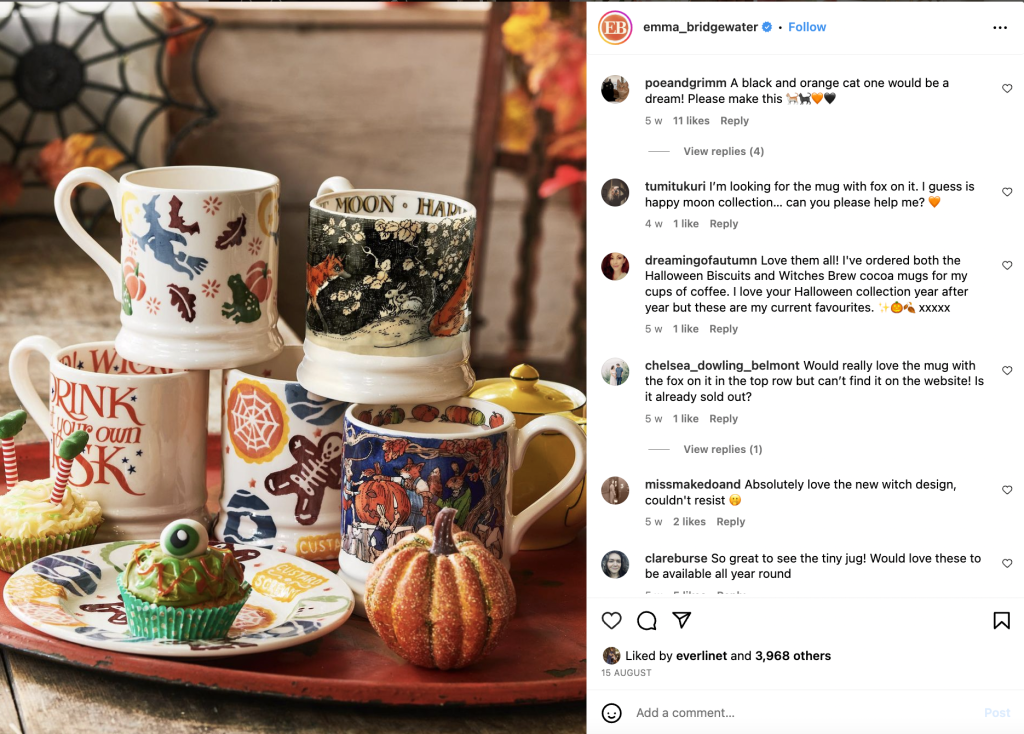 Eerie Experiences
Many of your customers may want to enjoy experiencing the joys of Halloween—including creepy capers and dress-up competitions.
Northern Irish brand Let's Go Hydro, for instance, is a water sports venue for most of the year. At Halloween, however, it is transformed into a spooky movie drive-in theatre and pumpkin picking event.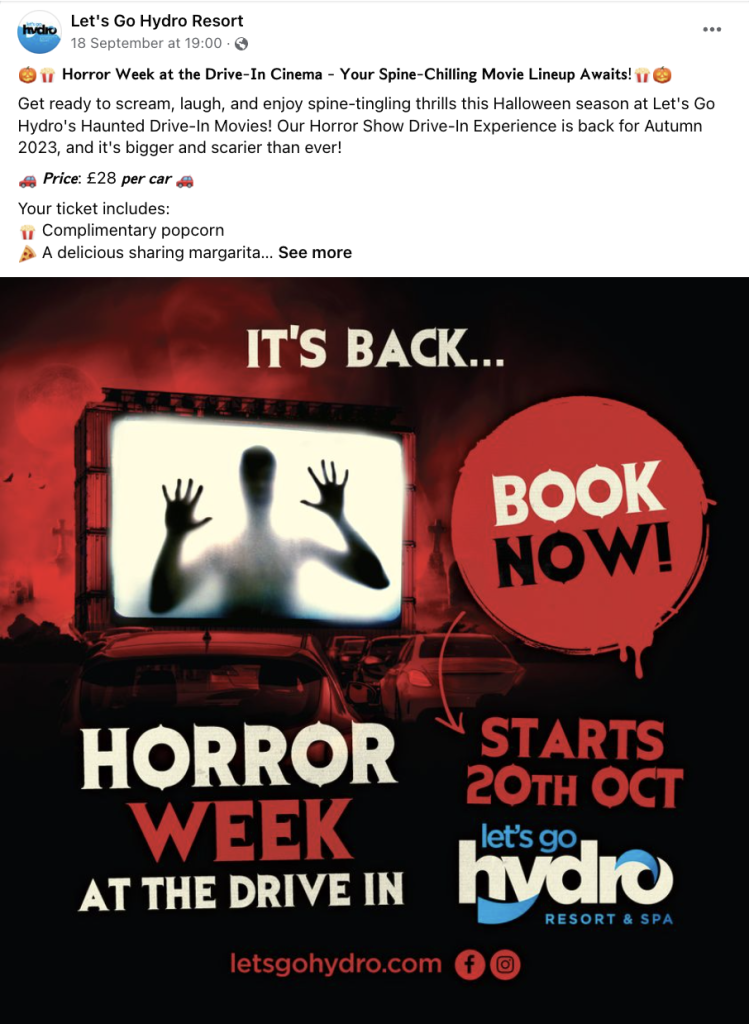 Similarly, another Northern Irish brand—The Jungle—usually invites guests to enjoy archery, off-roading and other extreme activities at their adventure centre, but throughout October, you can also buy tickets to their Fright Night events. These include scare mazes, spooky hayrides, and haunted house attractions.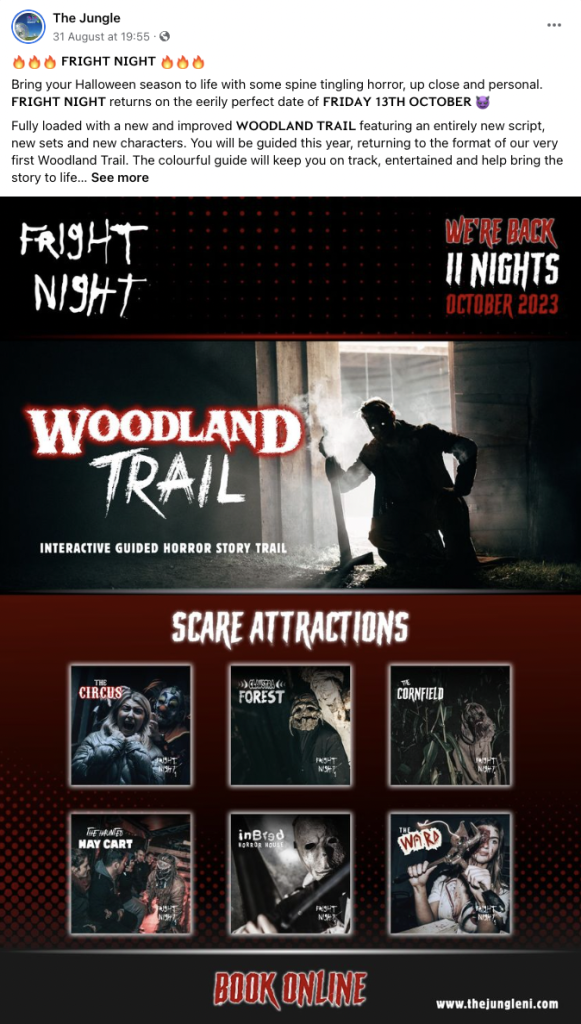 Other possible event ideas include workshops for pumpkin-carving, pumpkin-spiced baking, or arts and crafts.
Shopify has booking functionality you can use for events like this, which includes allowing customers to book the days of their experiences, the number of people involved, and other custom fields, such as added extras or particular movie choices.
Creepy Collections
Now that you've created the imagery and content to attract the attention of buyers to your seasonal products or experiences…where are you sending them?
Most of the time, it's a good idea to direct customers to your home page—it's where they will navigate to the rest your store, and the best introduction to your brand. This will work even better for your Halloween marketing strategy if you have updated your imagery and links to your seasonal products—like novelty accessories band Loungefly has done.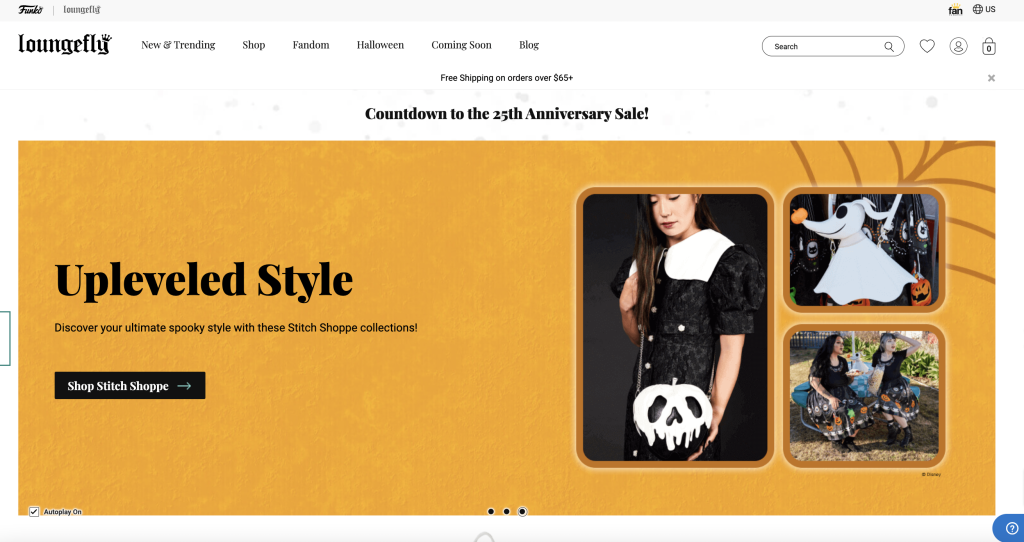 However, it can also be a good idea to create specific Shopify collections so that those who have come to your website via a social media advertisement for Spooky Products, or similar, will find themselves exactly where they want to be.
For instance, have a look at doormat brand Coco and Bass's Fall and Thanksgiving collection. It may not be Halloween-exclusive, but it groups together autumnal themed doormats on one page, and will work as a great landing page for Halloween-themed advertising and a navigational tool for those shopping for the season.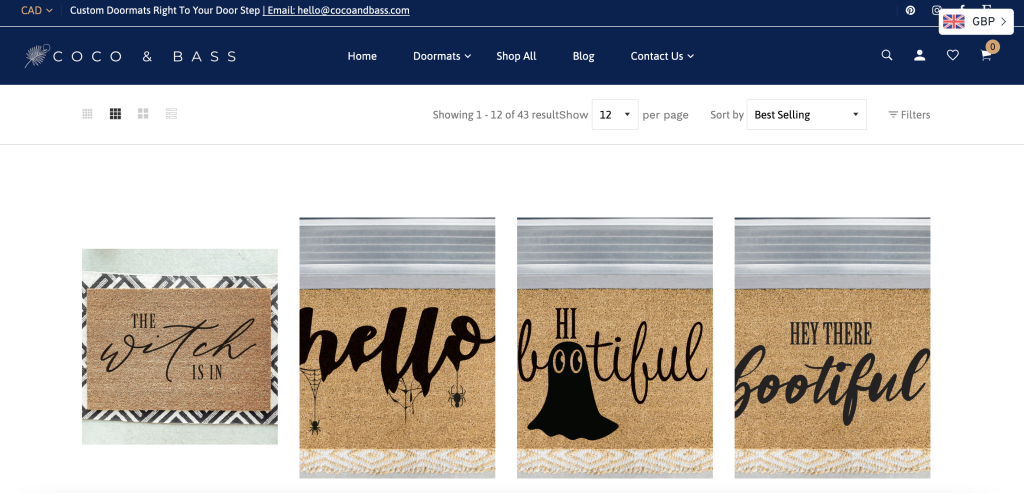 But how do you create a collection?
Well, collections can be created to group together products for easy customer discovery and a more succinct marketing direction. These can either be automated or manually curated. For automated collections, you can choose up to 60 selection conditions and can be useful if your collection regularly changes or expands. Manually created collections, however, are stationary and you will need to individually add and remove products as your collection changes.
As mentioned above, these collections can come in especially handy when it comes to your marketing. Instead of pushing customers towards your homepage, you might instead create email campaigns directing them straight to a particular collection instead, or link your Instagram advertisement to the same collection with more relevant imagery and audience targeting.
This can also be a great way to group items which may not be specifically Halloween-themed. Look to TKMaxx and their Halloween page: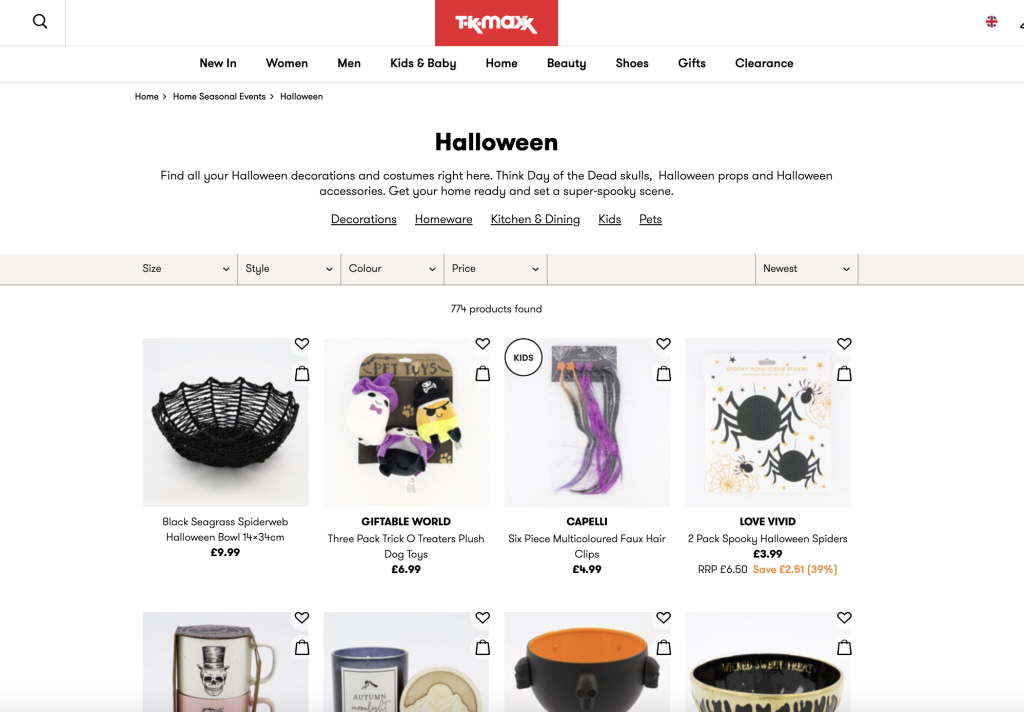 It includes the standard costumes, spooky napkins, witch's brew teacups and everything you would expect to find on a page titled Halloween, but also less specific yet still relevant items. This includes skull-printed cushions and blankets, apple and pumpkin scented candles, and a range of lanterns and tea lights. 
This means that if your brand isn't planning a product launch or newly themed product range, you can still create a Halloween collection to showcase items which may still be of interest to your customers. 
Trick-or-Tags
Again, if your brand isn't particularly Halloween-y by nature, you can still find ways to make your products more relevant and interesting to your customers who may be shopping for the holiday.
Not only can you place them in seasonal collections, but you might also add product tags so that they appear under search terms like "Halloween".
To take an example from current ecommerce strategies, we can look to ASOS and Next—two major clothing and lifestyle brands. These stores not only return products like costumes when the user searches "Halloween" but nylon tights, gauzy witch-like dresses and other makeshift costume selections.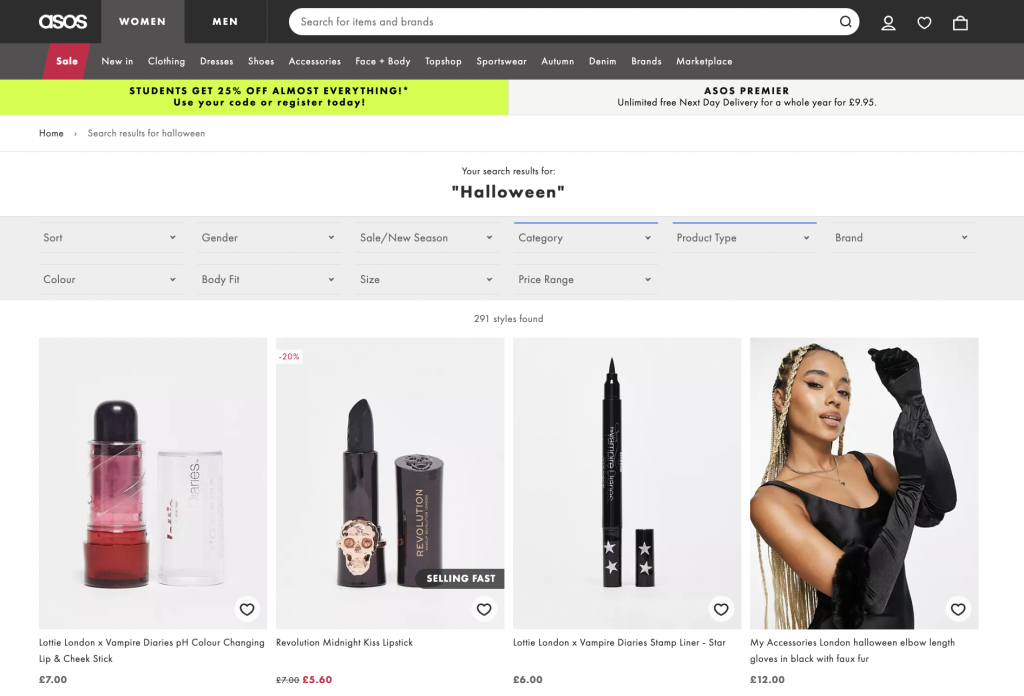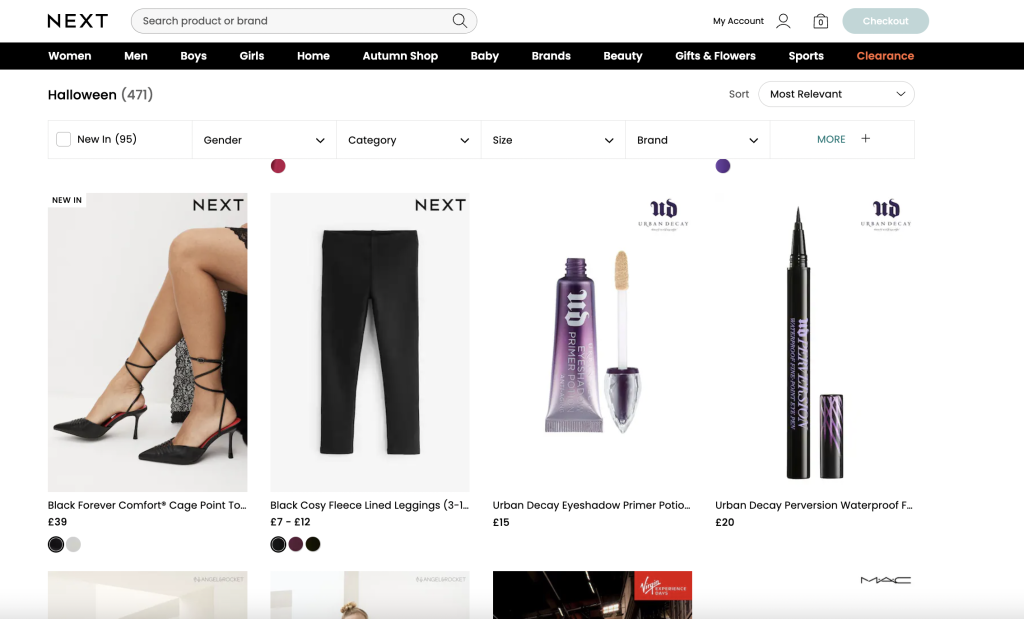 If you aren't sure what to use for search terms, you can find out what your customers are already searching for in your Shopify top online store searches report, which lists the top searches users are performing in your site search. This can not only inform your search terms, but possibly highlight a blindspot in both your marketing and website setup.
Using tags can also be useful once the season concludes. For instance, if you are no longer selling certain seasonal items outside of the autumn, you can use a bulk action to hide these items from your sales channels.
BOO-ndles
When it comes to Halloween products, many of these go together, like a witch costume with tights and a hat, or pumpkin-spiced coffee with a mug and spoon.
Your business might think to preemptively bundle similar products for a simple one-click add to cart strategy. This will, ideally, up conversions while giving your customers additional value.
As an example, Yankee Candle has created bundles of similar or complementary candles and melts at a reduced price to individual purchases—including a 3 piece Halloween Candle Set and a 4 Piece Halloween Wax Melt Trial Set.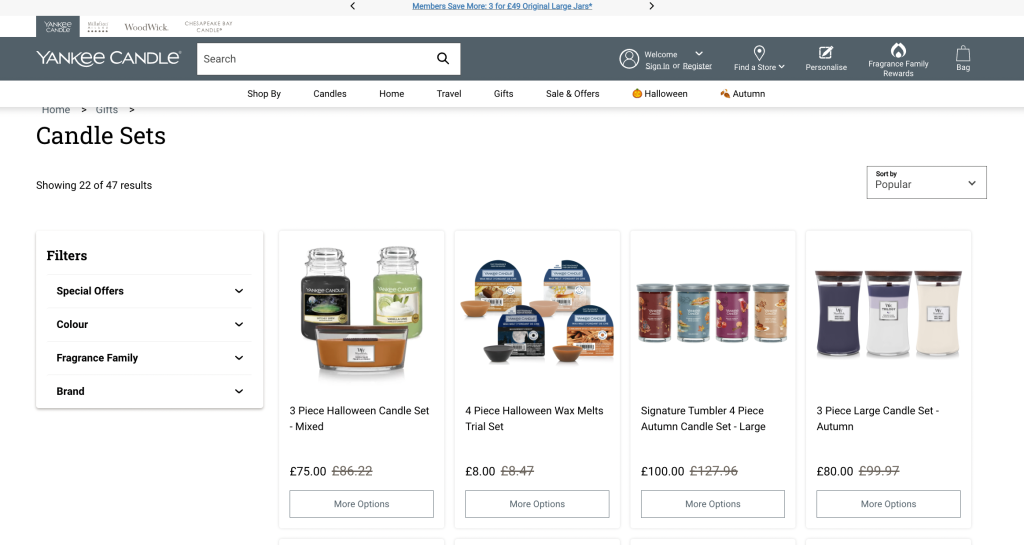 When it comes to building bundles Shopify, it's as simple as downloading the Shopify Bundles app. This app is free to install and use across all Shopify plans, and you can get started creating fixed and multipack bundles directly from your Shopify admin. It offers features such as:
Customers can choose from options like size or colour for products in the bundle.
Customise your bundle product page with images, variants, and product options.
Inventory is updated in real-time, so you're protected from overselling.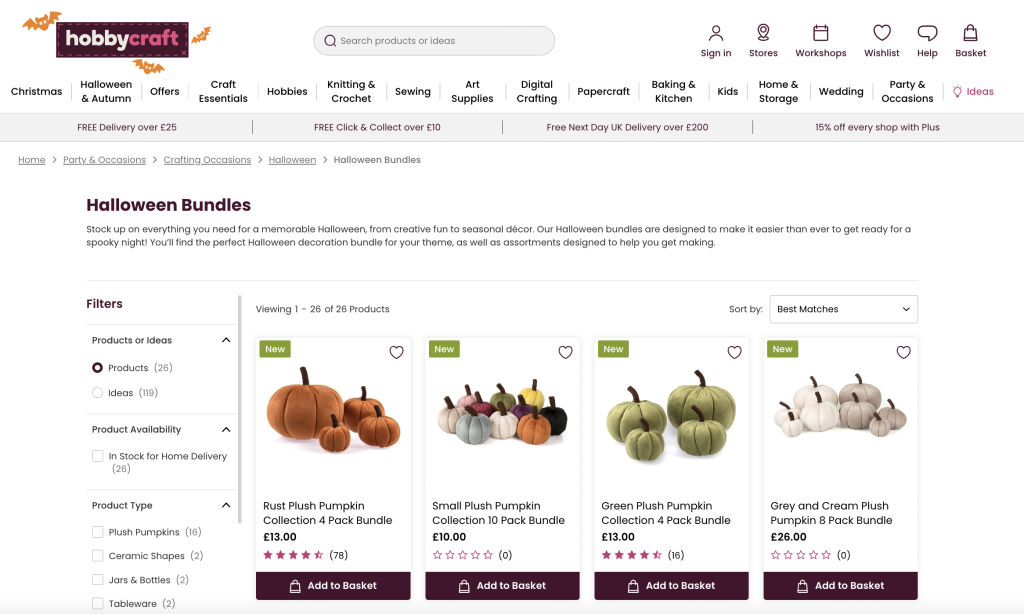 Conclusion
To conclude, Halloween-themed marketing is likely not a must for your business, but it can be a really fun way to engage with customers, get creative with products and other offerings, and, indeed, increase your conversions.
If you want to talk about all things Shopify or are interested in upgrading your e-commerce strategy, get in touch with us today.
We also send out tips and tricks in our newsletter Shopify Insider. Sign up to that here so that you don't miss out on any more expertise in achieving higher conversions.