If you are running an ecommerce store, you will no doubt be interested in offering products and services your customers can gift to others.
Much of the time, this is as simple as purchasing a product and allowing the customer to wrap and deliver it themselves. However, if you want to enhance the online gift buying experience, as well as entice additional customers to buy gifts through your store, we have devised a few key tips and tricks to do just that.
Read our key strategies for creating the perfect customer experience for gifting via your Shopify store.
The products
Gift collections
With Shopify, you can create product collections to aid discovery and inspire customers with additional or alternative products. For instance, you may gather all of your sale items into one handy collection so that customers can scroll through them all at once, or similarly, create a collection for Christmas gifts or Valentine's Day presents. See our client Book Paper Scissors for their "Gifts and Accessories" collection—a handy one-stop page for anyone on the lookout for a good gift idea.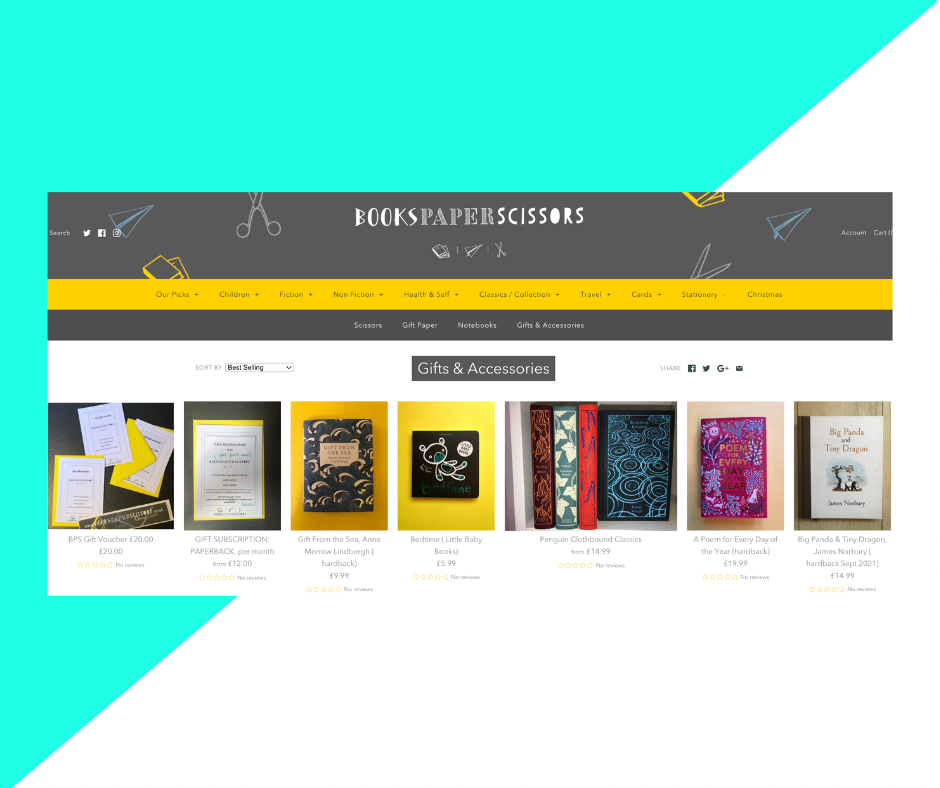 At its simplest, the purpose of Shopify collections is to group together similar products, helping your customer find exactly what they are looking for, and allowing you to market and promote specific groups of products—which is exceptionally useful around special celebrations and holidays.
Hampers
Hampers tick lots of boxes from a marketing perspective. Firstly, they are well suited to gifts regardless of the season, and in addition to this, you can use the collection as an opportunity to both showcase your bestsellers and aid discovery of lesser known items.
For example, our client Velvet Cloud offers a luxury hamper of artisan foods, featuring their award-winning cheeses and a selection of other delicious treats, with a unique beechwood cheese board.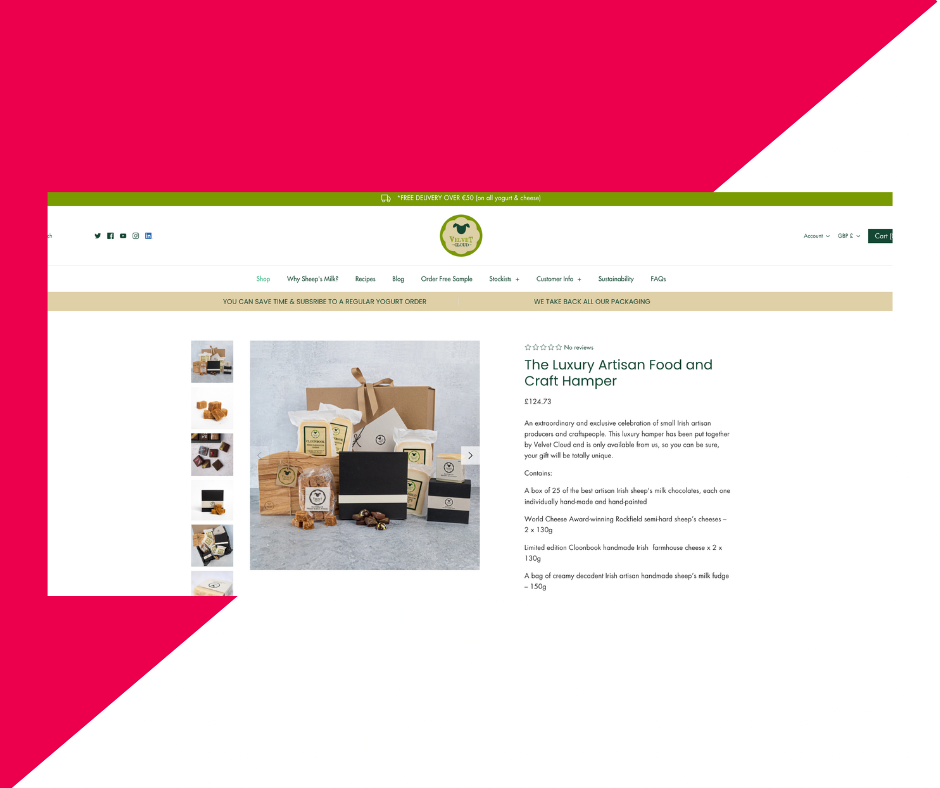 All the better for you and your customers if you can gather your products together in an especially visually pleasing package!
Top tip: When putting a custom hamper together, we recommend setting a stock number for this and deducting this number from the stock of the individual items in the hamper. This should make stock management easier. Alternatively, you may want to advertise your hamper as not having specific items, but products from specific categories (such as confectionery or beauty items), allowing you to be more flexible with set items.
Gift cards
Gift cards are a great gifting option to offer your customers. It allows them to gift a brand they love without having to get specific about colours, sizes or even products, and also does in a pinch if they are a last-minute shopper!
When it comes to Shopify gift cards in particular, these digital cards each have a unique code. You can set the denomination and then the customer will receive an email with the code when they checkout. This can be used online or if you have Shopify POS in store.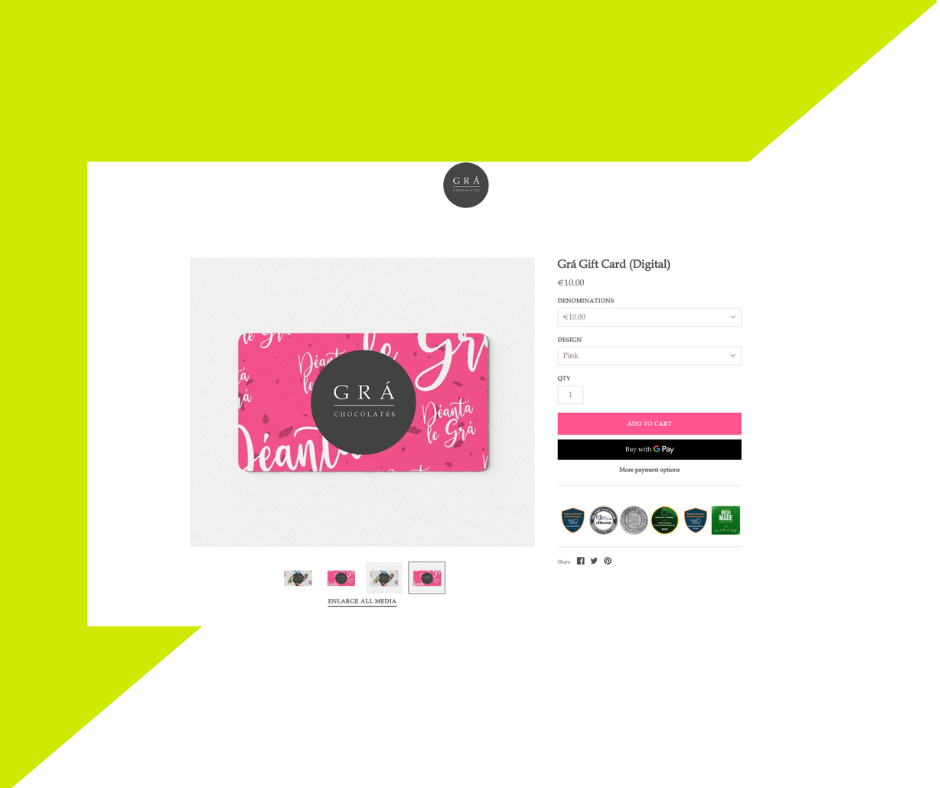 If your customers prefer physical cards, you can buy these with Shopify, too, with choices of templates, uploading your own design, and plastic or paper printing. As of 2022, you can buy 100 for £1.69 per paper, templated card, but this cost can be reduced all the way to £0.49 per card if you order 5000.
Top tip: When it comes to the digital gift cards in particular, we would recommend promoting these more heavily after your last shipping date has elapsed. These are perfect options for last minute shoppers who need a quality gift delivered to their emails instantly.
The marketing
Targeted advertising
When advertising your store, you might think to promote your special gifting collections around key times of the year, such as Christmas, Valentine's Day, and Mother's/Father's Day. You can preempt what your customers will be searching for and allocate more budget towards advertising these collections on social media and Google, instead of pushing your storefront as a whole.
You may also want to promote gifts all year around, rather than only during key present-buying seasons. In such cases, it is beneficial to target your advertising more closely to those who are likely to be interested in buying a gift. With Facebook, for instance, you can target those with anniversaries, new jobs, and even those who are friends with someone with a birthday within a particular time frame. These people will be much more likely to be on the lookout for a gift, and your advertisement will be much more useful to this audience.
Gift guides
We have already discussed the strategy of creating gift collections to help your customers find items they are searching for and also discover additional gift ideas, but you may also consider creating blog content around gifts, too. These gift guides can be great ways to discuss with further depth gift ideas for holidays and special days, and also give your website another opportunity to be discovered organically. Try to keep the page titles specific, such as "Gift Ideas For Nine Year Old Girls" or "What To Buy University Students For Christmas", in order to make this even more effective.
For example, Penguin Books has created many articles for all kinds of holidays throughout the year. There are articles like "18 perfect books for your summer reading list", "22 books for Father's Day", and "9 absorbing novels with an academic setting", to name just three, and all include synopses and links for each of the recommended titles.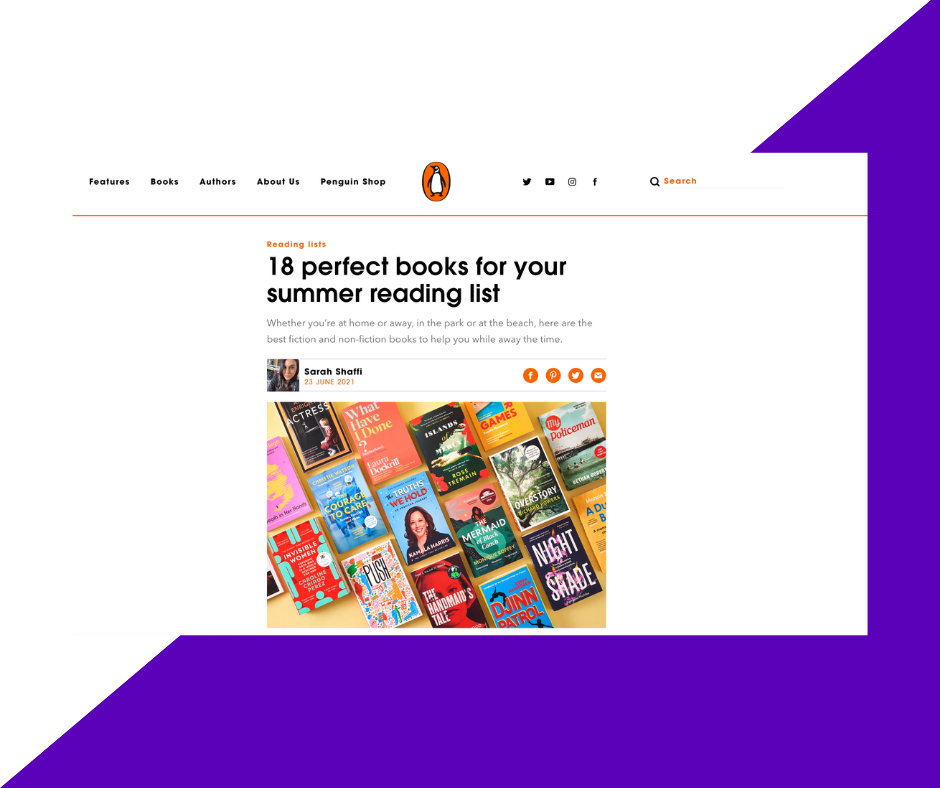 The user experience
A key app in this section will be Gist's Giftship. Its features include:
Gifting Options – Gift Messages / Delivery Date Picker on Product or Cart pages.
Enhanced Checkout – Ship to multiple addresses from a single checkout.
Smart Upsells – One-click, Popup, Dropdown, Thumbnail Image.
Gift Bundling – Bundle Upsells, Premium Box Builder Tool w/ Multiple Layouts.
Back-end Engine – Smart Auto-tagging, Order Printer, Customise All Tools.
"Is this a gift?"
The first key feature from Giftship is the ability to ask your customers "Is this a gift?"
From here, you can then offer them other services and special options, such as gift wrapping, discreet packaging, and more (which we will discuss in detail below). This is not only useful for your customer, who will then be offered a more tailored experience with your store and the buying process, but for your own analytics and market research.
See here on our client Grá Chocolate's website—the "Is this a gift?" option just below the product image. Once ticked, it gives the option for a personalised message to be added to the delivery.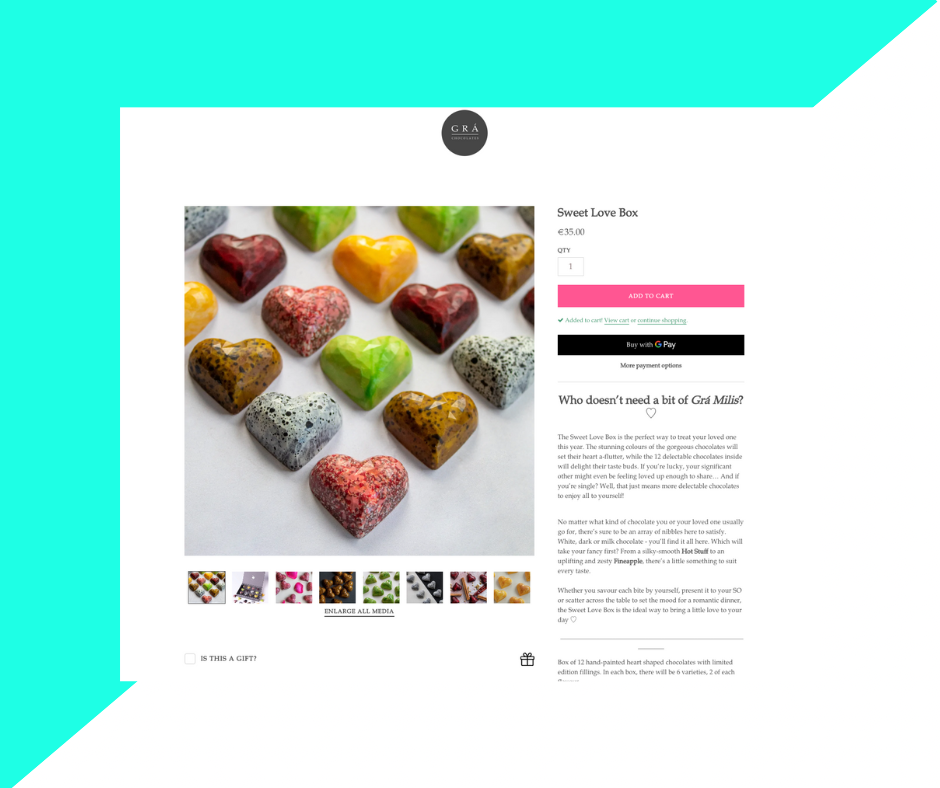 Personal messages
Giving customers the ability to add personalised messages to their gifted package both enhances their experience and encourages them to buy from your store in the first place.
For example, florist George Preston allows its customers to add personal notes to be delivered alongside bouquets and other gifts—a individual touch which can elevate the value of a gift!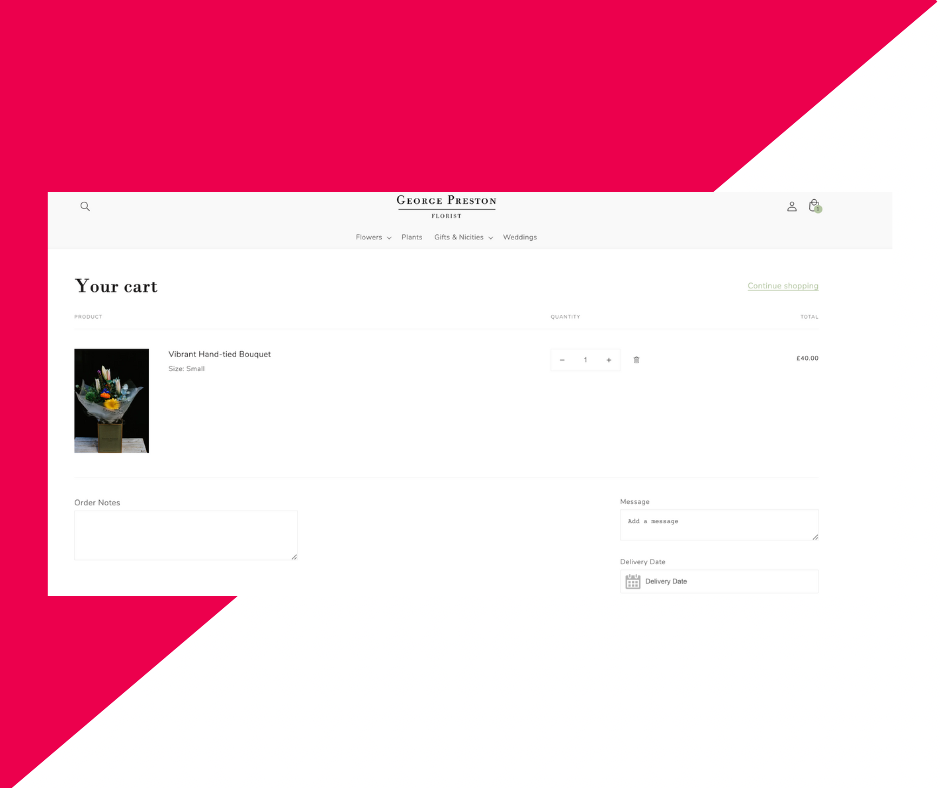 Specific dates
Sometimes a customer will be interested in buying a product from your store, but only needs it for a specific date. Giving them the option to choose their delivery date can make a real difference to both their experience with your store and their likelihood of checking out, too.
If the timing isn't right, a potential buyer may make a note to return to your store closer to the time—but find something else more convenient in the meantime. Make the process all the simpler for your potential buyer by allowing them to select a specific date for their gift's arrival.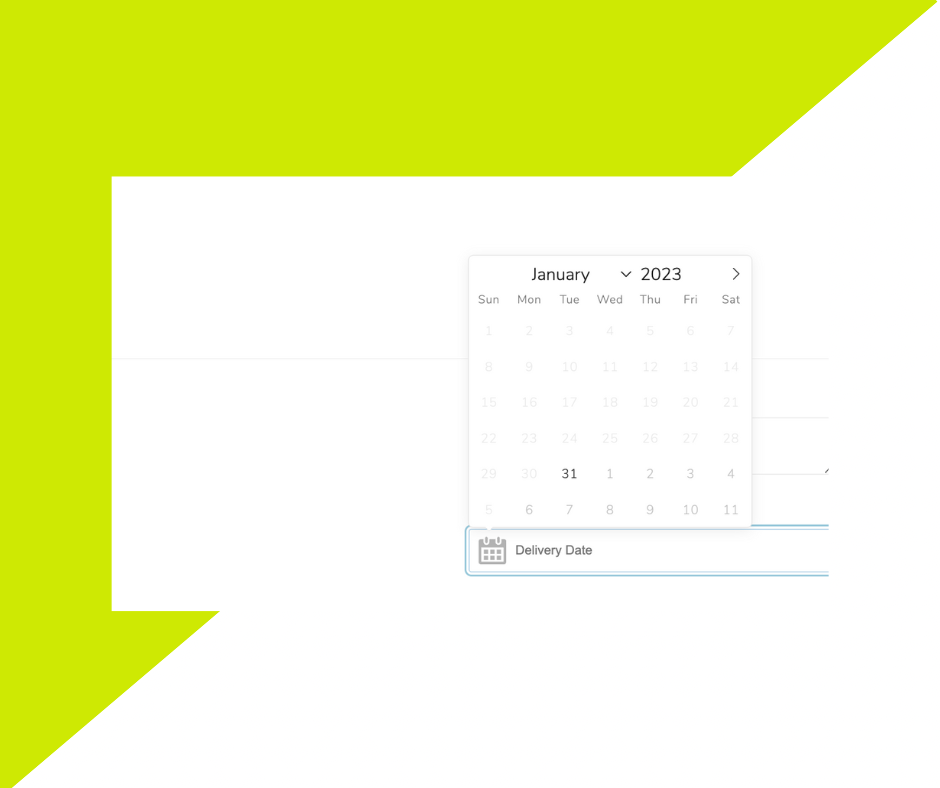 This is even more important for gifts that are perishable, like flowers and cheeses. As seen in the above screenshot from our client George Preston, you can see the addition of a date chooser, which allows customers the freedom and confidence in ordering to a specific date.
Upselling and bundling
Giftship includes upselling and bundling features, which is beneficial in a wider ecommerce setting as well as for gifting.
Specifically, with this feature, customers will be suggested additional or alternative products when shopping on a product page. These may be higher value items, items of a similar value which are well-paired with the current product, or smaller "add on" gifts items your customer might decide to pop into their basket—not unlike the mints which sit beside the cash register in a physical store!
For example, when you visit jewellery brand Lines and Current's website, you will find an "Other Add-ons" widget, which allows customers to quickly tick and add additional, pairing products of lower value to their cart.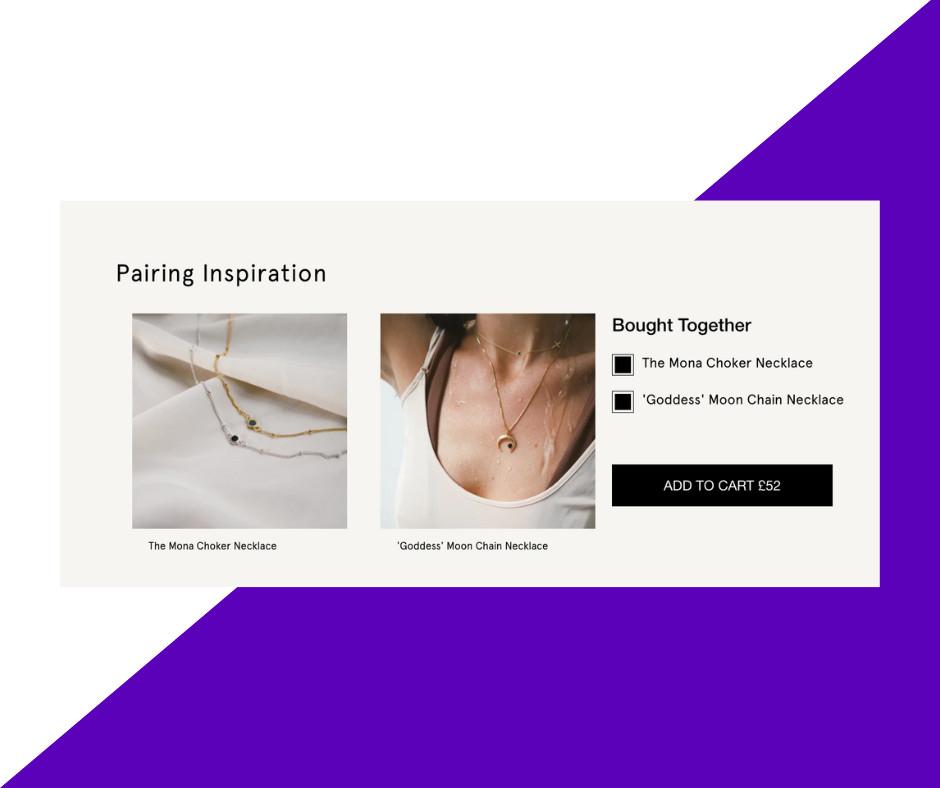 Not only this, but the brand also showcases a "Pairing Inspiration" widget further down. This acts as inspiration for buyers to add additional products to complete "the look", and includes higher value items.
Multiple addresses
When purchasing gifts, your customer may not want just one product for one person. If they are buying items for an office, classroom, team, collection of bridesmaids/groomsmen, or group of friends, they will doubtlessly want to buy multiple items—and perhaps send them to multiple addresses.
Giftship is very handy in that it includes a feature which allows buyers to do just this. It therefore streamlines the buying process, makes it more convenient and faster to complete, and keeps a customer's order details all in one place, rather than in multiple, individual order forms.
As you can see on our client Grá's website again, there is the option during checkout to "Ship to multiple addresses". Once ticked, the user then has the ability to add more than one shipping address, and a new total is calculated before confirming the order.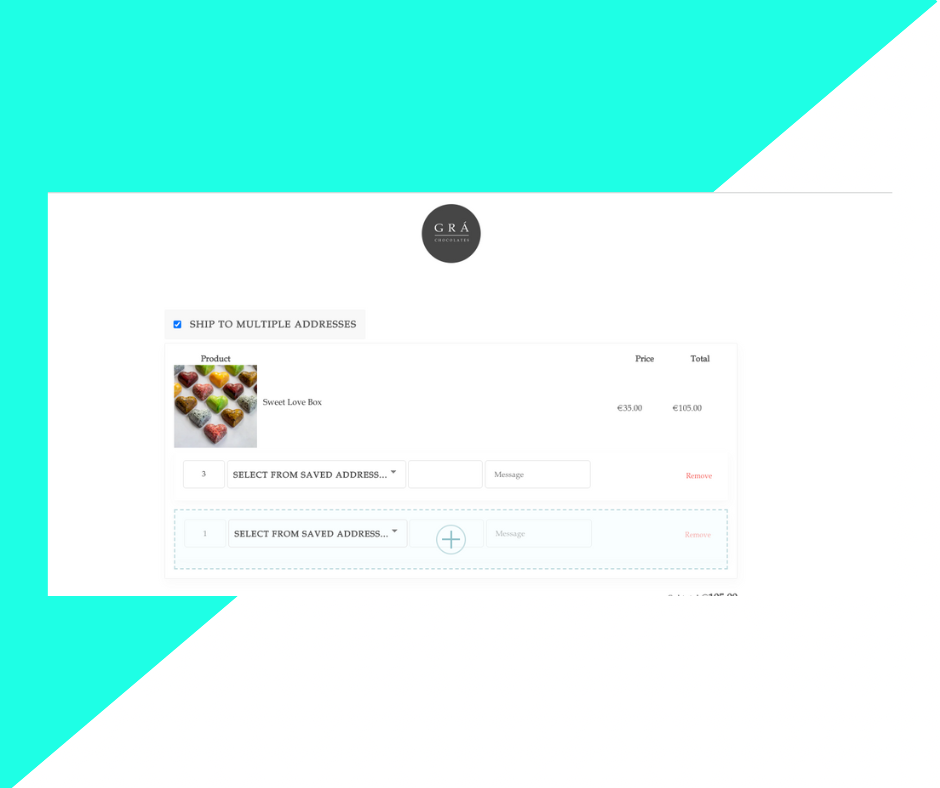 Conclusion
Gifting with Shopify is not just about the mechanics of offering gift wrap or multiple addresses, but creating an experience in which your customer feels cared for and catered to. Streamlining the buying process, suggesting additional gift items, and curating a product list which includes gift cards and hampers is a fantastic start, and we would always recommend using Giftship in order to achieve a better gifting process.
For queries about Shopify and building your own e-commerce store, please contact us. We're happy to help—contact us today.
If you are interested in further news and information about Shopify, consider signing up for our email newsletter, Shopify Insider.
Sign Up For Email Updates
Sign up below for the latest Shopify news & advice from Glaze Digital.