While some supermarkets like to get a head start in February, most of us will note the approach of the Easter holidays by the appearance of chocolate eggs hitting shop shelves come early spring.
This holiday is traditionally Christian and celebrates the resurrection of Jesus Christ on Easter Sunday, but many non-religious people also enjoy the festivities, which include spending time with family, gardening, and yes, of course, eating (and collecting!) Easter eggs.
In fact, in the UK, Easter spending in 2021 hit £1.3 billion (up from £1.22 billion in 2020). That's reason enough for businesses to get a headstart on their marketing and sales strategies for the upcoming holiday.
Upcoming Easter dates
2023 9th April
2024 31st April
2025 20th April
2026 5th April
In this article we give you tips as to how to do just that, from website design changes to social media techniques.Read on to find out how we would advise you to market your store this Easter:
New imagery
We've spoken before on this blog about how important it is to engage with customers visually, and when it comes to Easter and the new spring season, there are lots of ways to grab their attention. You might think about updating your landing page with bright and eye-catching visuals, alerting visitors to a new sale or product launch, or feature seasonal products. You can see our client Baked By Steph has updated its landing page with Easter-themed visuals and a "Shop now" button to direct customers to seasonal products.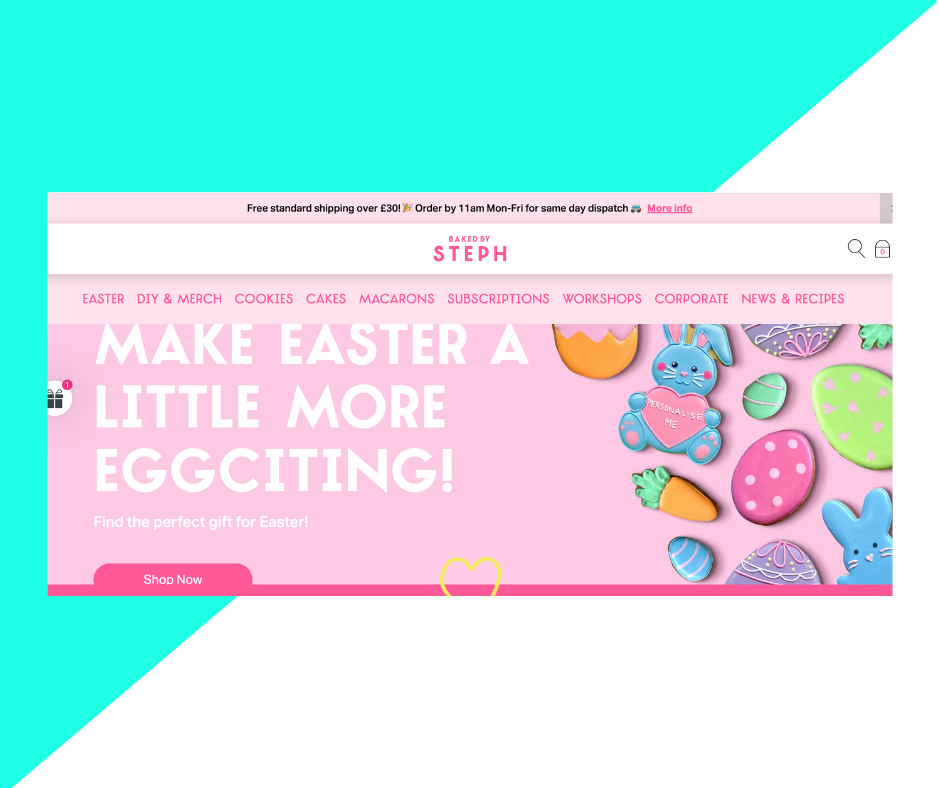 Special offers
As we mentioned above, your imagery can direct customers to the likes of a spring or mid-season sale. Sales at any time of year can be a powerful marketing tool for your business, as well as a good way to shift some of your more stubborn winter products before we come into summer.
With Shopify, to offer discounts, you can create discount codes, set up automatic discounts, or set sale prices for individual products.
When you create a new discount code, it appears on the Discounts page in your Shopify admin. To distribute this discount code, you can send the code to your customers by email, or display it on your online store. Your customers need to enter the code during checkout to receive the discount.
Here is an example of a brand emailing a special discount code to subscribers: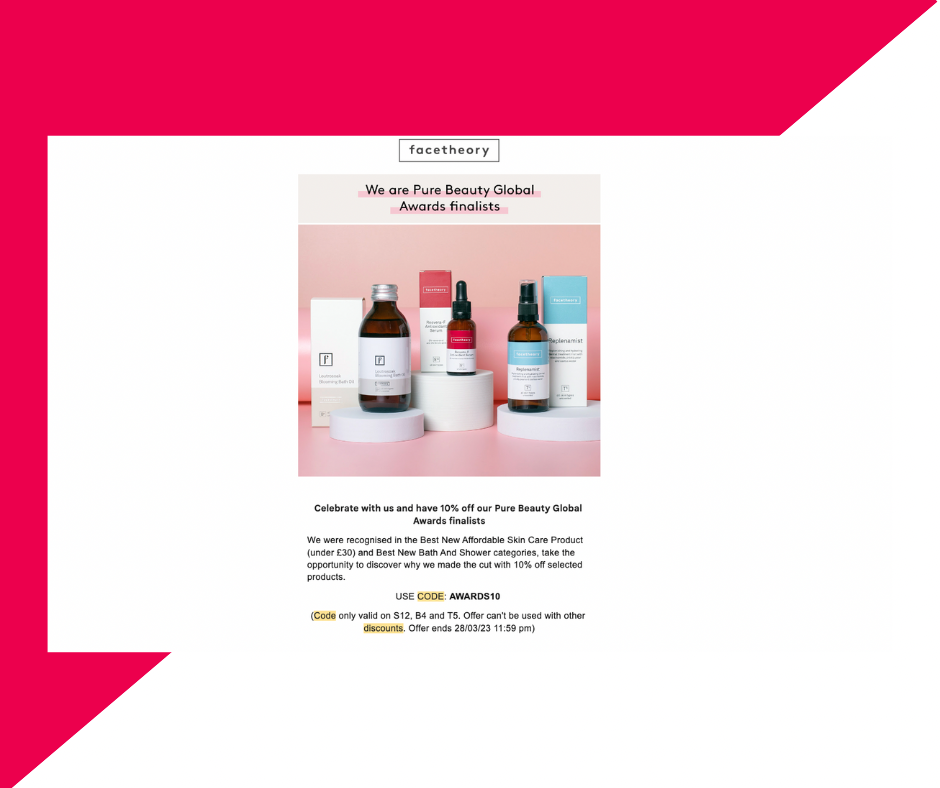 Here at Glaze, we typically use Klaviyo integration in order to send our discount codes.
Klaviyo allows you to create coupon codes to be sent out to subscribers, customers with abandoned carts, and other audiences, similarly to Shopify. More importantly, however, is that Klaviyo creates dynamic codes, meaning that each discount code is uniquely generated for each customer, and can only be used once. This avoids unpleasant issues like a more general code being uploaded to a coupon website, or the code being used across multiple orders.
You can also simply discount individual items, as well as show the old, "full" price. This is called the compare at price and allows customers to immediately understand the savings they are making on a discounted item. You can see here, our client Walk in Wardrobe, has a special collection for their 60% sale items, and each of them showcases both the original price and the new, discounted sales price.
Create Shopify collections
If you are considering using a special offer or discount this spring, you could also create a Shopify collection to bundle your sale items on one page. This is also important if you have a lot of seasonal products you would like to direct your website visitors to, or advertise through social media and other platforms.
Our client Pet&Country, for instance, has created a new collection for Easter, showcasing Easter-themed products, like cards, bunny rabbit toys, and flora prints.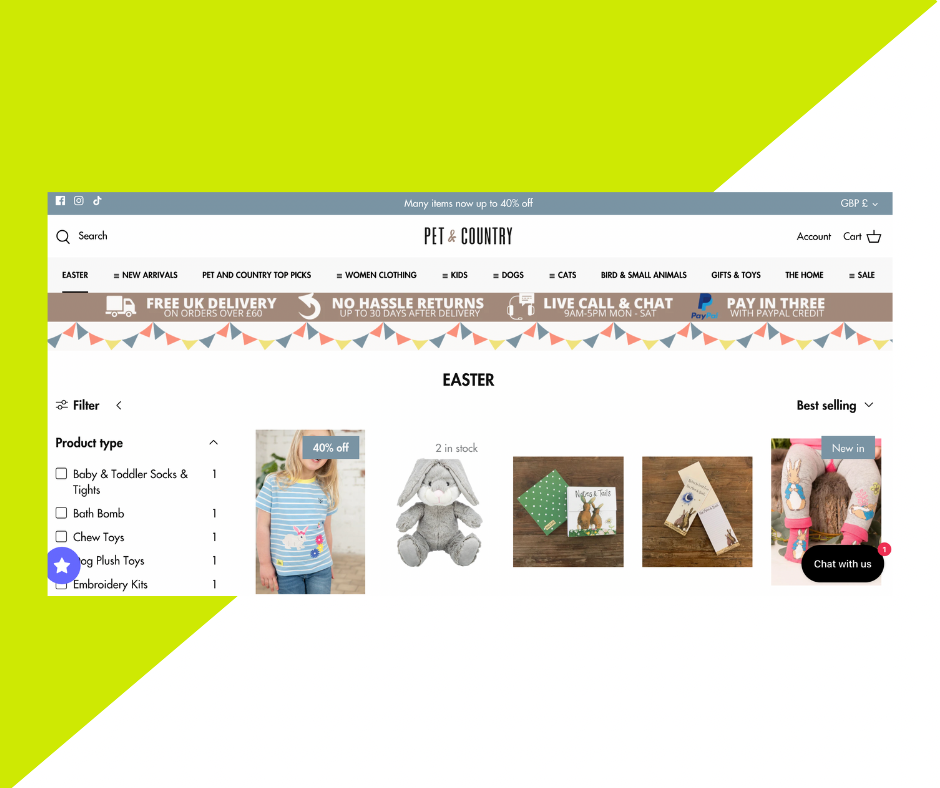 This way customers can find similar products and styles, or even sale items, all in one place.
Collections can be automated or manually curated. For automated collections, you can choose up to 60 selection conditions and can be useful if your collection regularly changes or expands. Manually created collections, however, are stationary and you will need to individually add and remove products as your collection changes.
Abandoned Cart reminders
Sometimes your customers can stop short of completing their purchase, and in these cases, it's a good idea to check in about whether they are still interested in the product—especially as interest in seasonal products expires more quickly.
Emailing a customer about their forgotten items can be set up through Shopify.
From your Shopify admin, go to Settings > Checkout.
In the Abandoned checkouts section, check Automatically send abandoned checkout emails.
Under Send to, choose who you want to send a checkout recovery email to:

Anyone who abandons a checkout
Email subscribers who abandon a checkout

Under Send after, select the number of hours that Shopify should wait before sending the abandoned checkout email.
Click Save
An example of how an email like this might look is this message from Lush Cosmetics: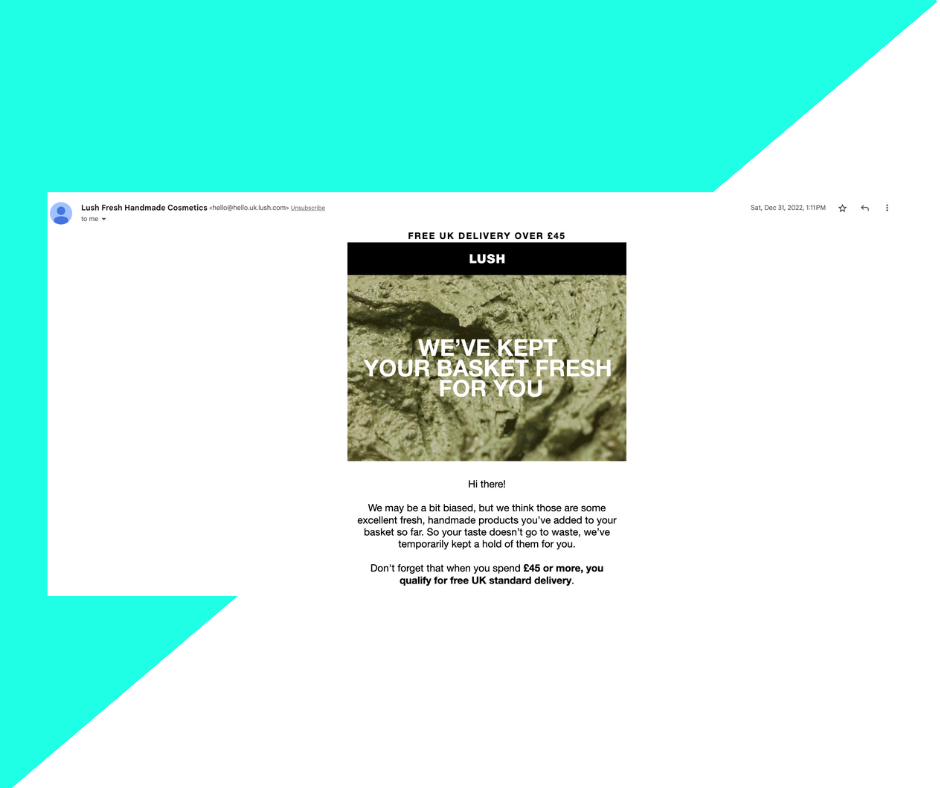 While this email in particular does not offer any additional incentives to complete checkout, you can also add in a discount code, free delivery, or various other offers in order as added encouragement.
Seasonal gifts
The most obvious of Easter's seasonal products is, of course, the Easter egg. Over 80 million of these are purchased in the UK and can be a great addition to your product catalogue, if this fits your brand. Our client Grá Chocolate, for instance, is perfectly suited to the Easter celebrations, and so they make special luxury eggs come the springtime, to add to their usual sweet product line.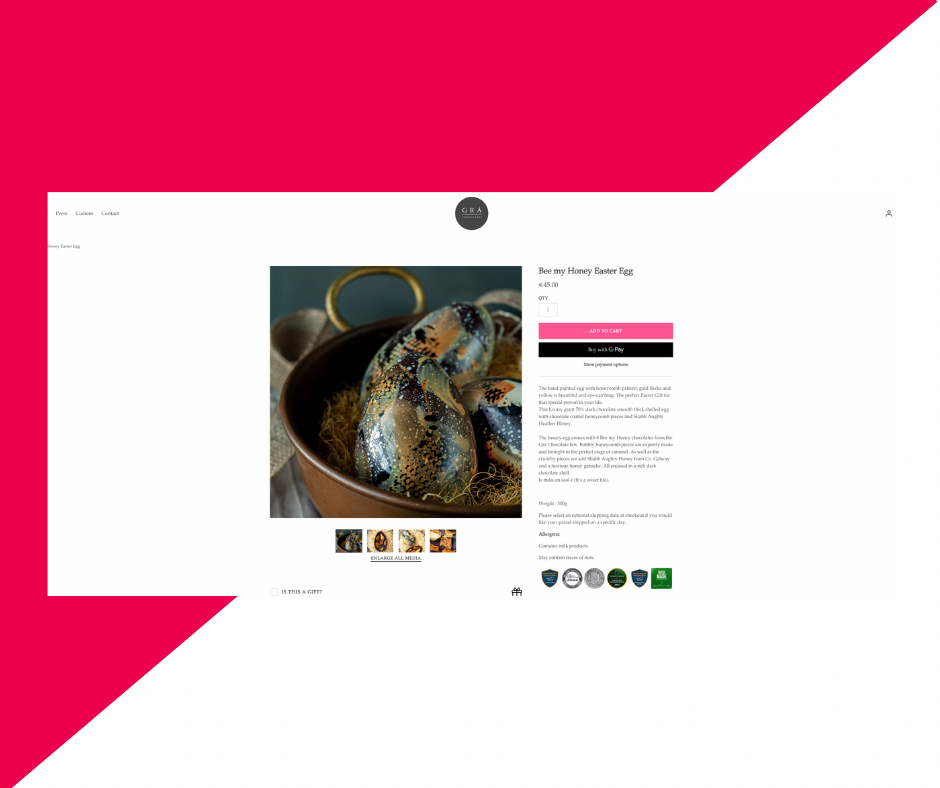 You might also think about how to promote or create more experience based gifts, if your business does not specialise in this already. People usually have time off work around Easter Sunday, prompting them to go out for the day with families or as couples, and this can be a great opportunity for your business. In fact, it was estimated that spending on leisure activities and travelling to see family and friends around Easter reached £1.3 billion in 2022.
Again, our client Baked By Steph makes the most of the season by listing special seasonal Easter-themed products and a unique (sold out!) icing workshop.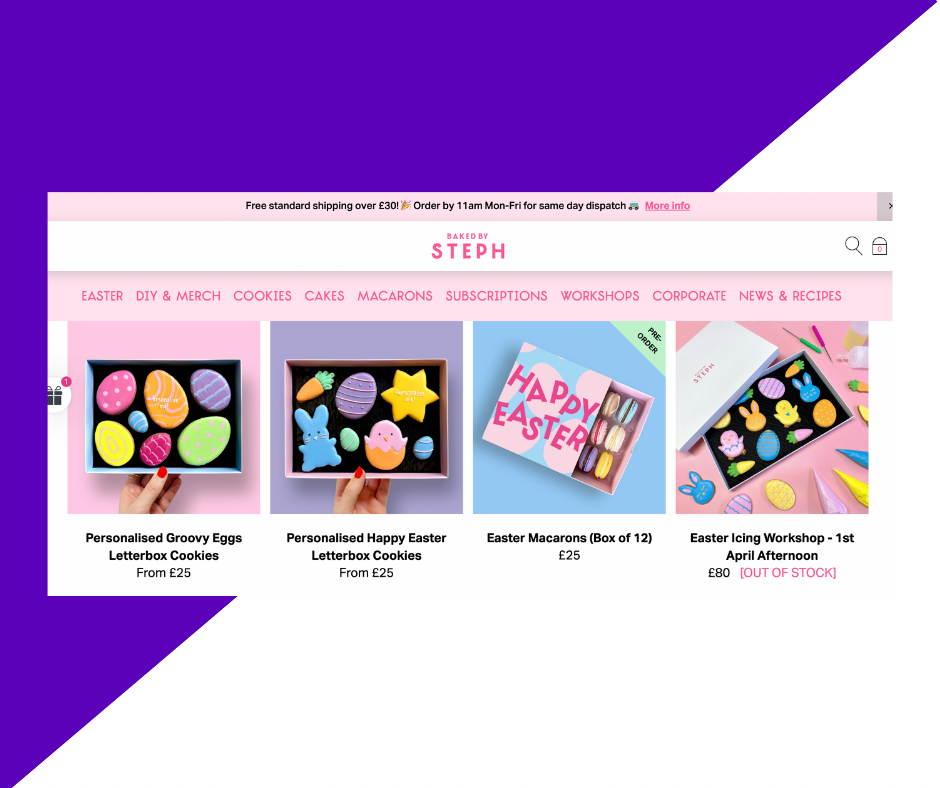 Better delivery experiences
As mentioned previously, customers don't give gifts at Easter time in the same way they might on Valentine's Day or Christmas. That being said, some people still enjoy gifting friends and family (particularly those they may not be seeing due to distance or other circumstances!) a little springtime joy. Bouquets of flowers may be ordered, or Easter eggs purchased from overseas for faraway families. In these cases, it's a good idea to make your delivery services the best they can possibly be.
At Glaze Digital, we recommend the Shopify app Giftship. With Giftship, Shopify store owners have access to the following features:
Gifting Options – Gift Messages / Delivery Date Picker on Product or Cart pages.
Enhanced Checkout – Ship to multiple addresses from a single checkout.
Smart Upsells – One-click, Popup, Dropdown, Thumbnail Image.
Gift Bundling – Bundle Upsells, Premium Box Builder Tool w/ Multiple Layouts.
Back-end Engine – Smart Auto-tagging, Order Printer, Customise All Tools.
Our client George Preston is a Belfast-based florist and they use this Shopify app in order to allow customers to leave personalised notes with their deliveries, as well as choose specific delivery days.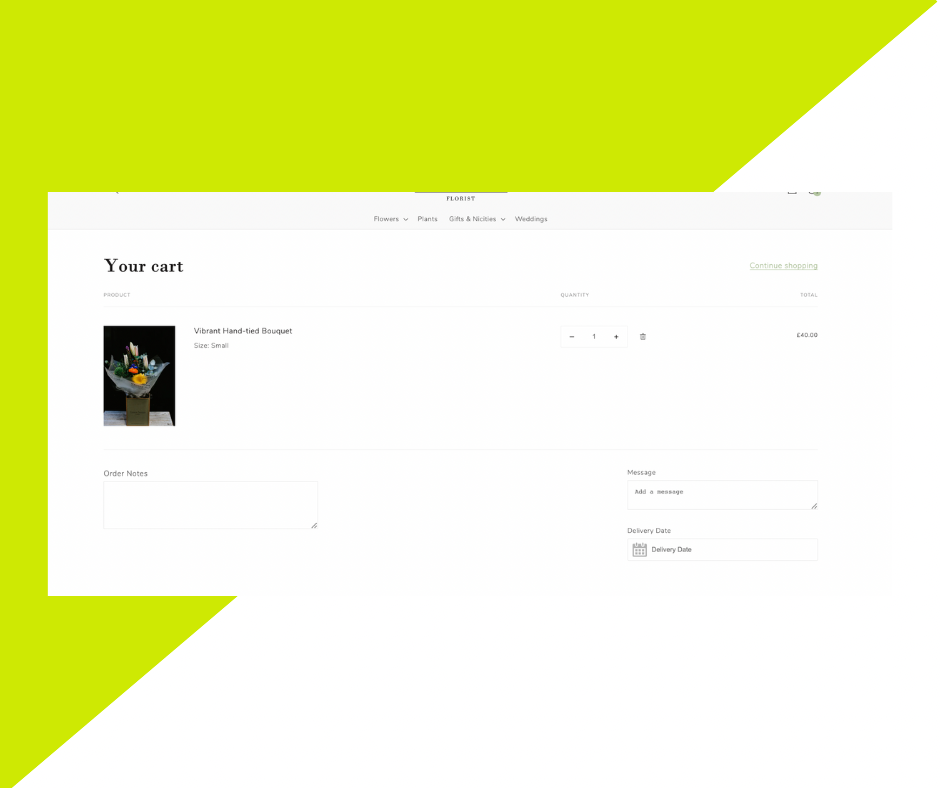 As is the case with all holiday marketing, you should aim to make your Shopify store as easy to both find and navigate as possible. With these tips, we hope that you will be able to enhance your store and product listings for your customers this springtime.
For queries about Shopify and building your own e-commerce store, please contact us. We're happy to help.
If you are interested in further news and information about Shopify, consider signing up for our email newsletter, Shopify Insider.