In the UK, Father's Day is usually around the end of June. Like Mother's Day, it falls on a different date every year, taking its position on the calendar from the timing of Lent (the dates of which are dependent on the moon), and so you ought to be mindful of the exact timings.
When this special holiday does come around, it's all about celebrating fatherhood and paternal relationships, whether those are biological or simply chosen. Some people like to spend the day with their fathers and father-figures, or to simply gift them something special.
Upcoming Father's Day dates
2023 18th June
2024 16th June
2025 15th June
2026 21st June
When it comes to business, you may want to advertise some special gift items, whether they are especially suited to fathers and June-time, or simply brilliant products all year round. If your customers are UK-based, they will certainly be searching for such products, and it's in your best interest to make sure these are as well placed and easily discovered as possible.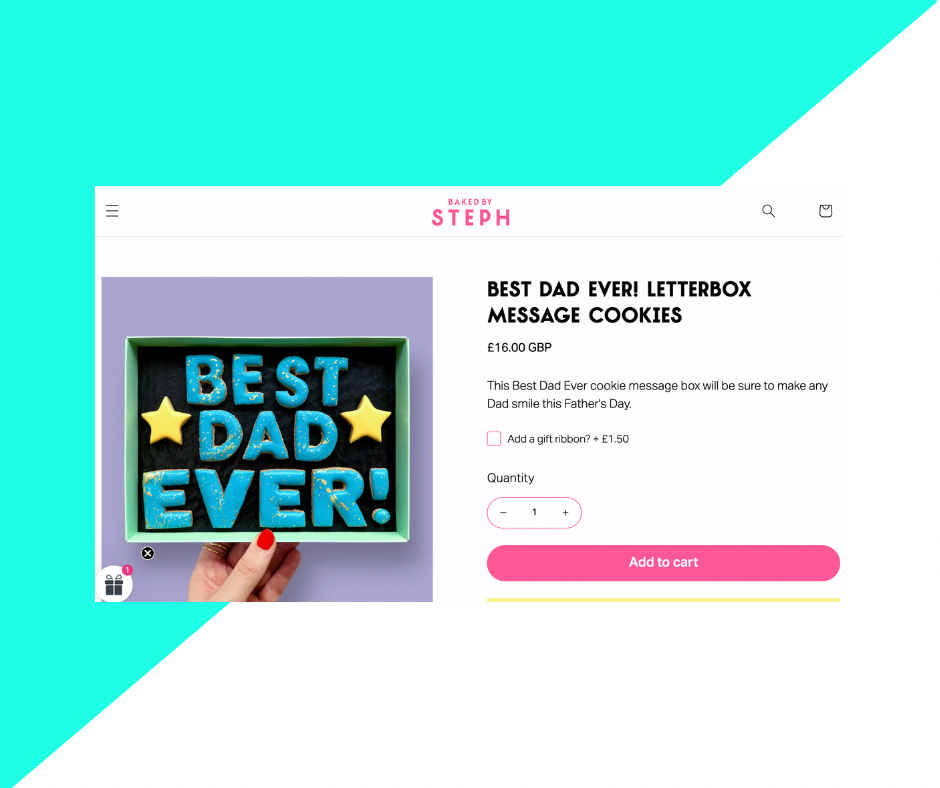 In this article, therefore, we'll show you all of our top tricks and tips for effective Father's Day Shopify store marketing. Read on to find out how you optimise your store now:
Added care for your audience
Before we get into the details of how to get your Father's Day advertising in front of more customers, we want to take a moment to also be mindful with your marketing.
While many customers will enjoy this special day and appreciate your marketing efforts, for many others, Father's Day is a painful reminder of loss or difficult familial circumstances. This is an ideal opportunity for you and your business to be compassionate and sensitive with your advertising.
Take, for instance, this email from clothing retailer FatFace. It offers the user the option to simply opt-out of Father's Day related content on email, but still receive other marketing materials and stay subscribed to the brand. The email copy isn't long or difficult, but straight to the point while still being gentle—an ideal way to balance this kind of communication.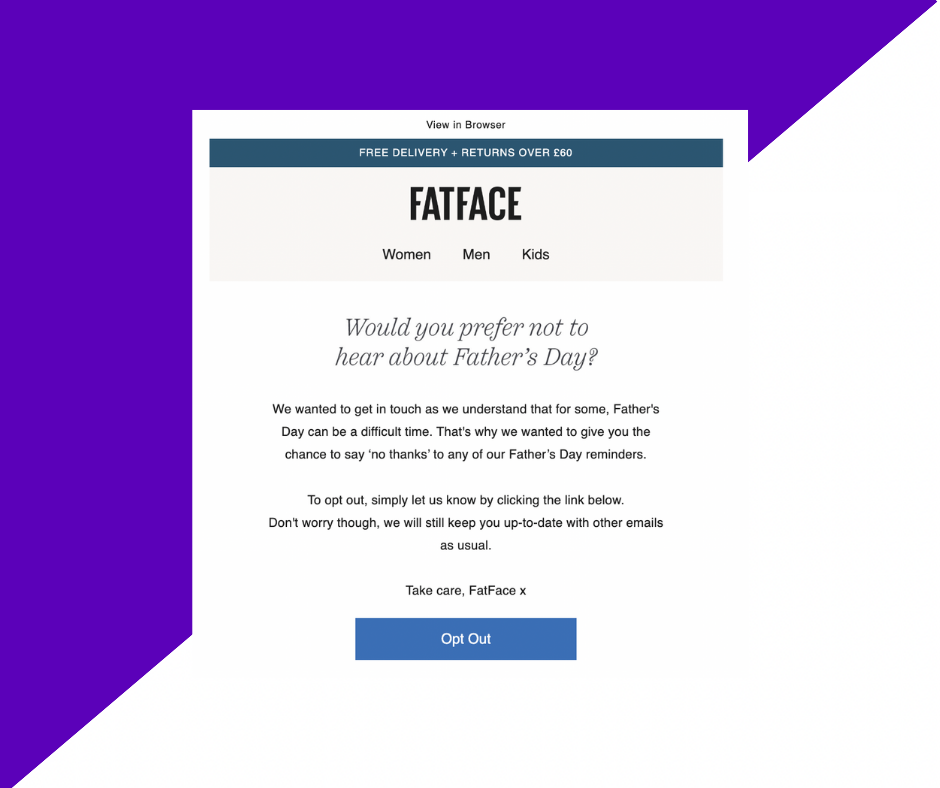 Add relevant imagery
Did you know that the human brain processes visual information around 60,000 times faster than just text? That's why you want to make sure to get your advertising and offers across with effective visuals, even if only in support of the more detailed copy.
We would recommend doing this by updating your landing page to showcase a new deal or product, so that customers don't have to look too far to find these more timely offerings. This can be done in an image carousel style, as Gordons Direct does, or with something smaller and less commanding, if you'd prefer to keep your general appearance more consistent.
Make sure all imagery is clear, coloured, and high-quality.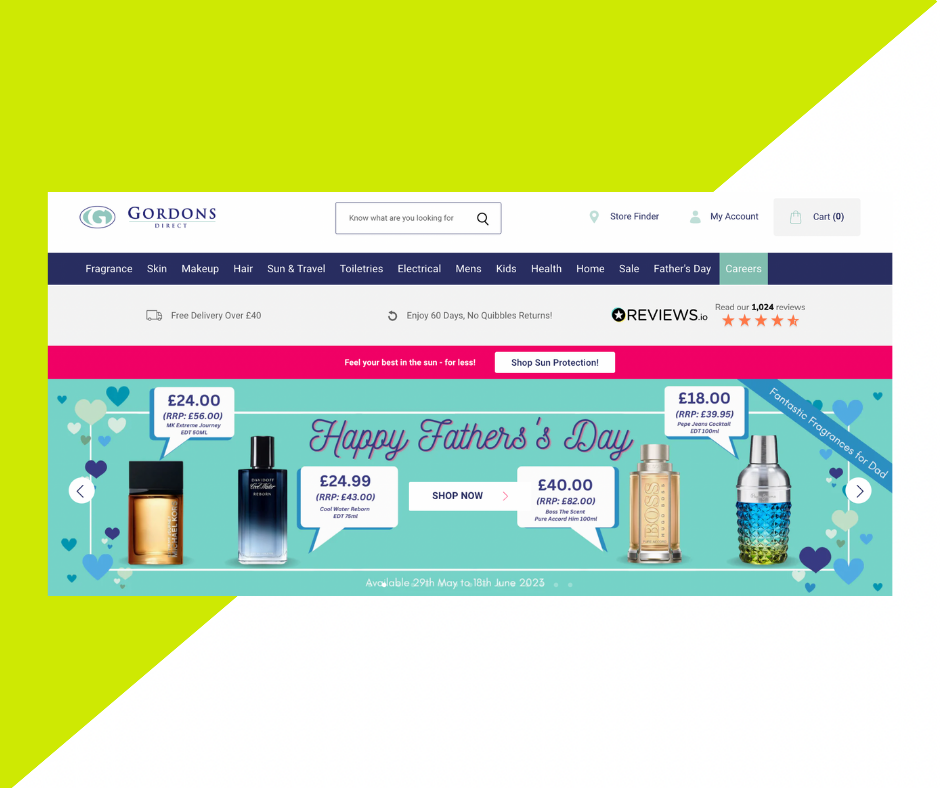 Create Shopify collections
Shopify gives you the functionality to group products. These are called collections and all of the products added to a particular collection will appear on the same page—providing an exceptionally easy way to shop for specific products or events, such as Father's Day.
Collections can be automated or manually curated. For automated collections, you can choose up to 60 selection conditions and can be useful if your collection regularly changes or expands. Manually created collections, however, are stationary and you will need to individually add and remove products as your collection changes.
You can see how this might look on this gin brand's website. Gin Bothy has listed all of their gift items in one handy, one-click destination for customers to scroll through.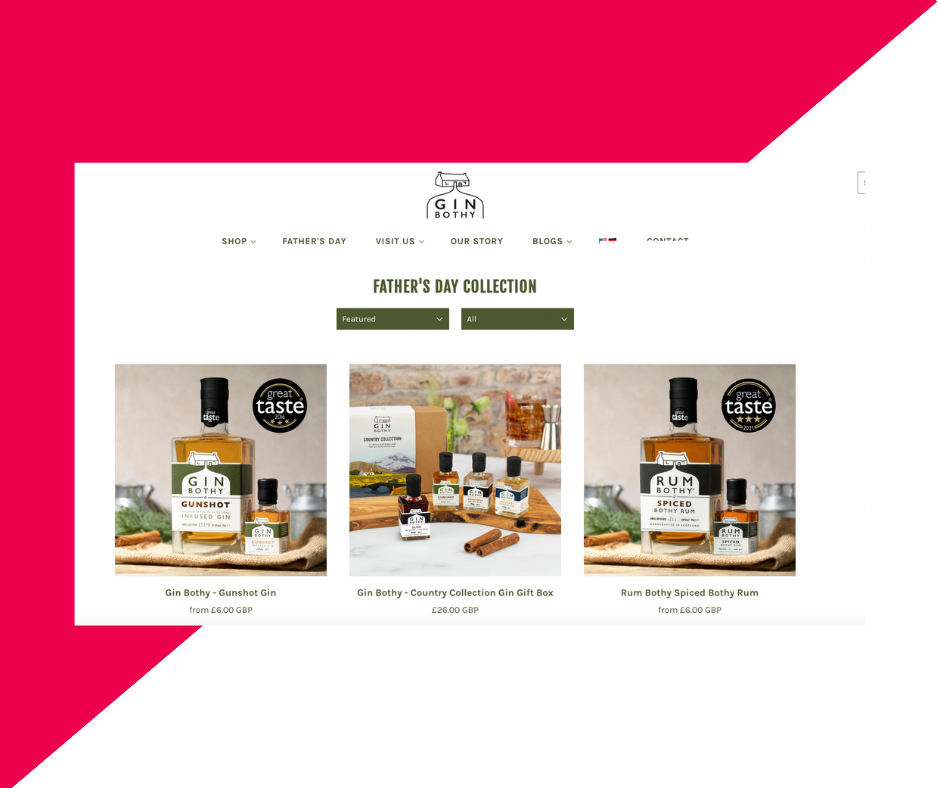 You can showcase these collections all the more by adding imagery to your landing page, adding the URL to your menu bar, or advertising the specific URL via social media platforms or Google.
We can look back to Gordons Direct here, too. This brand has built a Father's Day page (which is linked through from the menu) on which to house the rest of the gift collections. Here, we can see various gift themes, like "Gifts Under £20.00" and "Skincare Gifts" to help better direct and guide the customer. This makes for especially simple product discovery, and is a great way to run multiple ads to different product selections, too.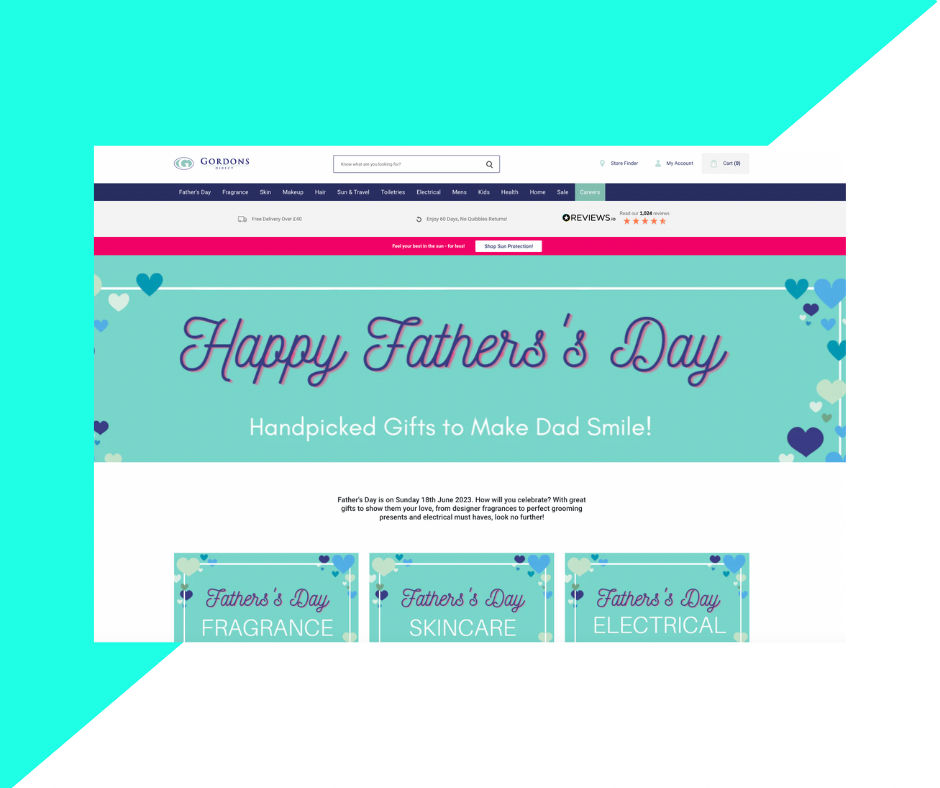 Gift items
Hampers
Sometimes your products look better when grouped together, such as in a hamper or gift box. Consider the difference between 6 loose bottles of cider, handed to your father in a plastic carrier bag, versus a well-packed gift basket with expertly presented cider choices—perhaps even with a description note of each flavour or creation process. This is where your business can turn individual products into high-value gift items.
As an example of this, you can have a look at our client Velvet Cloud and their various hamper options.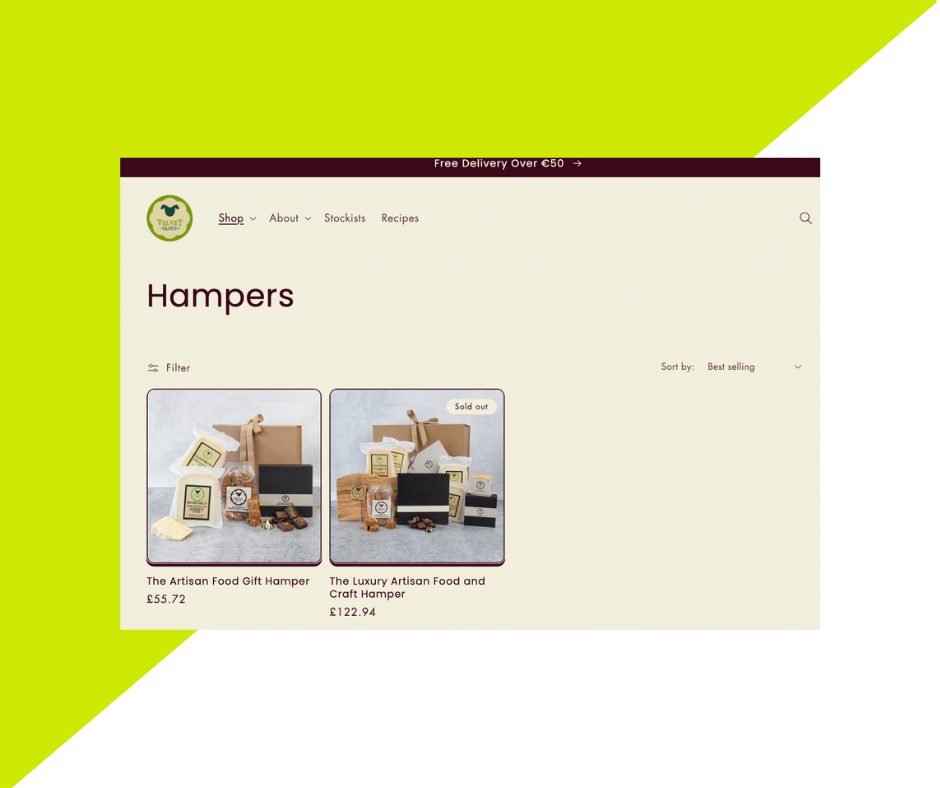 Top tip: When putting a custom hamper together, we recommend setting a stock number for this and deducting this number from the stock of the individual items in the hamper. This should make stock management easier. Alternatively, you may want to advertise your hamper as not having specific items, but products from specific categories (such as confectionery or beauty items), allowing you to be more flexible with set items.
You might even think of this as a great opportunity to showcase your bestsellers to a potentially new customer, or introduce a seasoned fan to your lesser-known or more recently launched products.
Gift cards
It's hard to think of a business which would not benefit from offering a gift card.
These handy gift items allow customers to give the gift of your brand (of which a loved one may have already expressed an appreciation), as well as plenty of flexibility and individual choice. They are also, oftentimes, instantly emailed to your inbox—perfect for last-minute gifters.
Shopify offers easy functionality for gift cards. These are, usually, digital with a unique code. As a store owner, you can set the denomination, and then the customer will simply receive an email with that code at checkout. This can then be used online or in person, depending on whether you have Shopify POS at your physical store.
See our client Grá Chocolate and their gift card here.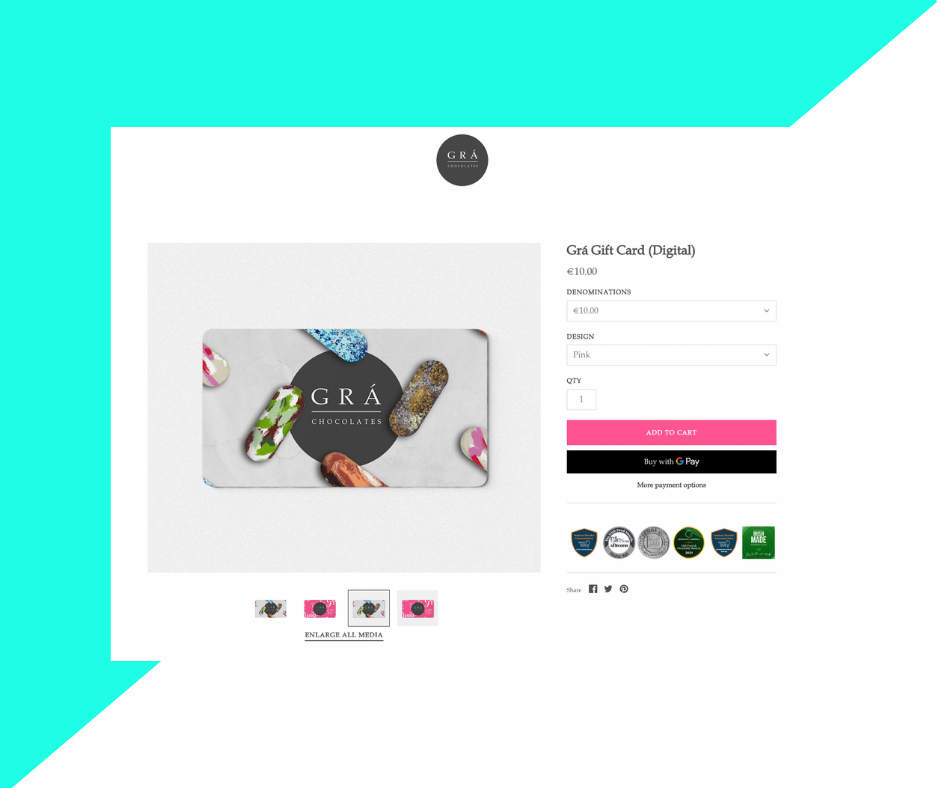 Experiences
Many of your customers may want to spend Father's Day with their fathers, and this is a perfect opportunity to highlight and promote any experiences your business may offer.
Shopify has booking functionality you can use. As an example, you can see on our client NI Silver's website that this business offers a variety of workshops for customers to craft jewellery and other metalwork creations. For this, it uses a booking system. With this, customers can choose the day of their workshop, the number of people taking part, and various other custom fields, such as what kind of jewellery the group intends to create.
Similarly, our other clients, Baked By Steph and Galgorm also offer baking workshops and spa treats, respectively, and use similar booking systems.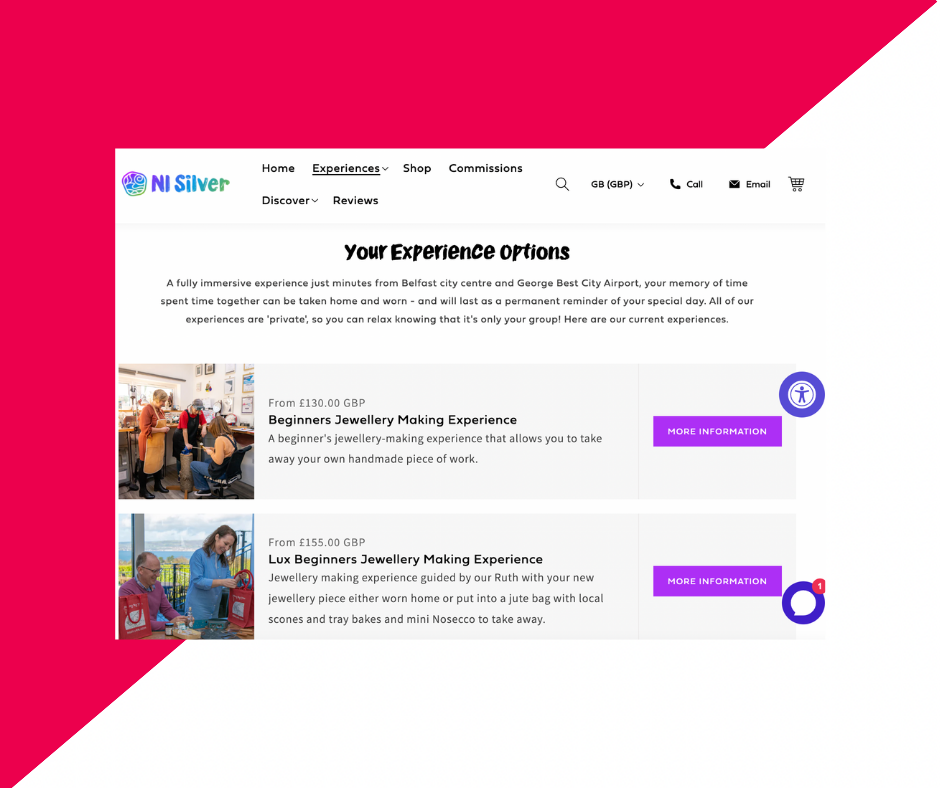 Upsell and bundle options
An effective sales strategy no matter the event is upselling, or even cross selling.

Basically, when it comes to your customers adding products to their carts or even viewing a product page, you may prompt them with suggested products or products other customers loved. This is all the more successful if the additional products are 1. Low value add-on items like cards or chocolates which can better complete a gift, or 2. Items which complement the chosen product, such as a tie with a shirt, or golf tees with a set of clubs.
For instance, eco-retailer Peace With The Wild sells plastic-free razors. On the product page, they have added a You may also like… section, with product links to shaving soap and a shaving brush—items which complement the razor.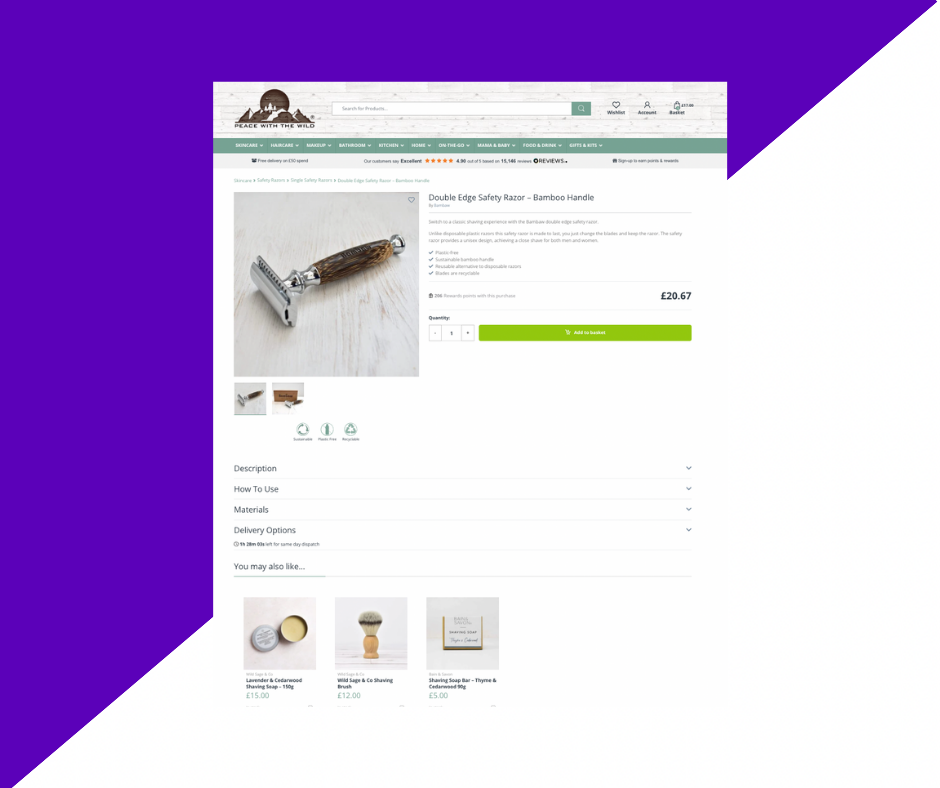 Other examples of this might be seen on the likes of Booking.com, which prompts you with Get a better room messages if you are able to upgrade to a more expensive room, or AirBnb.com when a host offers you niceties like airport transportation and late check-outs for an additional fee.
Top tip: You can also see what your audience has been searching lately to get a further idea of what kinds of products or collections you may want to bring to your Shopify storefront. This can be done by visiting your top online store searches report, which will show you not only the search terms used on your store by customers, but the number of these searches as well.
Better delivery experiences
When it comes to gift marketing, you should consider the possibility that the customer purchasing your product may not be sending it to themselves. Instead, they may live in another country from the intended recipient and therefore plan on sending it to them, directly from your business.
Similarly, they may not want their product in "3-5 standard business days" but on a particular date (namely, Father's Day itself, or the Saturday before).
At Glaze Digital, we recommend the Shopify app Giftship. With Giftship, Shopify store owners have access to the following features:
Gifting Options – Gift Messages / Delivery Date Picker on Product or Cart pages.
Enhanced Checkout – Ship to multiple addresses from a single checkout.
Smart Upsells – One-click, Popup, Dropdown, Thumbnail Image.
Gift Bundling – Bundle Upsells, Premium Box Builder Tool w/ Multiple Layouts.
Back-end Engine – Smart Auto-tagging, Order Printer, Customise All Tools.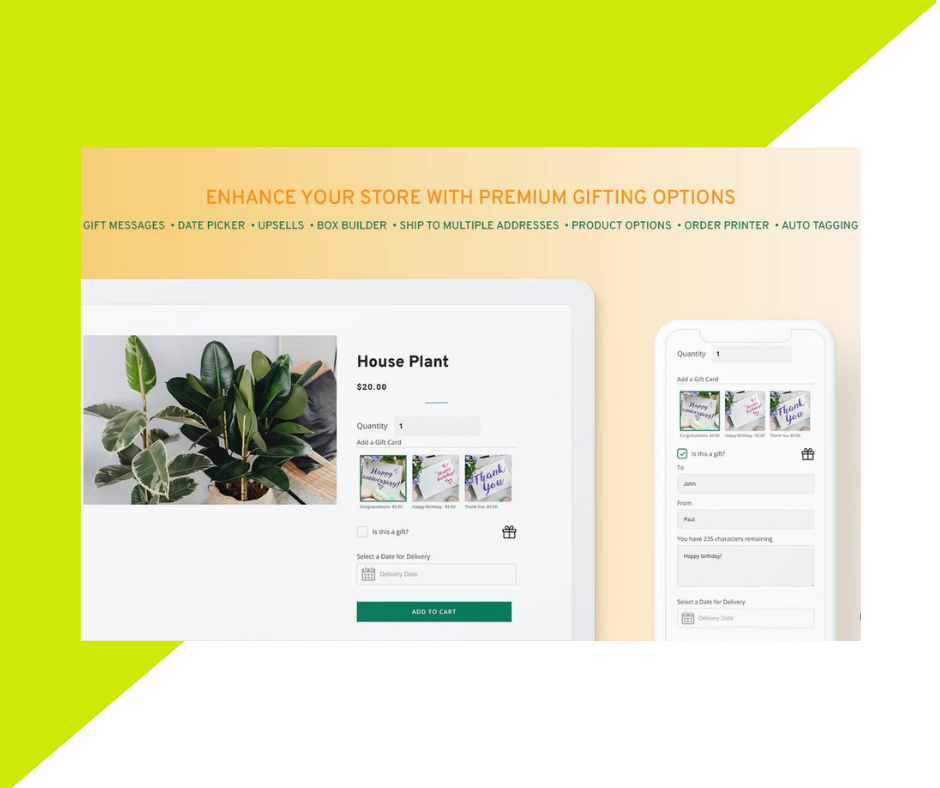 If you'd like examples of how these might be utilised in real world examples, you can look at our Belfast-based florist client, George Prestons. Bouquet and gift buyers here can receive orders at any time for specific dates with individual messages attached. This can really elevate the value of the gift, as well as create a complete gifting experience.
When it comes to Father's Day marketing, you may not utilise all of these tips—your business may not even be a good fit for every single one of them. However, with experience in building over 175 Shopify websites, we know that this advice is effective in optimising Shopify stores, and we hope that you will be able to take advantage of some of it in the run up to this Father's Day.
For queries about Shopify and building your own e-commerce store, please contact us. We're happy to help.
If you are interested in further news and information about Shopify, consider signing up for our email newsletter, Shopify Insider.