Shopify's Search and Discovery app is made to help you manage and optimise your store's search functionality. At its simplest, it is all about helping your customers find what they are looking for, quickly and easily—and getting your store more sales.
Shopify's own description says this about its uses:
Use the Shopify Search & Discovery app to deliver results for every search and increase average order value with customised recommendations on any product page. Plus, use analytics to understand how customers are navigating your store and help shoppers find what they're looking for with these insights.
So, now that we know what Search and Discovery is all about, let's look at its various features and how you can implement them into your business. 
Customise filters to let shoppers refine their search by multiple categories
Number one on Shopify's list of features is this: customisable filters.
This feature is especially crucial for Shopify stores with large catalogues, or rapidly increasing product lists, and why is that? Well, think about the last time you visited the website for the likes of ASOS. This store has a massive, ever-changing product list, which is great for customers who like to see What's New, but can make the idea of finding a specific product a little more daunting.
That's where these search filters come in. ASOS allows customers to filter search results by multiple categories, like colour, size and availability. That means that when a customer searches for a t-shirt, they can stipulate other essential qualifiers—such as black, size L, women's clothing, between £5 and £25—to better help them find exactly what they're looking for.
To look at one of our clients as an example, we can see here how The Radiator Shop IE offers its customers various product filters, including height, finish, and orientation.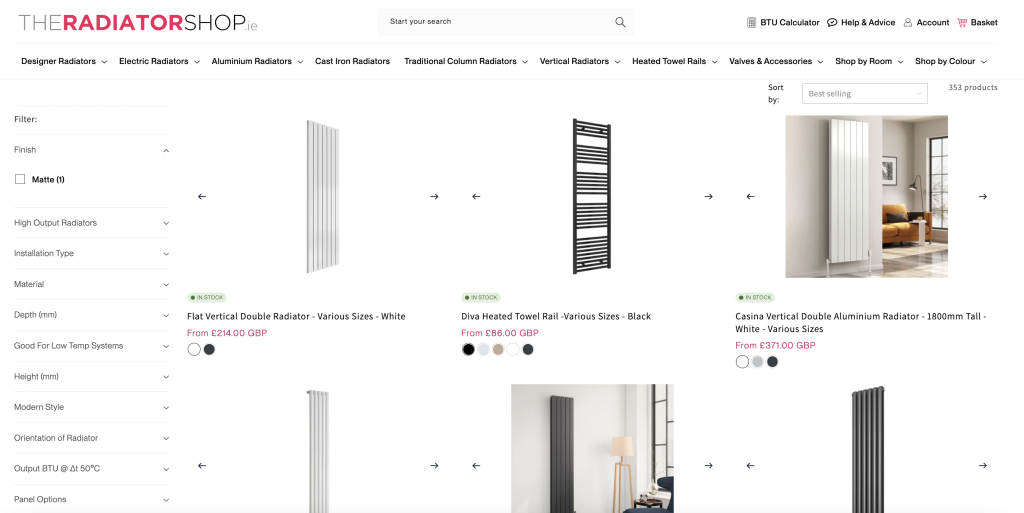 Make synonym groups, so product descriptions match the terms shoppers use
Synonym groups effectively tell your Shopify store that one search term equals another—which is to say, the likes of sneakers will equal trainers, or pet bed will equal dog basket. It is a helpful feature which allows you to match search terms to product descriptions.
Specifically, Shopify offers this example:
For example, you might sell bags called "slings", but you know that customers often search for "belt bags" on your store. You can create a synonym group for "slings" and "belt bags", which helps your "slings" products display when a customer searches for "belt bags".
In this example, customers are not using the search term slings, but sling and belt bags have been grouped as synonyms, and therefore products tagged as either will be shown to the customer. This basically aids discovery in that your customer may not use the "correct" words when searching your website, or at least words and phrases which match your product descriptions.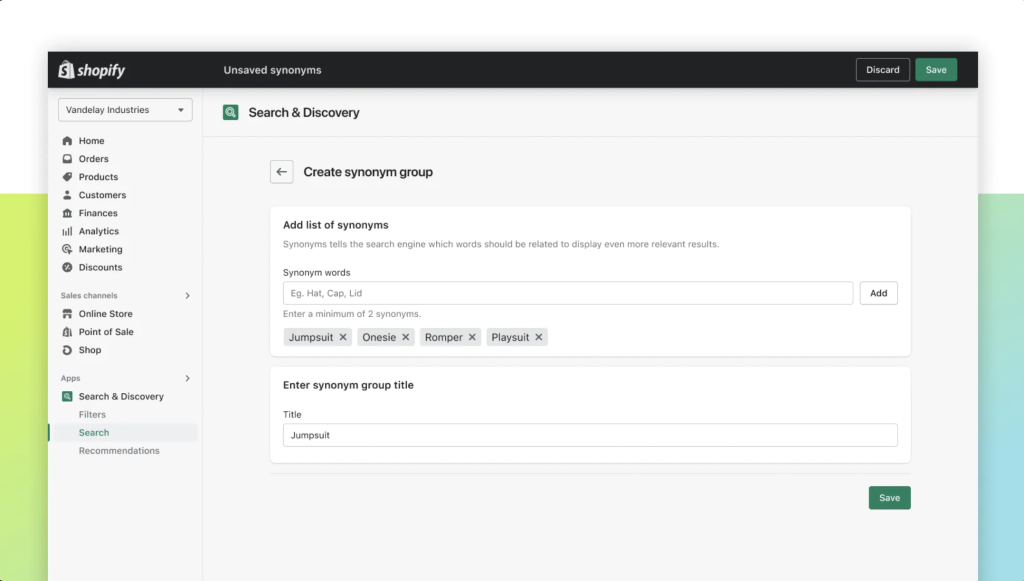 This is an especially useful feature for websites which ship internationally, where you might group synonyms for regional variations, like joggers and sweatpants, or tennis shoes and trainers.
Creating a synonym group is easy, too. In the Shopify Search & Discovery app, click Search in the app, then choose Synonyms, and click Create synonym group. Then, simply add each word or phrase, and save the group.
Top tip: You should review your store's search results report to find out what your customers are searching for, and whether any of the terms could be better matched with products using synonyms.
Use product boosts to feature products you want highlighted in search results
You can use a product boost in order to see a specific product rank higher than that of other items which would have returned with the same related search terms. You are essentially promoting these products over the typical search results rankings, and aiding discovery of, for example, new or on-sale products.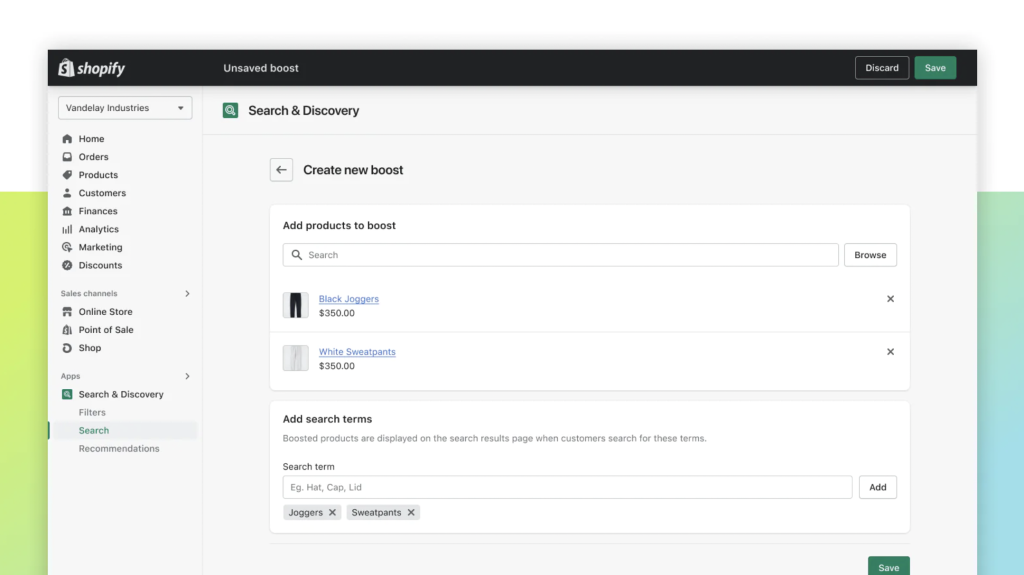 To do this, Shopfiy recommends the following steps:
In the Shopify Search & Discovery app, click Search, then click Product boosts.
Click Create product boost.
Select the products that you want to promote in search results.
Add search terms, and then click the Add button for each search term.
Click Save.
What's additionally useful with this feature is that it won't show the boosted product if it is out of stock—only when it is available for sale!
Add related and complementary products on product detail pages
This feature is fantastic if you want to try some cross or upselling strategies.
If your Shopify store theme has a section to display complementary and/or related products, Shopify will typically generate these based on an algorithm. However, with Search and Discovery, you can customise these to give greater control over the product recommendations.
For these recommendations, you will be interested in two variations: the complementary product, and the related product.
Complementary products are simply products that typically go hand-in-hand with the product the customer is currently viewing—such as socks or gym clothes with a pair of trainers, or brushes and masking tape along with a tub of paint. Recommending these items can help
Related products, by contrast, are similar products to that the customer is already viewing. For instance, a dress of a similar style or colour, or a teacup collection from the same brand. These aid discovery of other similar products which may be a better fit for the customer, rather than adding additional, helpful items.
As an example, jewellery brand Lines and Current offers their customers Pairing Inspiration on each product page. This allows customers to consider "completing" the look of their gift with an additional product they may not have considered previously.
Some product pages also see suggested "add-on" products. These are lower value items which can be "bundled" with the main product to add extra value to the gift, and can be easily added to the basket by simply ticking their boxes.
You can see, as well, on our Happy Pets NI website that product pages include "You May Also Like" sections so that pet owners can quickly and easily find and add additional related products to their carts.
Alternatively, on Nike's Shopify store, you can see two sections: "Complete the Look"—complementary product recommendations—and "You Might Also Like"—related product recommendations. These help guide the customer to either add additional products to their cart, or to find something which may be a better fit for what they want to buy.
Ultimately, this Search and Discovery feature is about helping customers to get the most out of their search queries, and helping your business achieve higher conversion rates.
To create product recommendations, Shopify recommends the following steps:
In the Shopify Search & Discovery app, click Product recommendations, and then click Add recommendations.
Select a product that you want to customize product recommendations for.
Select up to 10 Complementary products.
Select up to 10 Related products to recommend. Set the product to display only the custom recommendations or to display both custom recommendations and automatically generated recommendations.
Click Save.
You should note that Shopify does not list recommended products if they are sold out, a gift card, published to your Online Store sales channel, or currently in the customer's shopping cart.
Access analytics to understand your store's search and discovery performance
Alongside Search and Discovery features come equally important reports. These show activity on your store's search results page, and include the following details
With these insights, you can then make better informed decisions in relation to the Search and Discovery features. For instance, you may decide to create a synonym group based on the results from the top online store searches with no clicks report, or introduce new products based on your top online store search report results.
Conclusion
In short, Search and Discovery is an essential addition to your Shopify store. This is even truer for stores with more than one or two products listed, and where product discovery is an integral part of the purchasing process. What's better is that Search and Discovery is free, and in addition to the guide we have provided here, there is even more help and guidance on Shopify's website to better aid store managers.
For further queries about Shopify or building your own e-commerce store, please contact us. We're happy to help.
If you are interested in further news and information about Shopify, consider signing up for our email newsletter, Shopify Insider.