2023 is finally here and it's time to start making plans for your business' best year yet—but where to start?
While marketing strategies vary business to business, industry to industry, a good starting point is to meet your customers where they're already at. For instance, you wouldn't think of running a non-festive campaign during the Christmas shopping season, nor pushing your swimsuit and sunglasses advertisements until September. Similarly, there are various dates and celebrations across the nation (and sometimes world) which make the most of everything from dogs and cats, to bringing awareness to serious health and wellness issues.
That's why we have put together a detailed calendar featuring various important marketing dates so that you can 1) make the most of them and 2) don't forget about them entirely.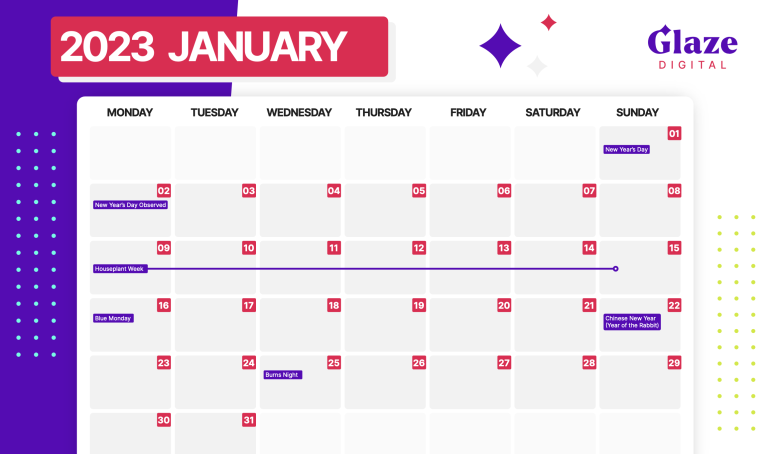 Your business may not resonate with every single one of these events (and it probably shouldn't!) but there are certainly a number of different celebrations you can incorporate and build on with your brand's advertising. Your cafe might offer special offers on coffee during National Coffee Day, or you might build content around your workplace's pets for National Dog Day.
The creative part is all up to you. We're just giving you the tools to put that creativity to use.
So, if you want to never miss an important marketing date again—at no cost whatsoever—make sure to sign up below to get our 2023 calendar sent straight to your inbox.
Get Your 2023 Calendar Here
Sign up to our email to receive our 2023 marketing calendar straight to your inbox, and never miss an important marketing date again.
What is Shopify Insider?
Shopify Insider is an email newsletter, packed with expert advice on all things Shopify. We've helped over 170 clients set up high performing Shopify stores, which have transformed their sales and elevated their digital presences. Now we're using that expertise to help our subscribers get the most out of the platform, too. We cover a wide range of topics, from Shopify's latest features, the best apps to download, and of course—marketing tips for different days across the year.