Shopify's app Translate and Adapt has been on the market for about half a year. Launched in August 2022, this free app is described as being able to "boost traffic, improve your SEO, and build trust with audiences around the world by localising the content on your Shopify store for different markets."
At a glance, this may appear as another basic translation app, focusing on swapping out one language or currency for another, but in fact, Translate and Adapt is not about a perfect 1 for 1 translation, but rather localising content for specific markets and audiences.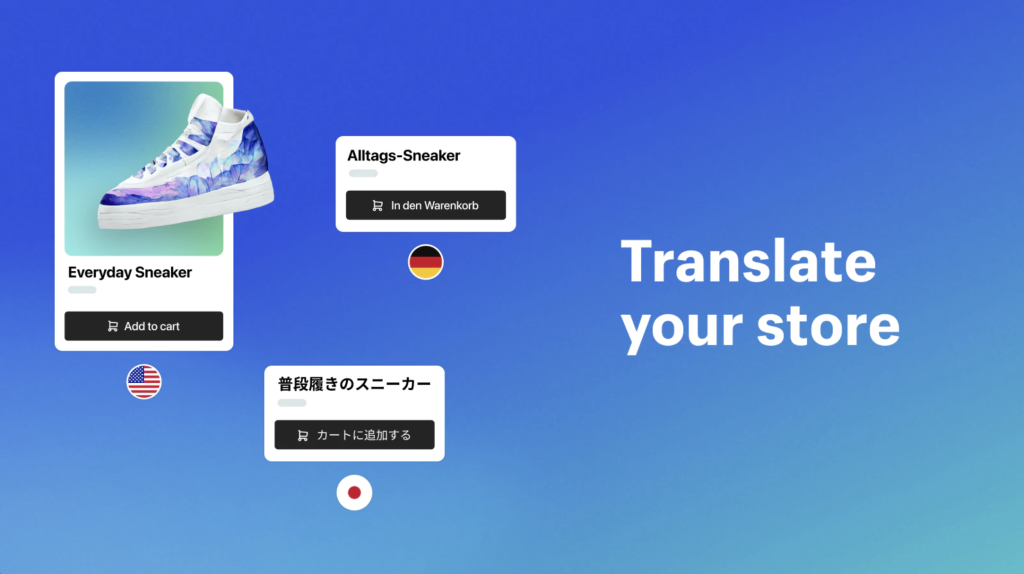 Key features:
Manually add, edit, and review translations with the side-by-side editor.
Auto-translate 2 languages with Google Translate (cloud.google.com/translate).
Adapt content to reflect spelling and messaging variations between markets.
Localise directly from the theme editor, or any resource page in your admin.
Manage localised store content seamlessly from your Shopify admin.

Typically, when using your Shopify store, you will change languages and currencies in your Settings, or use an app like Geolocation to allow for auto-translation depending on your customer's location. This creates, as described before, a perfect 1 for 1 translation of your website, and serves as a basic way to cater to a range of customers across the world.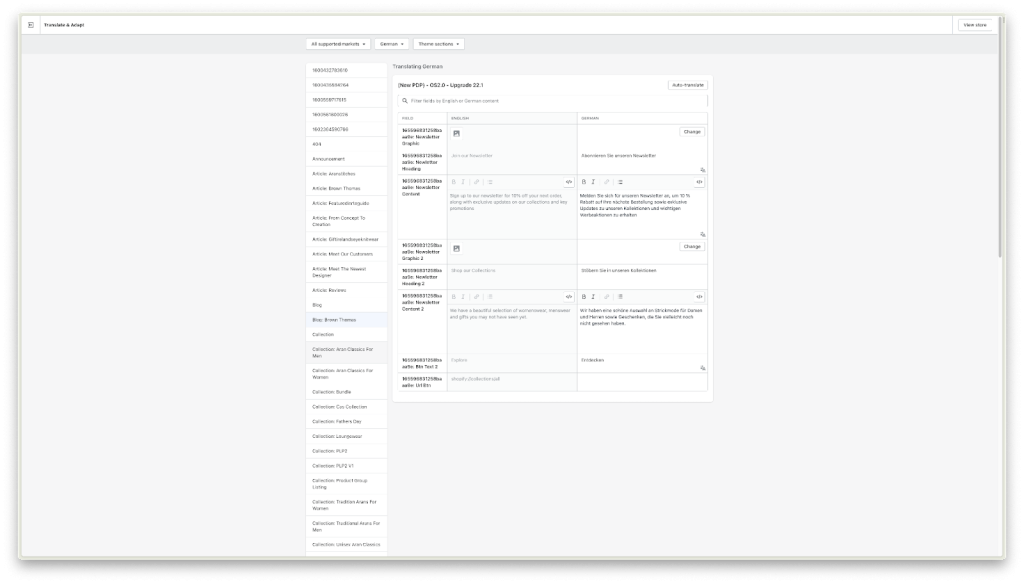 However, what if you wanted to not only translate the language and currency of your page, but the content? Certain phrases or wordings may not translate well and would be better manually edited, or perhaps you want to talk about your Europe-only "free shipping" policies, but can't add it in because of your global storefront. This is where Translate and Adapt has changed the game—and will continue to do so into the future.
Localising content
If you cater to various markets, when it comes to homepage greetings, you usually keep it vague and safe. Welcome. Hello. Bestsellers. This, of course, has its drawbacks, in that by keeping your wording as neutral as possible, you may be missing out on appealing more effectively to your customers.
This is where Translate and Adapt's real power lies.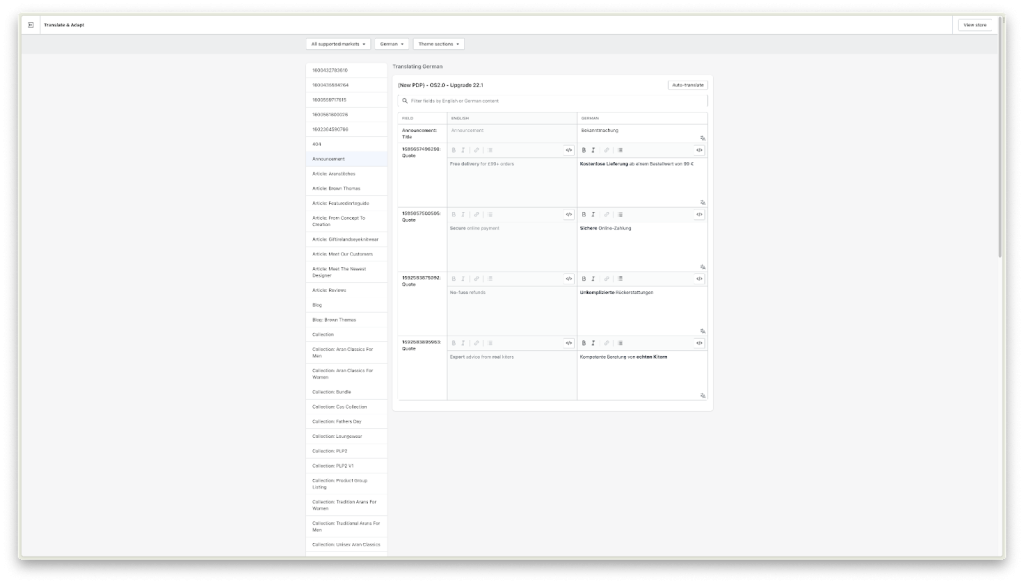 The app allows store owners to manually create and edit content at a minute level. From your home page to product details, you can now go into a specific section and adjust the auto-translation, create something entirely unique, or perhaps even avoid the translation entirely—it's really up to you and what you believe fits your customers best.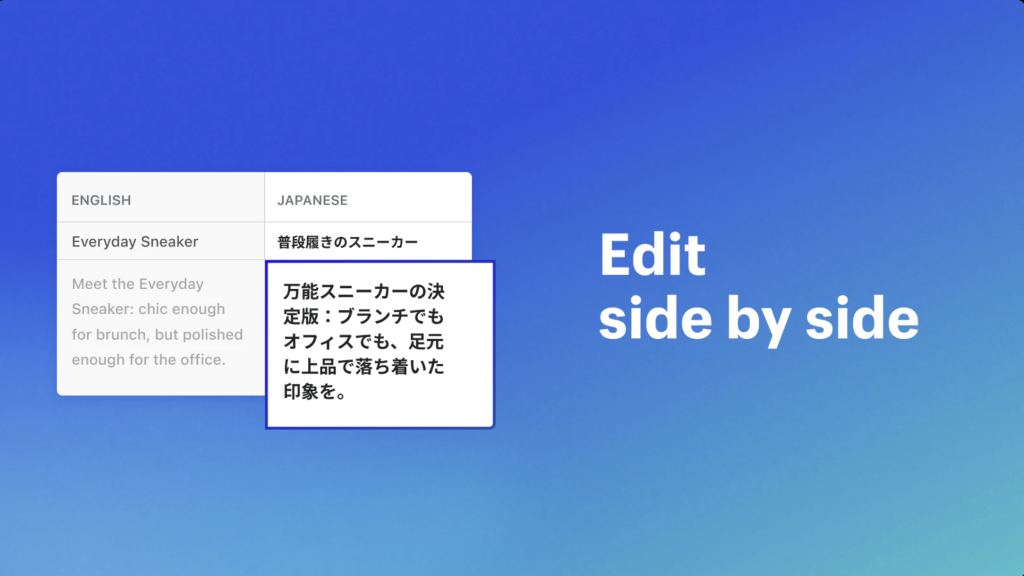 Consider, for instance, the ability to translate all of the text on a product's page, but avoid changing the product's title, as it is important and unique to your brand. You may, similarly, create a homepage which describes free shipping across all products, but only to those based in Germany or France, while those based in Ireland or England will see a homepage which notes a minimum spend to achieve free shipping. Even something as simple as manually editing a phrase or word to be more colloquial and personal can be highly effective when engaging your customer base.
At its simplest, this is the beginnings of a multi-store front system via Shopify. Your website's copy can be fine-tuned to the needs and interests of any location or market, and allow you to update policies and information pages so that you are always offering the most relevant information first.
Improving marketing
This obviously comes with a major improvement of multi-country marketing strategies. Consider the ability to add language-specific puns and "in-jokes" to your homepage's copy, or offer discounts for specific countries depending on special national-only holidays.
This allows your business to not only meet your customers' needs all the more closely, but improve upon your SEO and keywords. There may be more relevant keywords available to your brand which are not a direct translation, which can now be used and optimised, and moreso, you can manually adjust page titles to better fit with search results.
Is this the perfect app for a global storefront?
While Translate and Adapt is a powerful and extremely useful tool, it does come with a key drawback: imagery. This, unlike the rest of your website's copy, unfortunately remains fixed. Therefore, there are obvious considerations when creating your unique location-based content. Mainly, you may want to draw attention to summer-themed clothing or items in the copy, but you will be unable to uniquely match it with supporting imagery without changing the imagery for every market and location.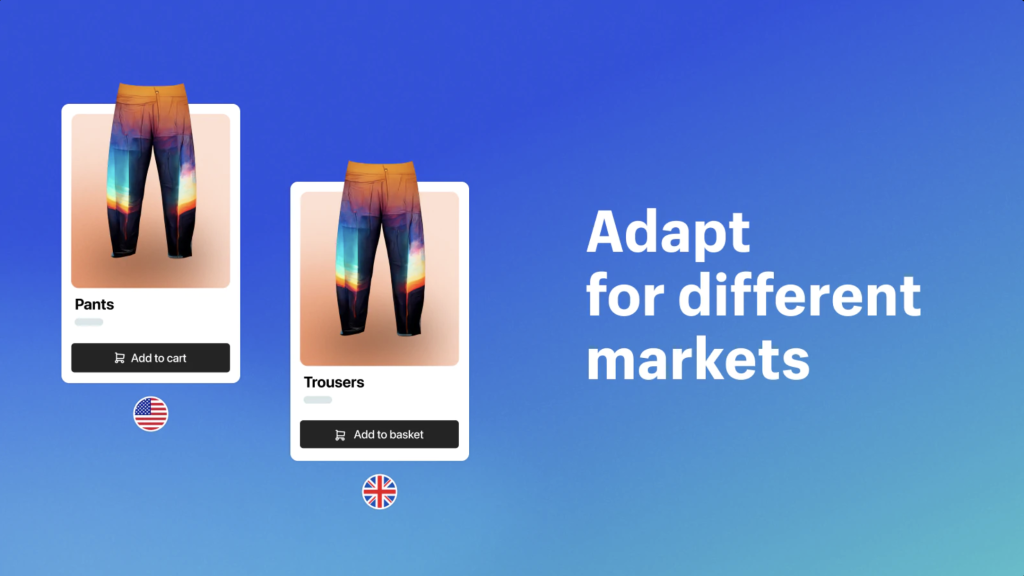 That being said, we imagine that this is an early iteration of what will come to be the perfect global multi-store front via Shopify. For the time being, we consider Translate and Adapt to be a must-have app for any global-minded company. The level of control and detail paired with the ease of use make it a perfect app for customising content at a detailed, local level.
For queries about Shopify and building your own e-commerce store, please contact us. We're happy to help.
If you are interested in further news and information about Shopify, consider signing up for our email newsletter, Shopify Insider.
Sign Up For Email Updates
Sign up below for the latest Shopify news & advice from Glaze Digital.