Mother's Day, as the name might already suggest, is all about motherhood and maternal relationships. In the twenty-first century, we've used this day to celebrate those relationships and show mothers, and those who have acted as mothers, how greatly they are appreciated.
Mother's Day is a special sort of holiday in the fact that it does not fall on the same day every year. Instead, it falls on the fourth Sunday in the festival of Lent—the dates of which are dictated by the moon—and therefore while it generally comes in early spring, the exact date will shift year on year.
Upcoming Mother's Day dates
19th March 2023
10th March 2024
30th March 2025
15th March 2026
In this article we look at how you might approach this special day as a business. Your customers will undoubtedly be looking for ways and means to surprise and delight the mothers in their lives—whether they are children themselves, or the friends and family of a new mother—and it is in the best interests of both your buyers and business to offer these appropriately and in plentiful supply.
Read on to see how you might market your Shopify store well this Mother's Day:
Add relevant imagery
Humans are visual creatures—our brains process visual information 60,000 times faster than simple text. That means that while text is of absolute importance on your website and in your marketing, imagery can make a significant impact on its success.
We never suggest overhauling your web design per season or holiday as it runs the risk of creating inconsistent and confusing branding. Plus at its simplest, is just too much work. Instead, look at small and effective ways to include relevant imagery, such as adding sales graphics and product bundle images to your homepage, with links to corresponding pages.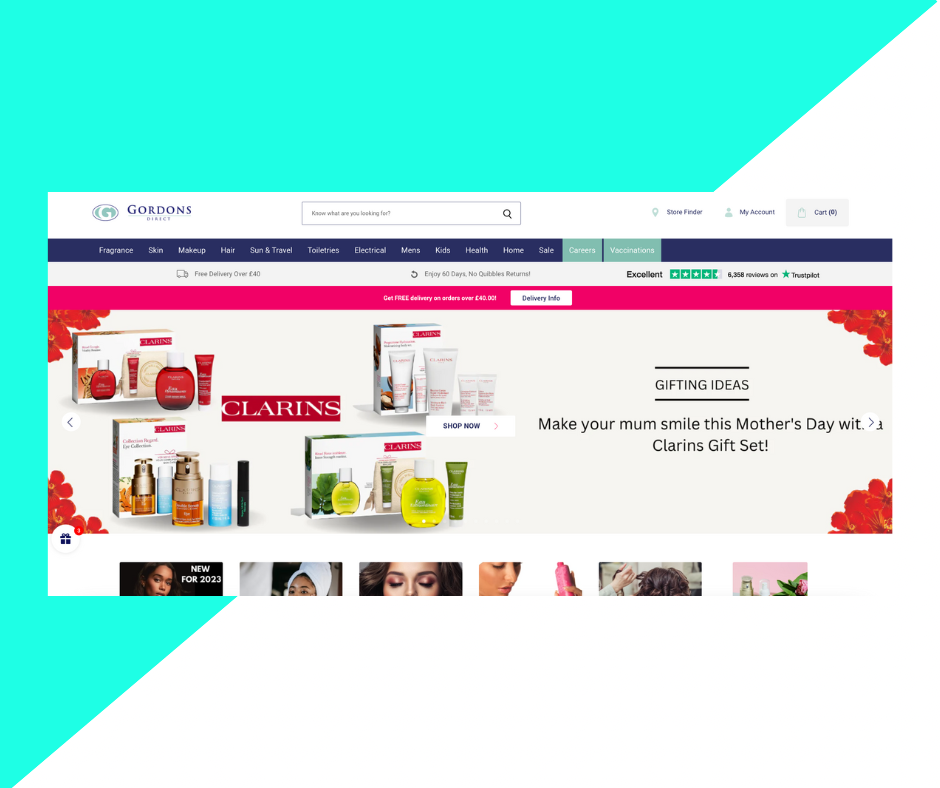 Gift items
Hampers
In many cases, putting together a special gift bundle or hamper can be a great way to both appeal to your customers and do a little extra marketing.
Firstly, a hamper will always be a great gift option, allowing you to advertise these over and over again regardless of the holiday or season. Secondly, a hamper allows you to group together bestsellers with lesser known products, aiding discovery of what could be a new personal favourite or unexpected delight.
As an example of this, you can have a look at our client Velvet Cloud and their various hamper options.
Top tip: When putting a custom hamper together, we recommend setting a stock number for this and deducting this number from the stock of the individual items in the hamper. This should make stock management easier. Alternatively, you may want to advertise your hamper as not having specific items, but products from specific categories (such as confectionery or beauty items), allowing you to be more flexible with set items.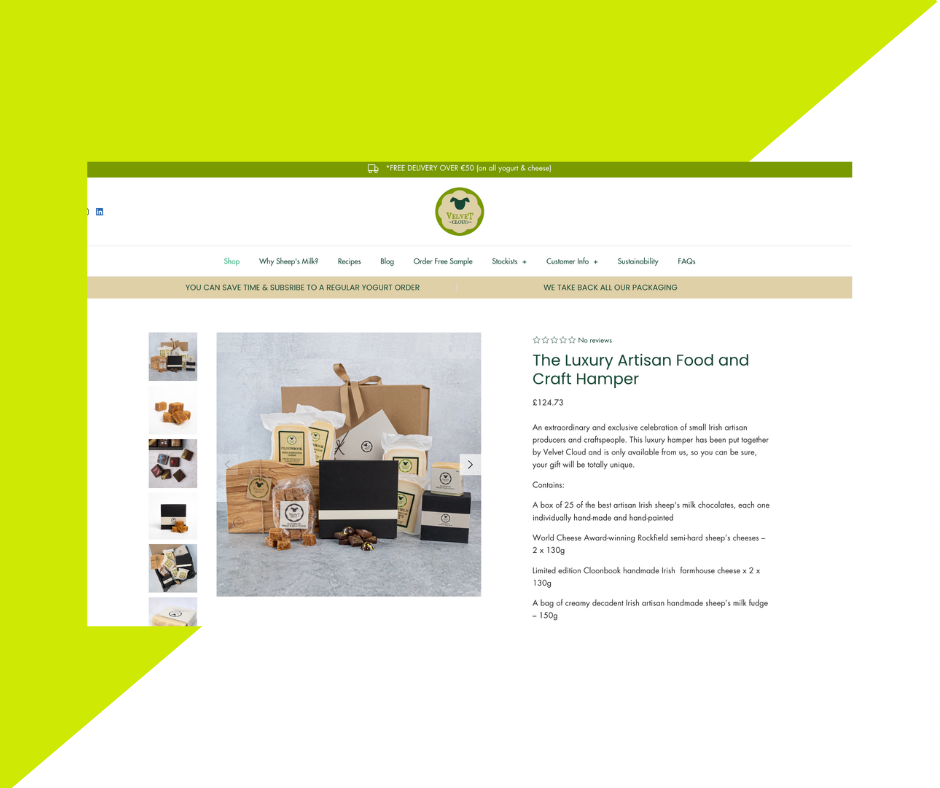 Gift cards
Gift cards are a must for most, in not all, Shopify stores. They allow customers to give the gift of your brand, as opposed to a specific item (even more useful for instances when a buyer may not know which size or colour to buy as a gift), and also receive the gift in their inboxes instantly. This is especially useful for last-minute purchases or chaotic postage seasons in which buyers would prefer the gift card to be emailed to them.
Shopify gift cards are digital cards with a unique code. As a store owner, you can set the denomination, and then the customer will simply receive an email with that code at checkout. This can then be used online or in person, depending on whether you have Shopify POS at your physical store.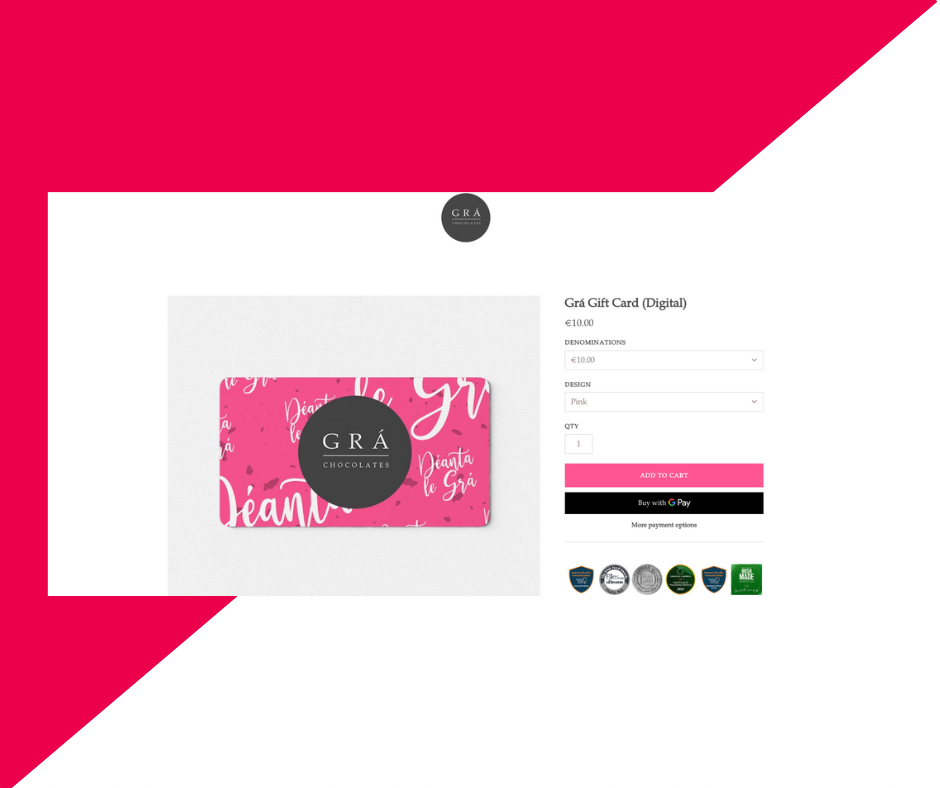 Experiences
This is a day many people will want to spend with their mothers, and in the spirit of this, you might consider how your business could offer an experience on top of your product offerings.
Shopify is especially adept with booking systems, as you might see on your client NI Silver's website. This brand creates handmade silver jewellery and metalwork, and offers a range of workshops for customers to try out the skill themselves. The booking system allows guests to choose the day of the workshop, how many people will take part, and a range of other custom fields best suited to the brand, such as what kind of jewellery the group would like to make.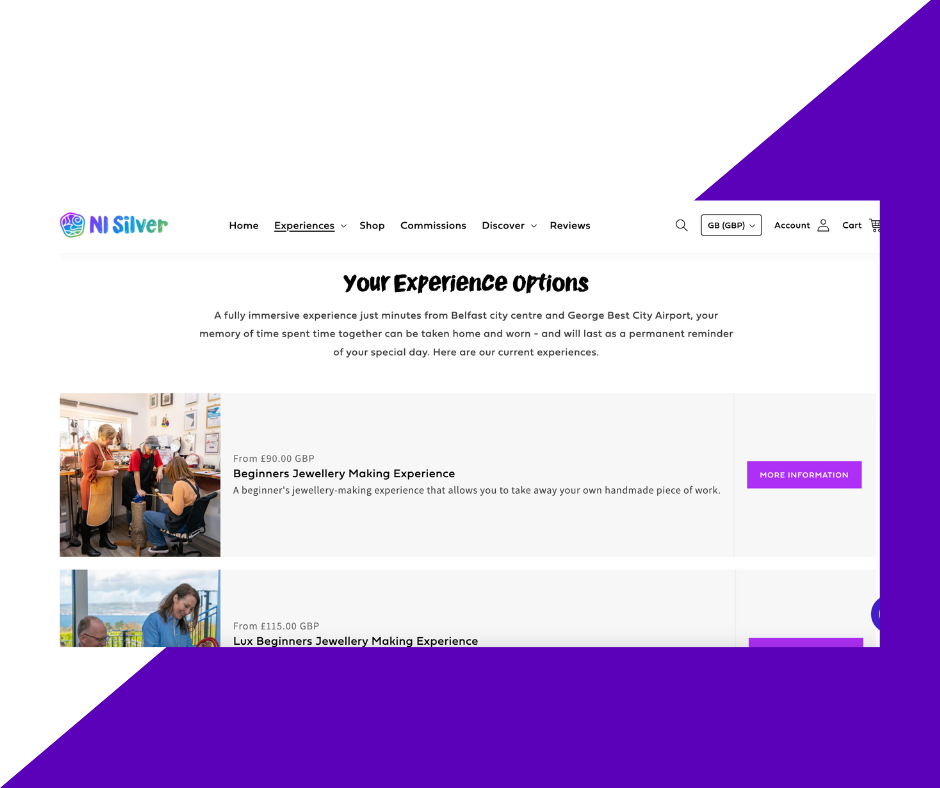 Upsell and bundle options
With these gift items in mind, you might also think of how you can offer additional gifting options—such as smaller, lower value add-on gifts like cards and chocolates, or suggesting larger products as part of a greater upselling strategy.
As an example, jewellery brand Lines and Current offers their customers Pairing Inspiration on each product page. This allows customers to consider "completing" the look of their gift with an additional product they may not have considered previously.
Some product pages also see suggested "add-on" products. These are lower value items which can be "bundled" with the main product to add extra value to the gift, and can be easily added to the basket by simply ticking their boxes.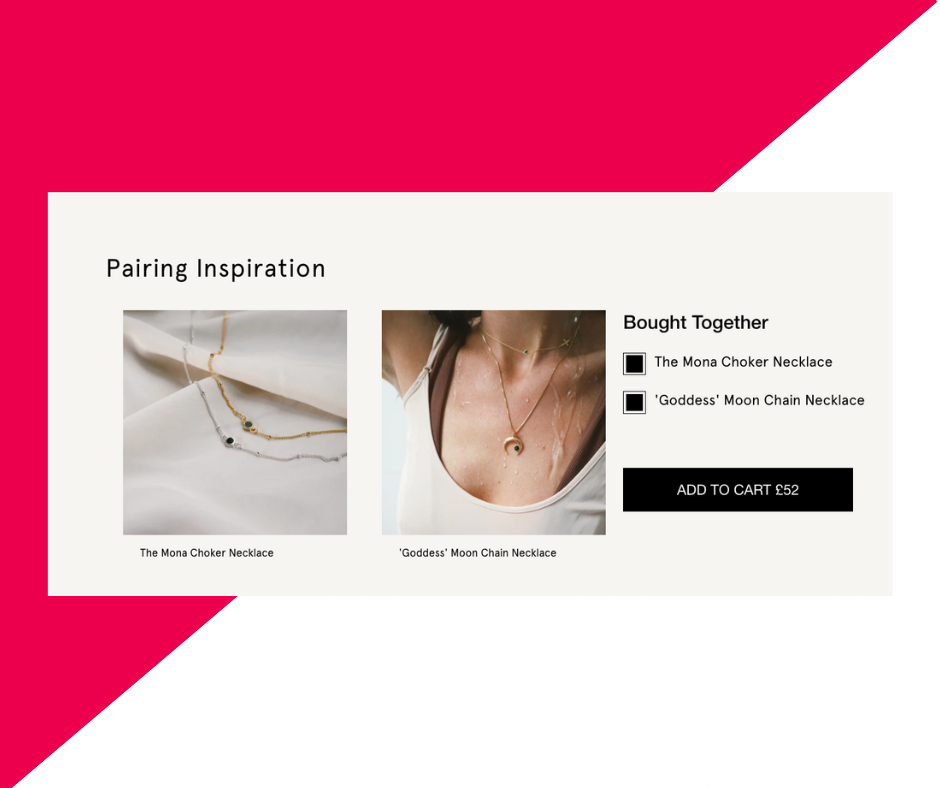 Create Shopify collections
With Shopify, you can group products into collections. With these, all of these grouped products will appear on the same page, allowing you to market a specific collection with Google or social media platforms, and also aid discovery of items, such as, in this case, Mother's Day gifts.
Collections can be automated or manually curated. For automated collections, you can choose up to 60 selection conditions and can be useful if your collection regularly changes or expands. Manually created collections, however, are stationary and you will need to individually add and remove products as your collection changes.
You can see an example of this with our client Bellamianta and their Gifting collection—a great catch-all collection for every holiday.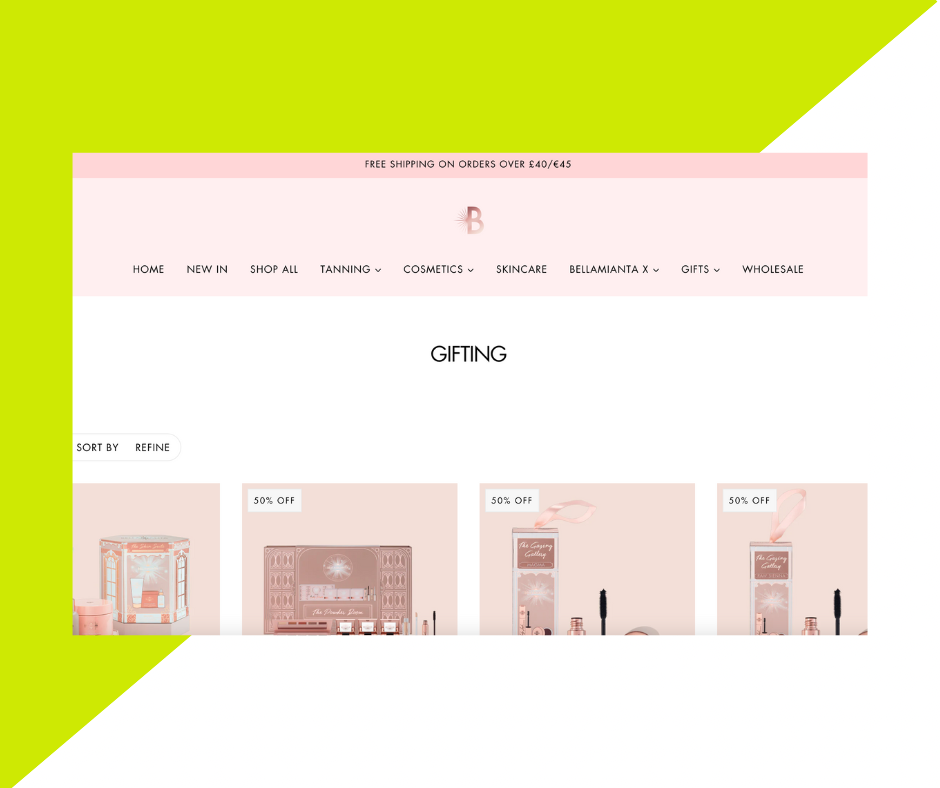 Targeted spending
Any marketing spend should have an audience in mind. If you are planning to promote your Shopify storefront on the likes of Facebook, you might look at the targeted audience options, and create a few different Ad Sets in order to target your key gift-buyers, such as adult children or the partners of new mothers. These particular options will be defined by what you already know about your audience's demographic, so make sure to check any Shopify reports on your audiences before confirming your advertising targets.
Top tip: You can also see what your audience has been searching lately to get a further idea of what kinds of products or collections you may want to bring to your Shopify storefront.
See an example of this on our client Walk in Wardrobe's Facebook page—linking to their Mother's Day product collection to encourage buyers to find the perfect gift for the maternal figure in their lives.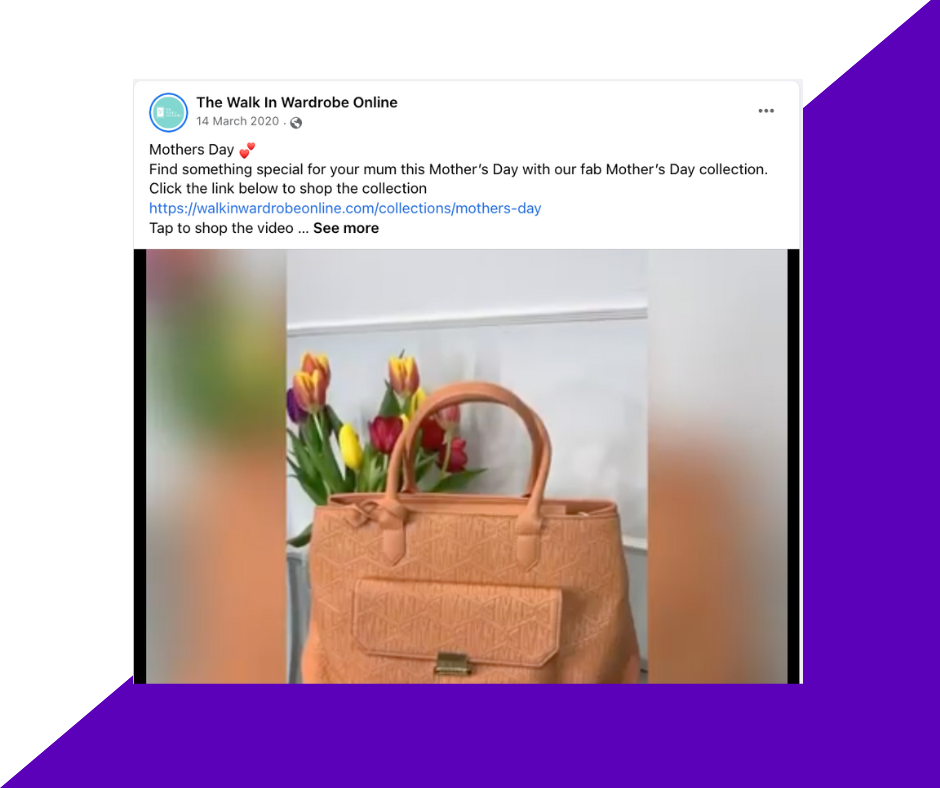 Added care for your audience
It's worth mentioning that for many people, certain holidays such as Mother's Day can be a painful time. Particularly, those who have experienced loss as a child or a mother may be especially sensitive to the rapid upscale in this kind of marketing.
In recent years many brands have responded to this need by offering an opt-out option for email subscribers, so that they can avoid receiving unwanted newsletters and product roundups directly to their inboxes. See Photobox's email below for an example of how to do this sensitively and mindfully.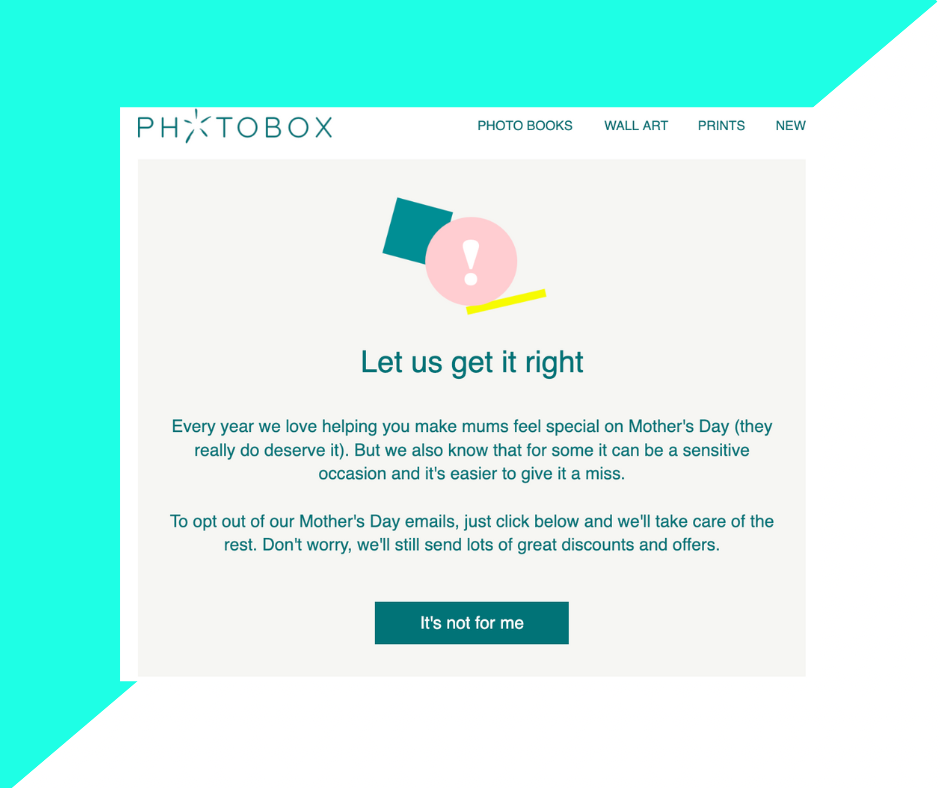 Better delivery experiences
As with all gifting experiences, it's a good idea to expand the delivery services you offer to customers. After all, many buyers may be intending to ship the gift directly to the intended recipient, or may want to receive the gift on a particular day as opposed to the general 3-5 days postage.
At Glaze Digital, we recommend the Shopify app Giftship. With Giftship, Shopify store owners have access to the following features:
Gifting Options – Gift Messages / Delivery Date Picker on Product or Cart pages.
Enhanced Checkout – Ship to multiple addresses from a single checkout.
Smart Upsells – One-click, Popup, Dropdown, Thumbnail Image.
Gift Bundling – Bundle Upsells, Premium Box Builder Tool w/ Multiple Layouts.
Back-end Engine – Smart Auto-tagging, Order Printer, Customise All Tools.
If you'd like examples of how these might be utilised in real world examples, you can look at our Belfast-based florist client, George Prestons. Bouquet and gift buyers here can receive orders at any time for specific dates with individual messages attached. This can really elevate the value of the gift, as well as create a complete gifting experience.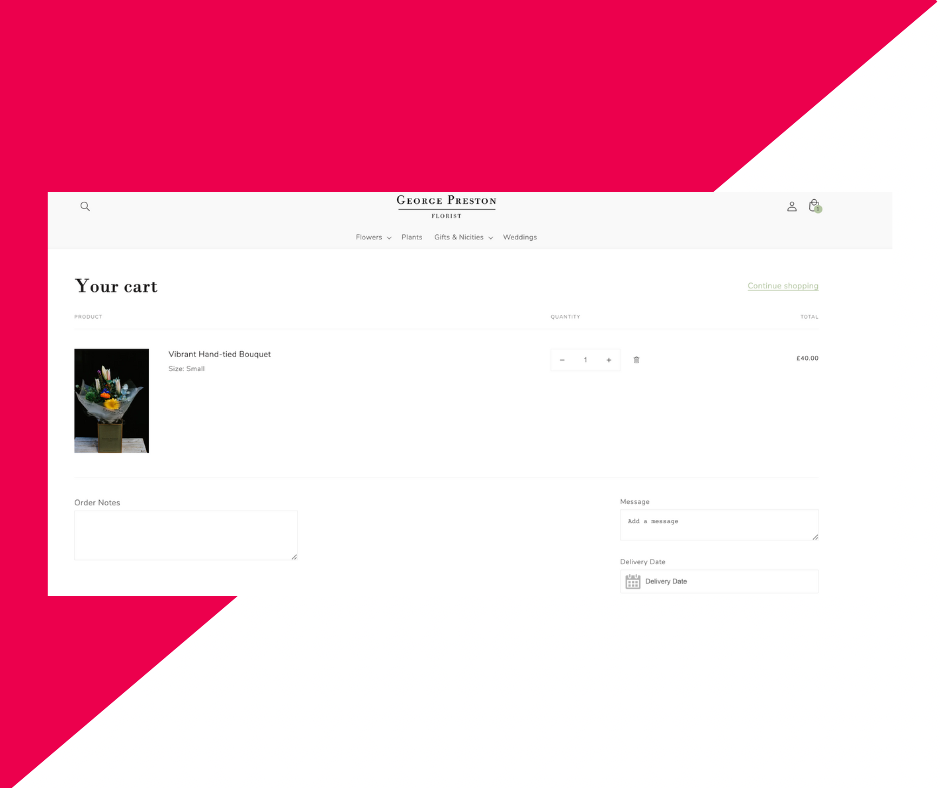 Conclusion
When marketing for any holiday, the most important thing to remember is your customer and what will make their experience of your website simple, easy, and enjoyable. With these tips, we hope you will be able to create an experience in which your customers can discover gift ideas with ease, and feel in control and empowered by a range of delivery options.
For queries about Shopify and building your own e-commerce store, please contact us. We're happy to help.
If you are interested in further news and information about Shopify, consider signing up for our email newsletter, Shopify Insider.
Sign Up For Email Updates
Sign up below for the latest Shopify news & advice from Glaze Digital.